The 10 Best London Cocktail Bars to Try in 2023
January 22, 2023 by Anna-Bet Stemmet
Looking for the best cocktail bars London has to offer? Step right this way! Every city worth its salt has a few truly amazing cocktail destinations, and the Big Smoke has a lot of excellent establishments to discover. Here is our cherry-picked selection of the best cocktail bars in London to seek out in 2023.
1. Tayēr + Elementary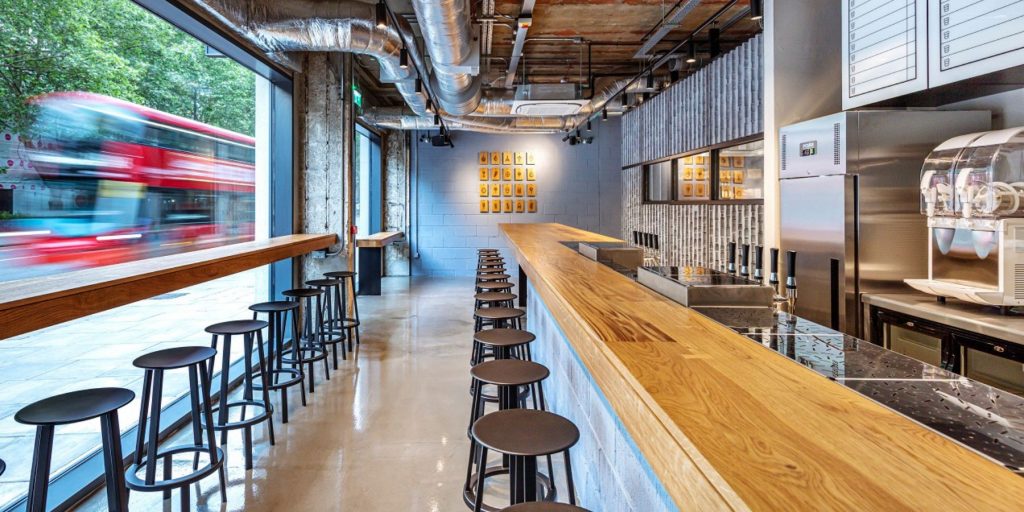 Location: 152 Old Street, London EC1V 9BW
Vibe: London's best cocktail bars tend to feature all sorts of interesting bells and whistles, and Tayēr + Elementary most certainly came to the party. The venue is split down the middle, into Elementary, which offers an all-day cocktail experience and sensational seasonal snacking menu; and Tayēr, which offers a darker and more subdued environment for the sophisticated sipping of more unusual and exotic drinks.
Must-try cocktail: The Palo Santo Gimlet featuring gin, fino sherry, Lillet Blanc, and palo santo wood (served from one of the most advanced tap systems in the world!).
2. Swift Soho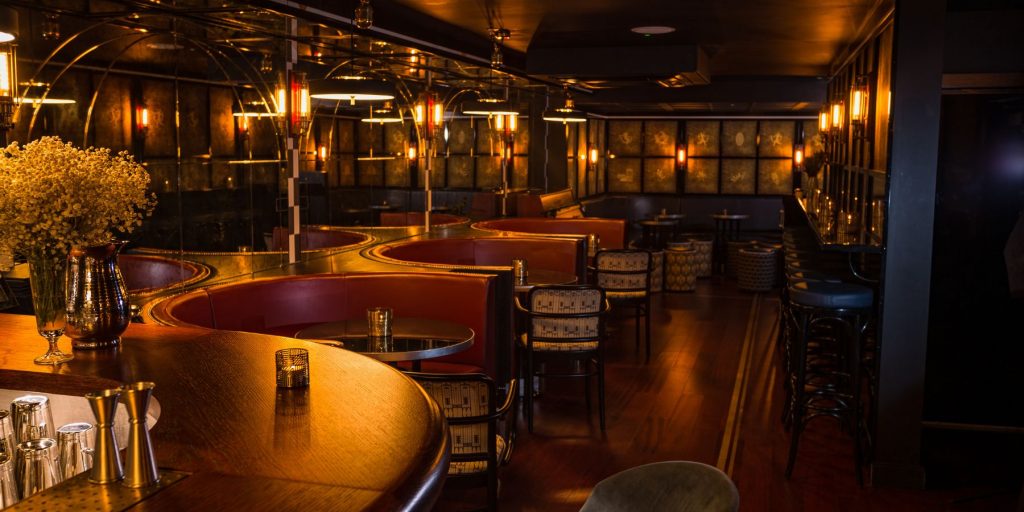 Location: 12 Old Compton Street, London W1D 4TQ
Vibe: One of the best cocktail bars in London if you're on the lookout for craft cocktails, tasty finger foods, and other treats, Swift Soho is a multi-faceted venue with plenty of aces up its sleeve. This lively east London cocktail bar boasts inviting leather booths that are perfect for meeting up with friends, as well as a tempting selection of signature drinks – many of which have been inspired by 'legends, creative thinkers (and drinkers), and some of the brightest stars to have graced our atmosphere'.
Must-try cocktail: The Pegasus (inspired by Sir Ian McKellen), featuring Lillet Blanc, honeydew melon, Trois Rivieres Cuvee de l'Ocean, grapefruit bitters, and Prosecco.
3. Nightjar Carnaby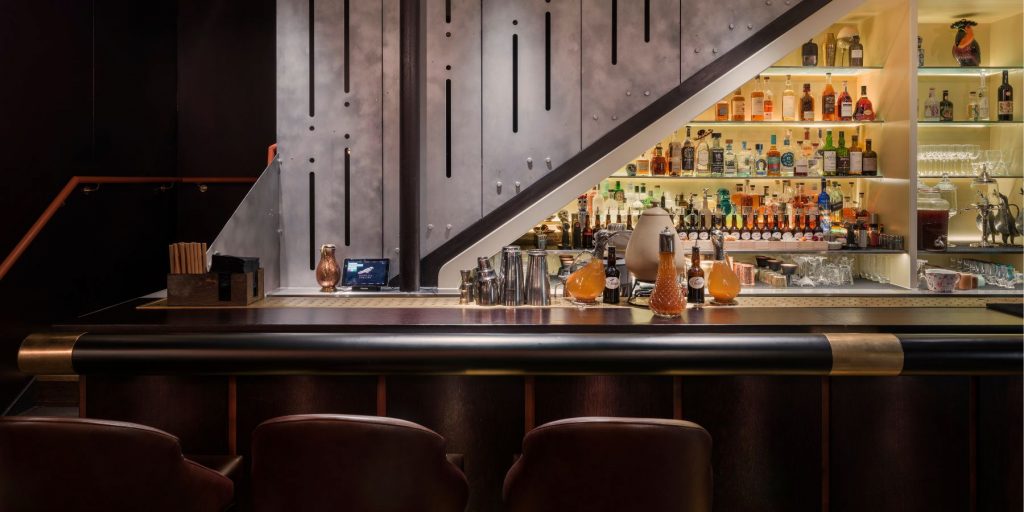 Location: Kingly Court, 49-51 Carnaby Street, London W1F 9PY
Vibe: Arguably the best cocktail bar in London for folks who dig vintage cocktails and live music in a cool lounge with old-school glamour, Nightjar Carnaby lies hidden beneath the bustle of Carnaby Street.
This popular pedestrianised shopping street in Soho is home to various fashion and lifestyle retailers, including many independent fashion boutiques, so the bar's vibe is similarly upmarket and laid-back cool. The Nightjar Carnaby has got to be one of the best cocktail bars Soho London has to offer, for sure.
Must-try cocktail: The Nightjar Boulevardier featuring Cognac, rye whiskey, Campari, tawny port, absinthe, and vermouth.
4. Coupette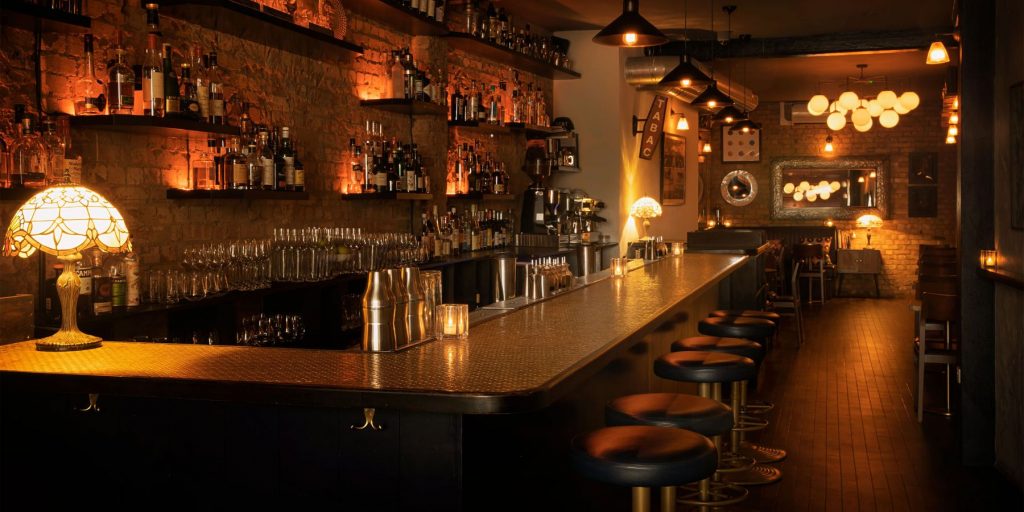 Location: 423 Bethnal Green Road, London E2 0AN
Vibe: The best London cocktail bars typically have a bit of a cult following, and this is certainly the case when it comes to Coupette in Bethnal Green. It's got a sophisticated Parisian vibe that's swanky without being pretentious. The cocktail menu is extensive and does a grand job of introducing guests to unique liquors, wines and digestifs from all over France.
Must-try cocktail: The Melon Watermelon Spritz, featuring gin, watermelon, grilled melon consommé, cucumber soda, and Champagne.
5. Scarfes Bar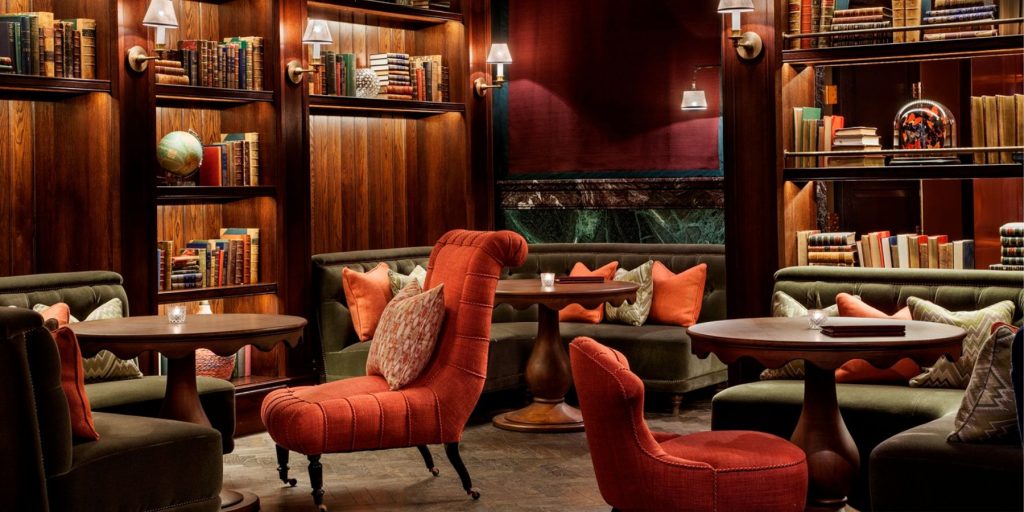 Location: Rosewood London, 252 High Holborn, London WC1V 7EN
Vibe: Located nicely close to London's buzzing Covent Garden in the Rosewood Hotel, Scarfes Bar is a lively social destination where you can enjoy cocktails and live jazz throughout the week. If you love a bit of old-school charm, this is the place to be. Named in honour of cartoonist and illustrator Gerald Scarfe (who also did the cover art for Pink Floyd's album 'The Wall'), it is all high ceilings, walls lined with bookshelves, a fireplace, cosy armchairs, and captivating art.
The drinks are well-crafted, not quite as finicky, or sparse as you'd find at other top bars. This makes it a popular choice among drink lovers who want to enjoy a cocktail without feeling overwhelmed by either its infinite intricacy or stripped-downness, respectively.
Must-try cocktail: The Champagne Passionover, featuring Espolòn Tequila Blanco, passion fruit, elderflower liqueur, fortified wine, and Champagne.
6. Bar with Shapes for a Name
Location: 232 Kingsland Road, Whitmore Estate, London E2 8AX
Vibe: Truth be told we love a good naming gimmick, and the bar with shapes for a name really scratches this itch. The bar technically does not have a written or spoken name, but is instead signposted by a yellow triangle, red square, and blue circle.
Referred to as 'Shapes' by devotees, this space is all of the Bauhaus, and boasts celebrity mixologists Remy Savage and Paul Lougrat as founders. In short, it's a contemporary take on the 1920s – a feast for the eyes, and the palate.
Must-try cocktail: The Duotone, a highball featuring mezcal Verde, galangal, mint, and edible flowers.
7. Side Hustle (at the NoMad)
Location: Old Police Station Entrance, 28 Bow Street, London WC2E 7AW
Vibe: Our list of best hotel cocktail bars in London wouldn't be complete without mention of Side Hustle at the NoMad Hotel in Covent Garden. Charmingly located within an old police station, the stage is set for understated grandeur, with high ceilings and low lighting creating a vibey, yet wholly inviting atmosphere.
Drinks are served from a beautifully designed marble-top bar, and the Mexican-inspired menu is delightful. The snack menu features marvels like Scottish oysters with clamato granita and a sliver of jalapeño, and the cocktail menu is likewise inspired.
Must-try cocktail: The Pretty & Basic, featuring Aperol, rosé wine, herbal liqueur, black pepper, and strawberries.
8. Satan's Whiskers
Location: 343 Cambridge Heath Road, London E2 9LJ
Vibe: Often referred to as a bartender's bar, Satan's Whiskers is located at the heart of Bethnal Green's ever-growing cocktail scene. It's nicely unassuming, which can be a refreshing change of pace if you're into something less Insta-cool and more authentically chill. But with amazing cocktails, of course.
Must-try cocktail: The Cold Snap, a riff on the classic Bee's Knees, featuring lemon juice, honey syrup, crème de cassis, and vodka.
9. Connaught Bar
Location: The Connaught Hotel, 16 Carlos Place, London W1K 2AL
Vibe: A golden standard on the London bar scene, if ever there was one, Connaught Bar is a legendary institution that has been operating successfully for 15+ years. Here, you can expect to find a poised establishment run by seasoned pros, with a food and drinks menu that is simultaneously classic and slickly contemporary.
Must-try cocktail: The Cloud Nine, featuring bourbon, orange vermouth, pistachio, raspberry, and foaming bitters.
10. Little Mercies
Location: 20 Broadway Parade, London N8 9DE
Vibe: If something fun and casual is on the cards, look no further than Little Mercies in Crouch End. This convivial bar has a real London pub feel, while also being well-designed and polished, without being uppity. Founded by the famed brothers Venning, Noel, and Max, and Alan Sherwood, it's a great spot for after-work drinks and the occasional date – if you are so inclined.
Must-try cocktail: The Snickers Old Fashioned, featuring peanut butter, cacao nibs, salted chocolate, and whiskey.
FREQUENTLY ASKED QUESTIONS
London is renowned for its amazing selection of cocktail bars, including the popular and famous Swift Shoreditch, Nightjar Carnaby, Scarfes Bar, Side Hustle at the NoMad hotel, and more. Find a full list on The Mixer UK.
Soho in London is a very good spot for cocktail bars. The city is teeming with exceptional venues for cocktail afficionados to visit. This includes Little Mercies, The Connaught, Coupette, Satan's Whiskers, and more. Find a full list of the best cocktail bars in London on The Mixer UK.