How to Host the Ultimate 1950s Cocktail Party
February 16, 2023 by Anna-Bet Stemmet
Getting ready to host a rollicking 1950s cocktail party? That's the ticket, cool cat! Themed parties are always a gas, and we'll get you sorted with everything you need to know to set the scene for a swinging shindig second to none.
The rise of the cocktail party in the 1950s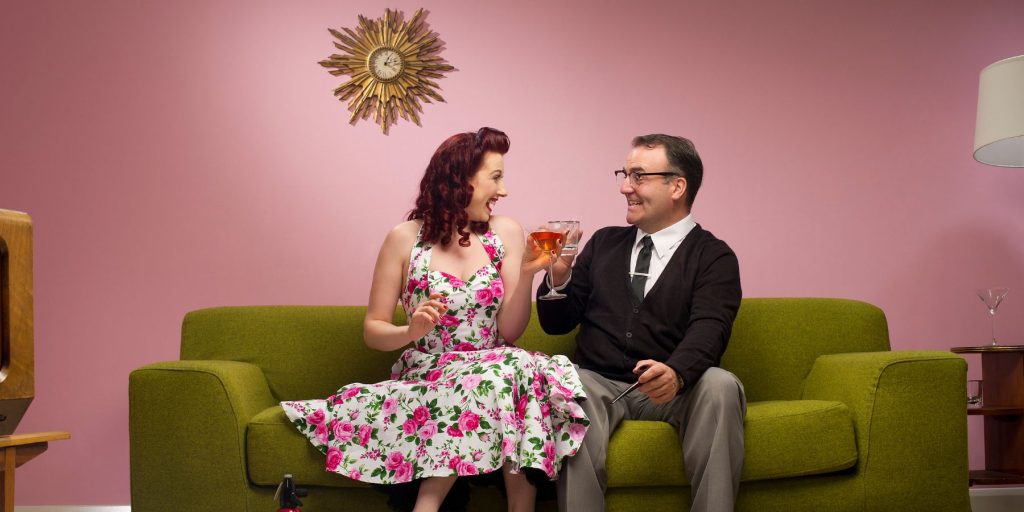 Cocktail parties were a huge deal in the 1950s, thanks to post-war prosperity and changing social norms. There was an increase in disposable income and leisure time, making it easier for people to socialise and entertain at home. Magazines, TV shows, and movies were also leaning into the cocktail culture in a big way.
At the same time, new and innovative cocktails were being shaken up, and Tiki culture was also on the rise. The 1950s marked a significant shift in the way people socialised and entertained, with the cocktail party becoming a popular and fashionable way to spend an evening with friends.
1950s Cocktails to DIY at your next party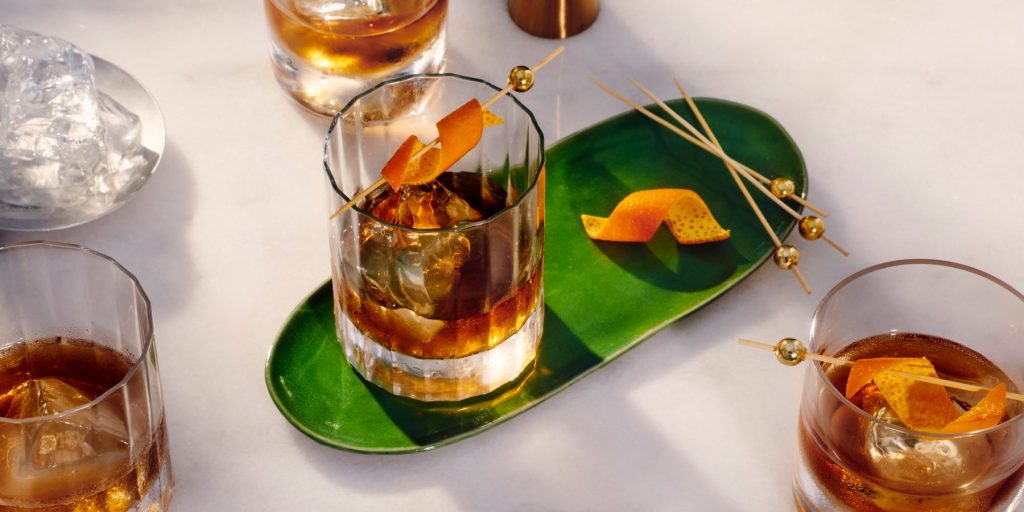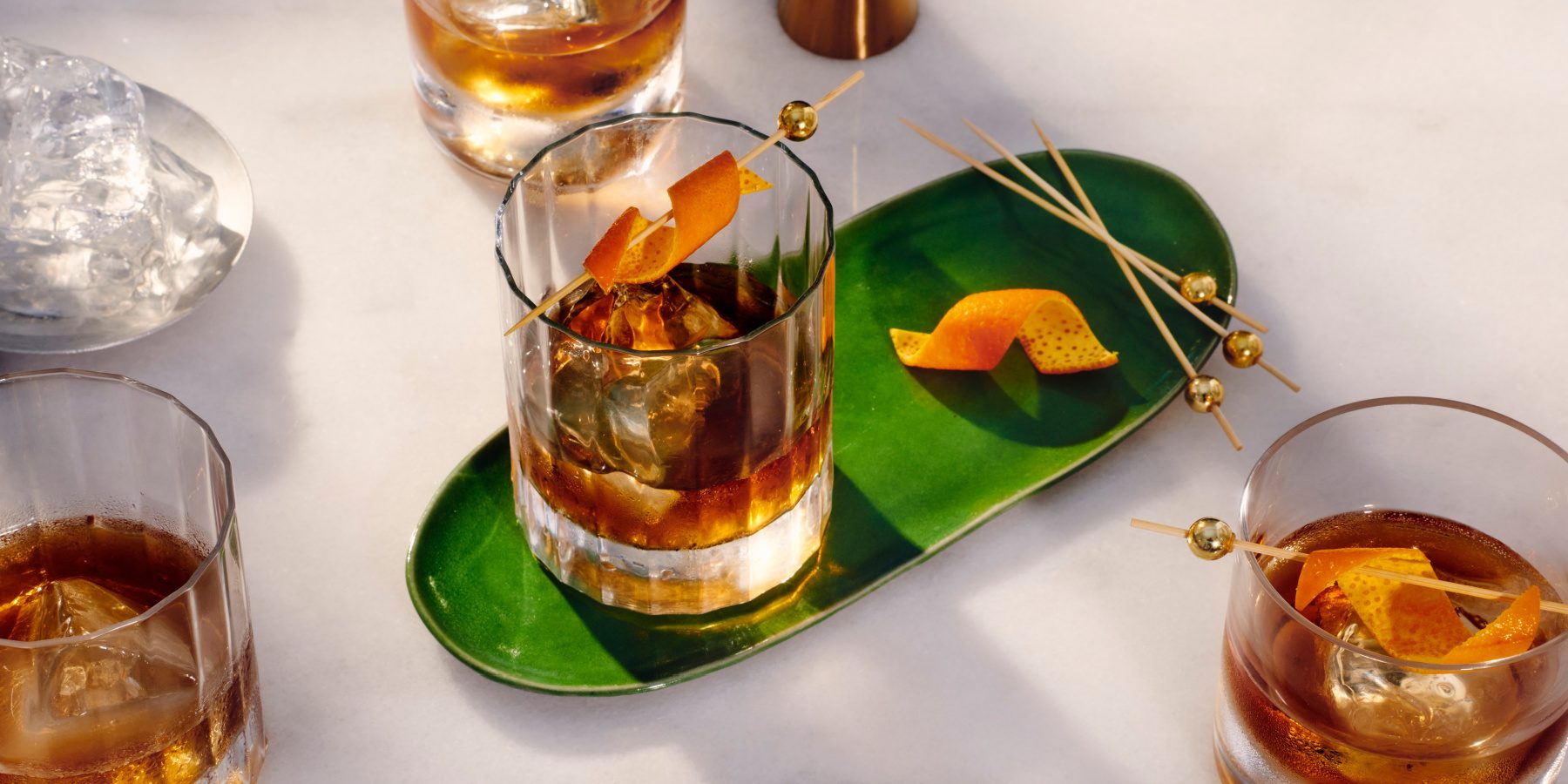 Now that you know the 1950s were a great time for cocktails, you'll need. a few amazing drinks to mix up when hosting your next far-out fete:
Manhattan. A staple at all 1950s cocktail parties, the suave Manhattan combines whiskey, sweet vermouth, and bitters, and is typically garnished with a maraschino cherry.
Old Fashioned. Featuring whiskey, sugar, bitters, and a citrus wedge as ingredients, the dapper Old Fashioned is a slow sipper that suits the 1950s vibe to a T.
Gin Fizz. Light and refreshing, the fun-loving Gin Fizz is made with gin, lemon juice, sugar, and soda water. It's an easy drink to make and a crowd-pleaser of note.
Rob Roy. A smoky sweet drink that whiskey lovers adore, we especially love a Rob Roy for a 1950s Christmas cocktail party because it makes such a wonderful hearthside sipper.
Mai Tai. Go a little tropical with a temping Mai Tai. This rum-forward drink glimmers with hints of sweet orange liqueur and a subtle tartness of fresh lime juice.
Brandy Alexander. Glamorous and romantic, the Brandy Alexander cocktail brings a delicious mix of brandy and chocolate liqueur to the party, with the indulgent addition of cream for an extra smooth and silky texture. It's the perfect serve to round off the evening.
Easy 1950s Cocktail food to serve up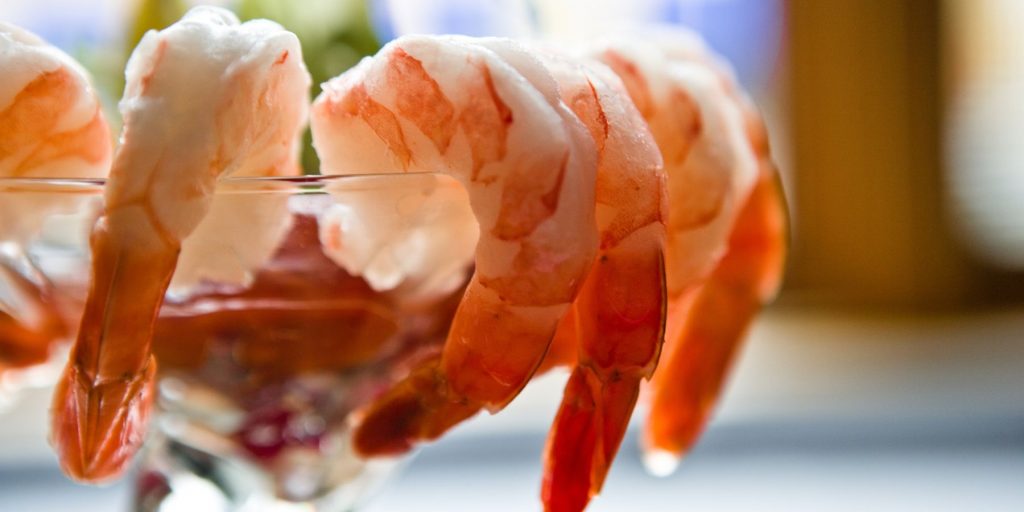 The great thing about classic 1950s cocktail party food is that it's actually pretty simple to whip up. In fact, most of the best 1950s cocktail party food recipes were tailormade for fun, festive occasions where snacks had to be easy to eat, and simple to prepare. This includes:
Devilled eggs. Hard-boiled eggs with yolks removed, mixed with other ingredients such as mayonnaise, mustard, vinegar, and spices. The egg whites are then re-filled with the yolk mixture and typically garnished with paprika or other seasonings.
Cheese & cracker platters. Platters from the 1950s would have been quite basic, with limited types of cheese, and a selection of crackers. However, feel free to dress yours up to suit the tastes and dietary requirements of your crowd.
Shrimp cocktail. Cooked, chilled shrimp served with a cocktail sauce, typically a mixture of ketchup, horseradish, lemon juice, and other spices. Serve these in martini glasses for extra pizzazz and dolly them up with lemon wedges to add a bit of zing.
Pigs in a blanket. Sausages (usually cocktail wieners, hence the 'pig') wrapped in either a pancake, biscuit dough, or a crescent-style piece of pastry – best enjoyed hot from the oven with a dipping sauce on the side.
Crab Rangoon. A Chinese-American dish consisting of wonton wrappers filled with a mixture of crab meat, cream cheese, and seasonings. The wonton wrappers are typically shaped into small pockets, then filled with the crab mixture, and deep-fried until golden brown.
Mini meatballs. Everyone loves a meatball, and you can go vegetarian with this option as well – simply choose a good vegetable-based recipe. We like serving small meatballs on cocktail sticks so they're easy to enjoy while holding a drink. You could also add a block of cheese and some colored cocktail onions if you're feeling particularly retro.
Guacamole & crisps chips. A smooth avocado dip that's wonderful to scoop up with some crunchy crisps. You can also add some tomato salsa, but that does lean into more of a Mexican vibe (which we love!). Whether you allow some thematic crossovers is completely up to you.
How to serve 1950s cocktail food
For occasions like these, we like to keep things nice and social. You can either set up a buffet and allow guests to help themselves, or hire some catering staff to pass trays around if you're feeling splashy. The key is to have a variety of small, bite-sized snacks available throughout the evening (or afternoon), and to replenish as you go.
1950s Cocktail dress styles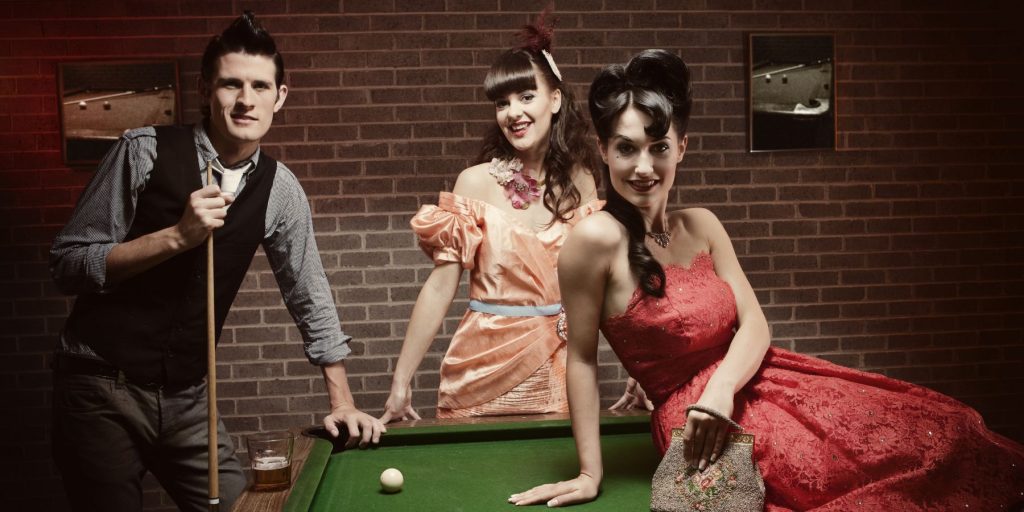 So, what do you wear to a 1950s cocktail party? Half the fun of a themed party is to play a bit of dress up, and we always like to invite guests to get dressed to the nines. Happily, the 1950s was a decade of iconic fashion trends, characterised by a mix of conservative and playful styles.
As such, you and your guests can take your pick from pop-culture classics like poodle skirts, saddle shoes, cat-eye glasses, and polka-dot dresses. Letterman jackets, wide ties, and Bermuda shorts were all the rage, and dramatic, bouffant hairstyles were everywhere.
Manly cocktail party styles from the 1950s
If you're going for a traditional look men would have donned to actual cocktail parties in the 1950s, it will be quite sophisticated and tailored. You could opt for a dark suit with a crisp white dress shirt and tie, a sports coat and slacks, well-polished dress shoes, and accessories like pocket squares and cufflinks.
Feminine cocktail party looks from the 1950s
Cocktail attire for women in the 1950s was typically elegant and feminine. This included fitted cocktail dresses in satin, silk, or taffeta, often with a flared skirt and intricate detailing such as beading or lace. High heels and clutch bags were favoured, and statement jewellery like chandelier earrings and pearl chokers were also at the height of fashion.
1950s Cocktail party décor inspiration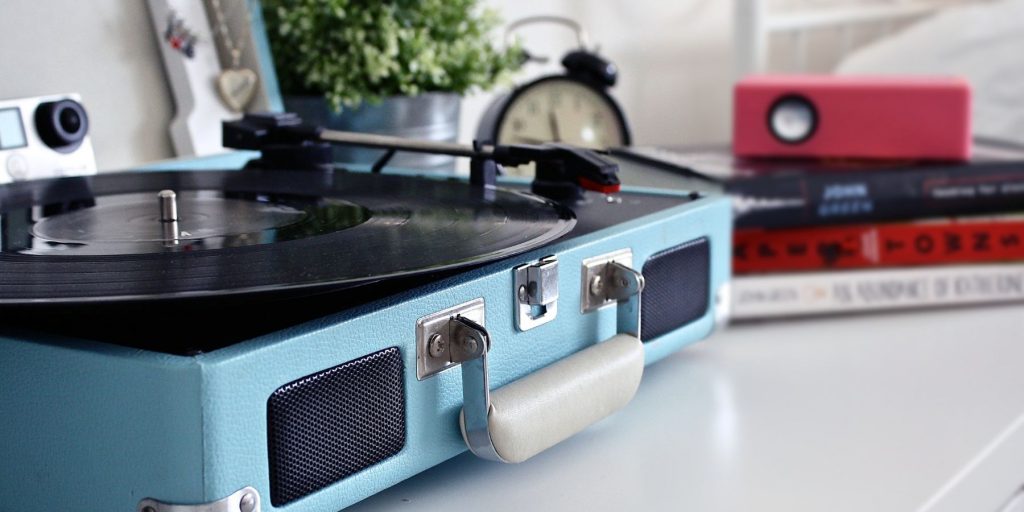 If you're looking for cocktail party ideas to dress up your 1950s soiree, we've got great news – it can be pretty easy to pull off. However, you can also push out the boat and go full-on theme crazy if you want to. The choice is yours. Here are a few décor prompts to get those creative juices flowing:
Vintage record covers and LPs featuring 1950s music stars like Elvis, Marilyn Monroe, Chuck Berry, Little Richard, and Doris Day.
Movie posters and photos of 1950s screen stars like James Dean, Elizabeth Taylor, Marlon Brando, Cary Grant, Judy Garland, and Grace Kelly.
Bold colour schemes like pink and teal, with flashes of chrome.
Soda shop/diner décor – think jukeboxes, milkshake makers, chequered tablecloths, and napkins.
A classic dance floor with balloon arches (everyone loves to get down when they're wearing poodle skirts and wingtips!).
FREQUENTLY ASKED QUESTIONS
Popular cocktails from the 1950s include the Manhattan, Old Fashioned, Martini, Daiquiri, and Gin Fizz. Find a full list on The Mixer UK.
Popular appetizers from the 1950s include devilled eggs, cheese & cracker platters, shrimp cocktail, and pigs in a blanket. Find a full list on The Mixer UK.