7 Boozy Puddings to Try this Weekend
November 20, 2023 by Helena Lombard
What are boozy puddings?
There's a lot to worry about during the holidays, and a lot to get done. Before you know it, the holiday is over. And because you are the hostess with the mostess (they all say it, so it must be true), you are left exhausted and desperately counting the days you have left before returning to the rat race. We know, it's ironic—but here we are.
To help, The Mixer's compiled a list of the best, and, most importantly, easiest puddings you can make. There's no need to channel your inner Mary Berry – these recipes are refreshingly simple yet packed with delicious boozy flavors. Keep these recipes for indulgent winter weekends with friends or to make your festive season a breeze.
With that said; put on your apron and pour yourself a drink. It's kitchen time!
1. Boozy banana pudding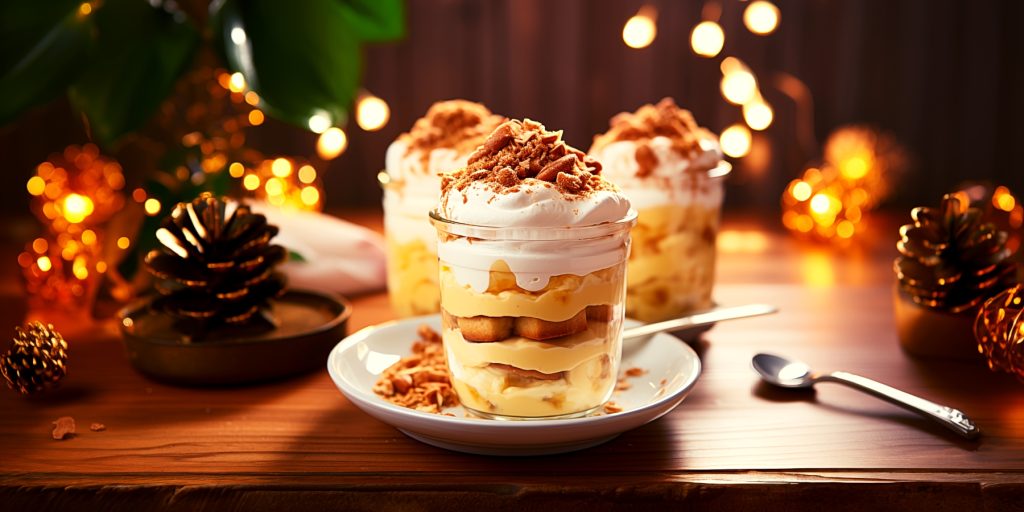 There's a long way to make this recipe. And there's a shortcut. We've given you the easy version that uses instant pudding as the ultimate hack. This recipe calls for salted caramel whiskey, which can be hard to find. Use our recipe for the homemade version — and if you can't be bothered, use a good quality rum as your alcohol base instead.
Ingredients
8 oz Instant vanilla or caramel pudding

2.5 Cups whole milk

¾ Cup salted caramel whiskey or rum

8 oz Cool Whip

2 Bananas, peeled and sliced

1 Cup crushed vanilla wafers, plus extra kept whole to garnish

Chocolate shavings to garnish
Method
Whisk together the instant pudding, milk and alcohol of choice until thickened, then pop it into the fridge to set for 10 minutes – or as long as needed.

Grab 6 lowball glasses, then create layers of pudding, whipped cream, banana slices and crushed wafers.

Repeat these layers one more time, then add a final layer of whipped cream.

Arrange wafers and bananas over the top.

Pop the puddings back into the fridge, then sprinkle over flaked chocolate just before serving.
You might also like: The Best Banana Daiquiri
2. Boozy bread pudding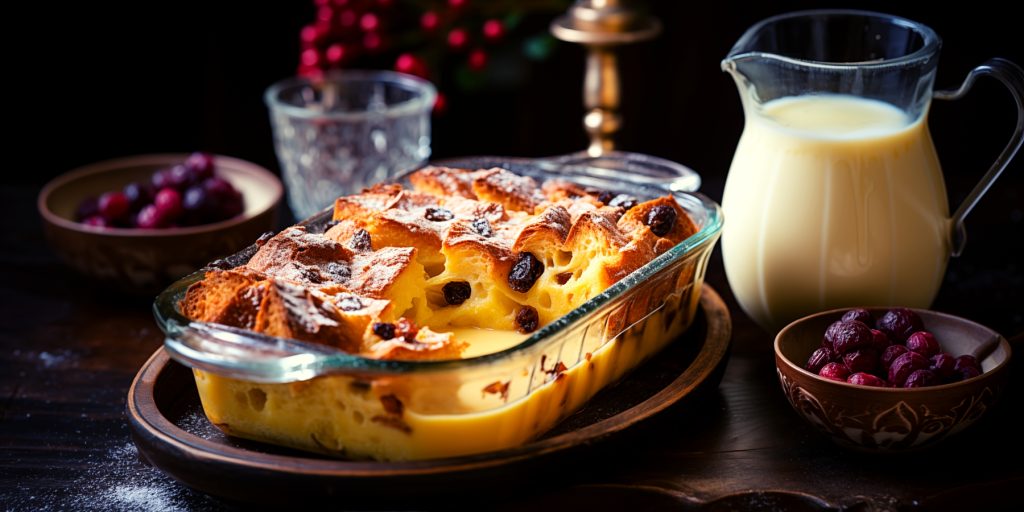 Rum and raisin are a classic pair, and they work together harmoniously in this decadent boozy bread pudding.
For the pudding
¾ Cup demerara sugar

3 Cups whole milk

2 oz Appleton Estate 12-Year-Old Rum

5 Fresh organic eggs, at room temperature

1.5 Teaspoons ground cinnamon

1 Teaspoon vanilla extract

½ Teaspoon salt

1 Cup golden raisins

10 Croissants, cut into cubes
For the rum crème anglaise
1 Cup heavy cream

½ Cup brown sugar

1.5 oz Appleton Estate 12-Year-Old Rum

2 Tablespoons unsalted butter

1 Tablespoon flour

1 Pinch salt
Method
First up, get that oven on and preheat it to 375

°F.

While that's warming up, grease an 11 x 7-inch oven-friendly dish (or whatever dish you have on hand that will be big enough).

Now, grab a large mixing bowl and add the demerara sugar, rum, eggs, vanilla, cinnamon and salt.

Using an electric hand mixer, whisk everything until light and creamy.

Fold in the raisins and nuts.

Add the chunks of croissants and give the whole thing a good mix.

Pour the mixture into the greased dish, then pop it into the oven to bake for around 40 minutes (or until puffed and golden).

While the pudding is baking, add the cream, brown sugar, salt, rum and butter to a saucepan.

Cook over a medium heat, and when it starts bubbling around the edges, scoop a few spoons of the mixture into a cup with flour and mix it to form a paste.

Add the paste to the butter sauce and whisk vigorously to combine.

Simmer until thickened, then take it off the heat.

Generously drizzle over the pudding and serve.
You might also like: Hot Buttered Rum
3. Boozy chocolate pudding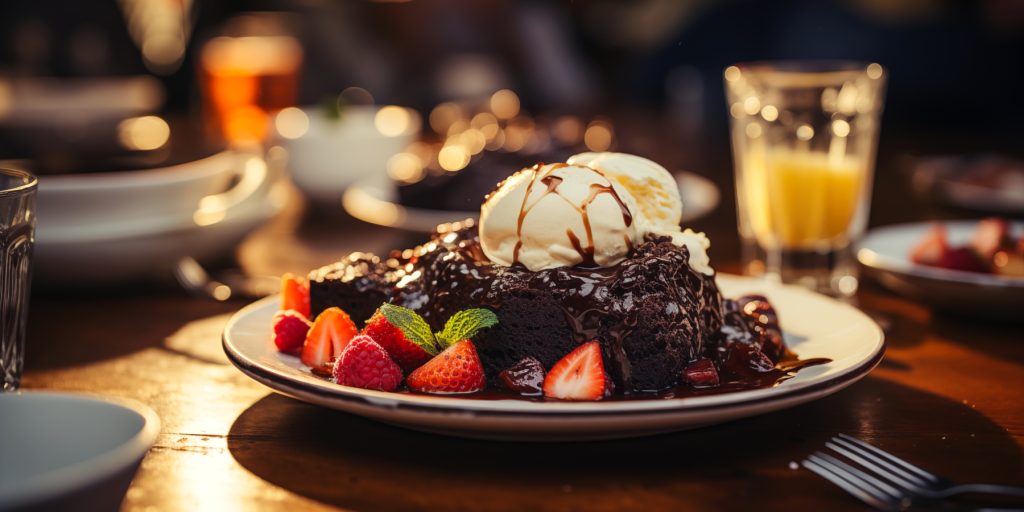 This one is for the chocoholics. It's a self-saucing recipe, which means once you crack open the chocolate sponge, you'll find an indulgent buttery boozy chocolate sauce surprise at the bottom.
For the pudding
½ Cup melted butter

2 Cups self-rising flour

½ Cup superfine sugar

½ Cup cocoa

1 Teaspoon baking powder

3 Fresh eggs

¾ Cup Irish cream liqueur

2 oz Whole milk

½ Cup roughly chopped milk chocolate

Icing sugar for dusting

Vanilla ice cream and fresh strawberries to serve
For the sauce
¾ Cup muscovado sugar

2 Tablespoons cocoa
Method
Pre-heat oven to 356°F.

Grease a baking dish and set aside.

Add the flour, sugar, cocoa, baking powder and a pinch of salt to a large bowl

In a separate bowl, whisk together the butter, liqueur, eggs and milk

Add the wet ingredients to the dry ingredients and mix until smooth.

Stir through the chocolate chunks then transfer the mixture to the baking dish.

Make the sauce by mixing the cocoa, water and sugar, then pour it over the chocolate pudding batter.

Pop into the oven and bake for 30 minutes, or until the top of the pudding is firm and slightly crispy.

Dust with icing sugar and serve with scoops of vanilla ice cream, fresh strawberries and extra Irish cream liqueur on the side.
You might also like: 15 Classic Ice Cream Cocktails
4. Boozy pudding cups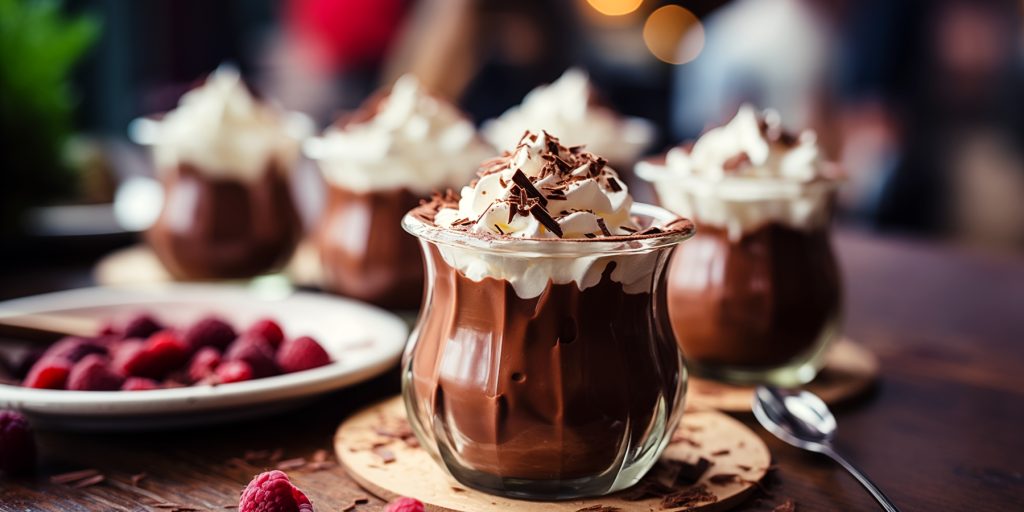 Boozy pudding cups are possibly our favorite holiday hack this season. All you need are a few ingredients and 10 minutes to add a dash of fun to your normal pudding business. This recipe uses Irish cream and vodka as its alcohol base, but you can play around and use any of your favorite liqueurs instead. We especially love using chocolate and coffee liqueur. You can also swap out the instant chocolate pudding with a vanilla or caramel flavor instead.
Ingredients
3.56 oz Instant chocolate pudding mix

6 oz Whole milk

2 oz SKYY Vanilla Vodka

4 oz Irish cream liqueur

8 oz Cool Whip

Chocolate shavings and raspberries to garnish
Method
Mix together the instant pudding and milk until properly combined.

Whisk through the vodka and liqueur.

Fold in the Cool Whip.

Divide into 6 individual servings and pop into the fridge to set.

Top with extra whipped cream then garnish with chocolate shavings and raspberries just before serving.
More chocolate delights: Chocolate Martini Recipe
5

.

Boozy sticky toffee pudding
This indulgent treat takes the beloved sticky toffee pudding to a whole new level by infusing it with a generous dose of whiskey.
For the batter
½ Stick butter

½ Cup granulated sugar

¼ Cup brown sugar

2 Fresh eggs, at room temperature

2 Teaspoons vanilla extract

1 Teaspoon baking soda

1 Cup self-rising flour

½ Cup warm water

8 oz Chopped dates
For the sauce
2 Cups heavy cream

1 Stick unsalted butter

½ Cup golden syrup

1 Cup sugar

1 Teaspoon vanilla extract

3 Tablespoons Wild Turkey 101 Bourbon or good-quality dark rum
Method
Pre-heat oven to 350°F.

Grease a baking dish, and set aside.

In a large mixing bowl, cream the butter and sugars until light in texture and color.

Add the eggs, one at a time, whisking as you go, then add the vanilla.

Add the flour, baking soda and warm water.

Mix again, but be careful to not overdo it

Fold in the dates then scrape the batter into the baking dish.

Bake for 30-40 minutes then set aside to cool slightly.

Next, make the sauce by combining the sugar, syrup butter and cream in a saucepan over a low heat.

Gently Simmer for about 5 minutes, then remove the sauce from the heat and stir through the vanilla and whiskey (or rum).

Serve the pudding with the boozy sauce drizzled over the top and whipped cream or ice cream on the side.
Read next: Best Boozy Sauces
6. Bourbon brioche pudding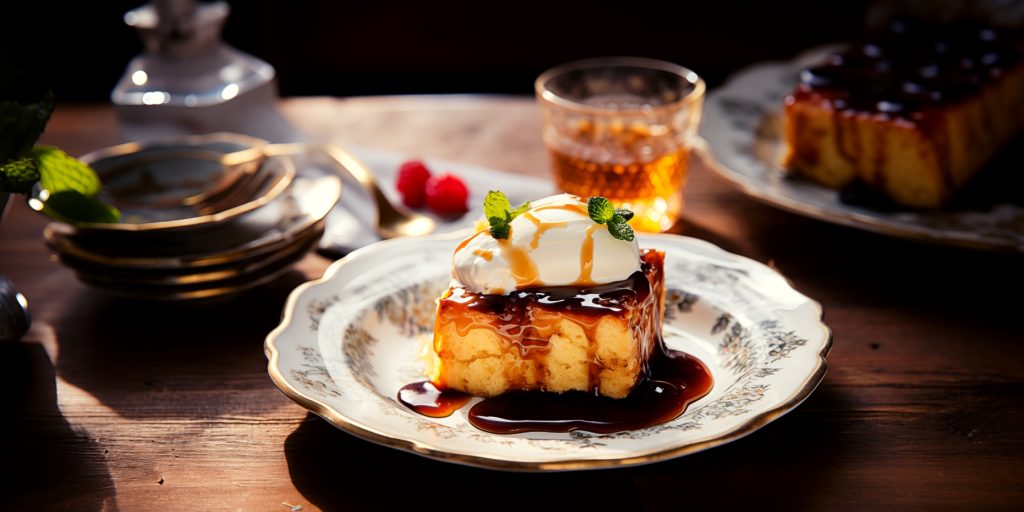 Bourbon and brioche anyone? Don't mind if we do! This recipe takes the traditional bread pudding and transforms it into a boozy delight that everyone will love.
Ingredients
4 oz Wild Turkey 101 Bourbon

½ Cup raisins

2 Cups toasted brioche, cubed

1/3 Cup chopped pecans

4 Fresh eggs, at room temperature

2 Cups heavy whipping cream

1 Teaspoon vanilla extract

1 Teaspoon ground cinnamon

½ Teaspoon nutmeg

1 Pinch salt

Whipped cream to serve
Method
Preheat the oven to 375°F.

Add the raisins to a bowl then add half of the bourbon and leave to soak for 10 minutes.

Add the cubed bread to a greased baking dish then sprinkle over the chopped pecans and soaked raisins along with the bourbon.

Next, whisk together the eggs, cream, sugar, spices and remaining bourbon.

Once properly combined, pour it over the bread and set aside for about 15 minutes to let the bread soften.

Pop it into the oven and bake for around 30-40 minutes until the pudding is puffed and golden.

Serve with a dusting of icing sugar and freshly whipped cream.
For the bourbon fan: 9 Fantastic Winter Bourbon Cocktails
7. Boozy Christmas pudding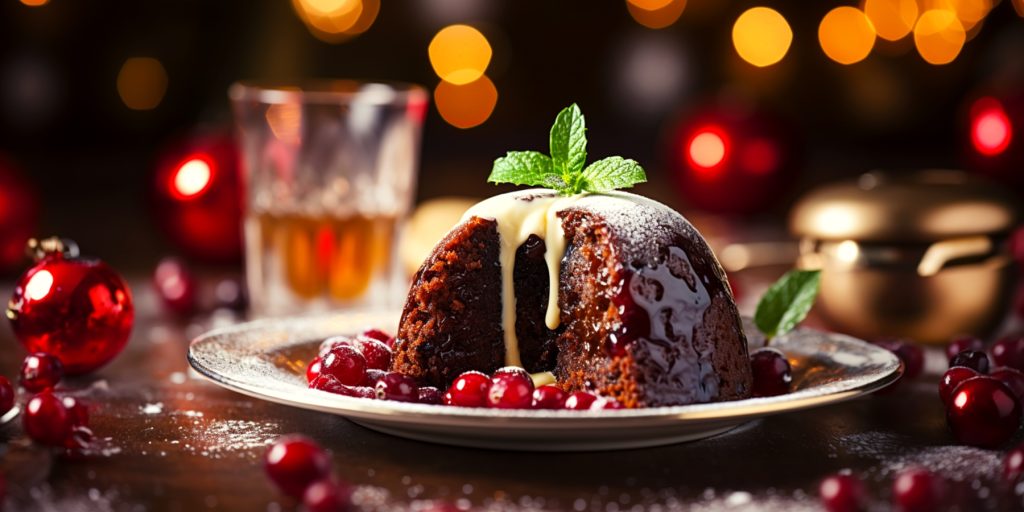 This recipe is from the Royal Family's chef and rumor has it that this used to be the queen's favorite Christmas pudding—and who wouldn't want to know what that tastes like?
Ingredients
8 oz Raisins

8 oz Currants

6.5 oz Golden raisins

5 oz Mixed citrus peel

8 oz Vegetable shortening

8 oz Breadcrumbs

3 oz Flour

½ oz Mixed spice

2 Fresh eggs

6.5 oz Demerara sugar

9 oz Beer

1.5 oz Dark rum

1.5 oz Brandy
Method
Add all dry ingredients to a large mixing bowl and give them a good stir.

Add the eggs and all the liquid ingredients and stir again.

Grease your pudding tins (or one large dome bowl) and add the mixture.

Cover each tin or the bowl with a sheet of grease-proof paper.

Pop the pudding into a large pot or saucepan, and add water up to ¾ mark of the pudding.

Cover the pot with foil and place on a medium –low heat.

Steam the pudding for about six hours, adding more water as needed.

Remove from heat and allow to cool.

Wrap the pudding up and store them in a cool, dark place until Christmas.
Read next: 11 Cocktail Party Appetizers