The 10 Best Champagne Cocktails for Any Occasion
July 04, 2022 by Anna-Bet Stemmet
The best Champagne cocktails are those that are simple to make but look super fancy. So, here's our list of Champagne cocktail recipes that are actually ridiculously easy to pour, and will always add a dash of sparkle, panache and *chef's kiss* to any occasion or event you're hosting.
1. French 75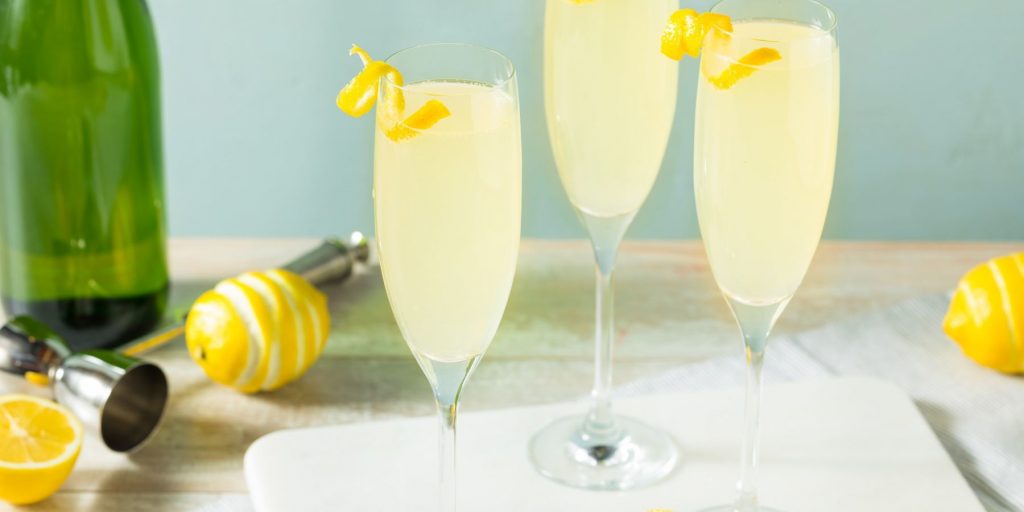 The French 75 is one of those Champagne-based cocktails that's actually quite a bit stronger than it looks, and tastes… Named for the French 75mm field gun that was used during World War I, it has quite the flavorful back story – it was first poured in New York City by a Scottish bartender who named it after a French field gun!
The French 75 recipe features Bulldog Gin, Champagne, lemon juice, simple syrup, sugar and a lemon slice (for the rim), as well as a Maraschino cherry, to garnish.
2. Classic Mimosa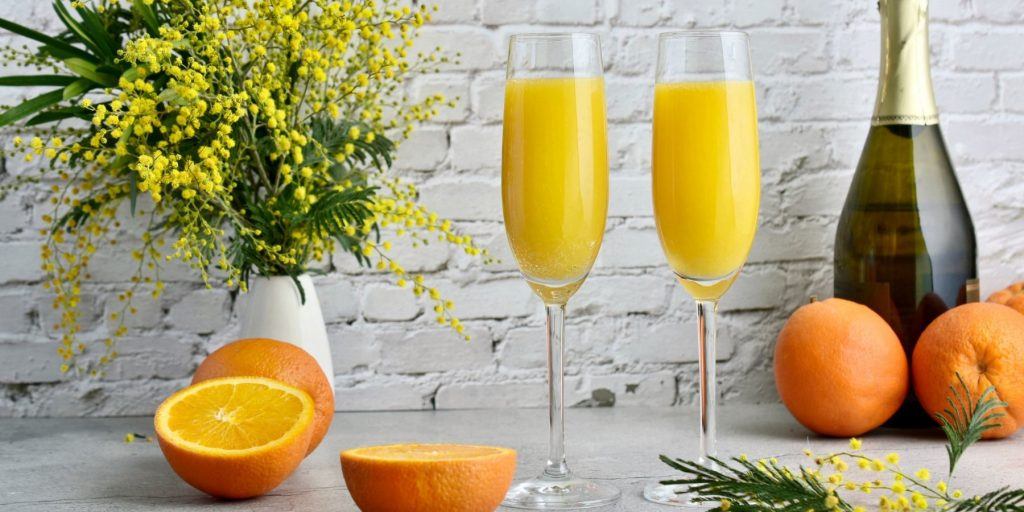 Without a doubt one of the best brunch cocktails out there, the classic Mimosa recipe is a beautiful combo of Champagne and freshly-squeezed orange juice. When hosting a party, this is one of the easiest cocktails to serve, for sure. It's perfect for easy pitcher-style serving, as all you must remember is combining equal parts orange juice and sparkling wine.
Tip: Be sure to use chilled ingredients first, and pour the sparkling wine first, running it down the sides of the pitcher.
3. Apple Cider Mimosa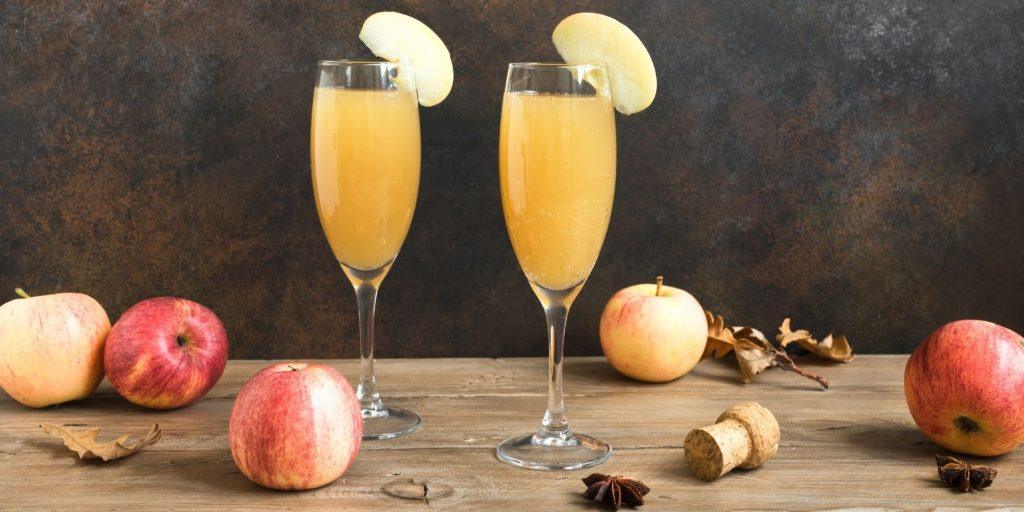 We like to think the best cocktails with Champagne can be adapted for all seasons, and this is definitely the case with the Apple Cider Mimosa. This cozy take on the classic Mimosa is a nice choice for Thanksgiving get-togethers and other fall occasions.
Featuring equal parts apple cider and Champagne, served with a sugar-and-cinnamon rim, it combines the festiveness of bubbles, with the warming flavors of harvest-time favorites.
4. Kir Royale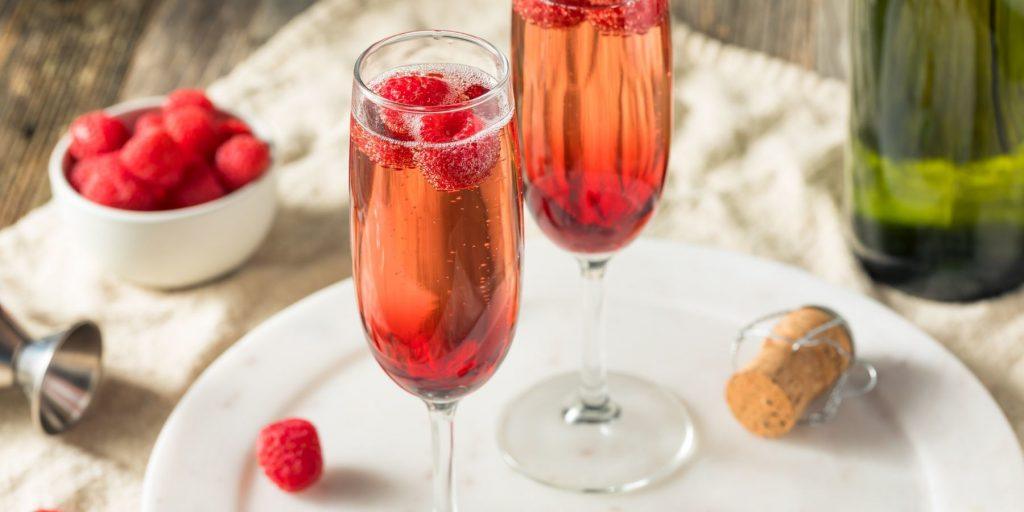 The Kir Royale is arguably one of the most popular French cocktails around the globe. Also known as a French Champagne cocktail it combines blackcurrant liqueur and Champagne for a perfectly beautiful serve that goes down very easy.
It's no wonder this cocktail is so often chosen as a welcome drink for festive occasions like weddings – it's simple to make, and picture-perfect to boot.
5. Bellini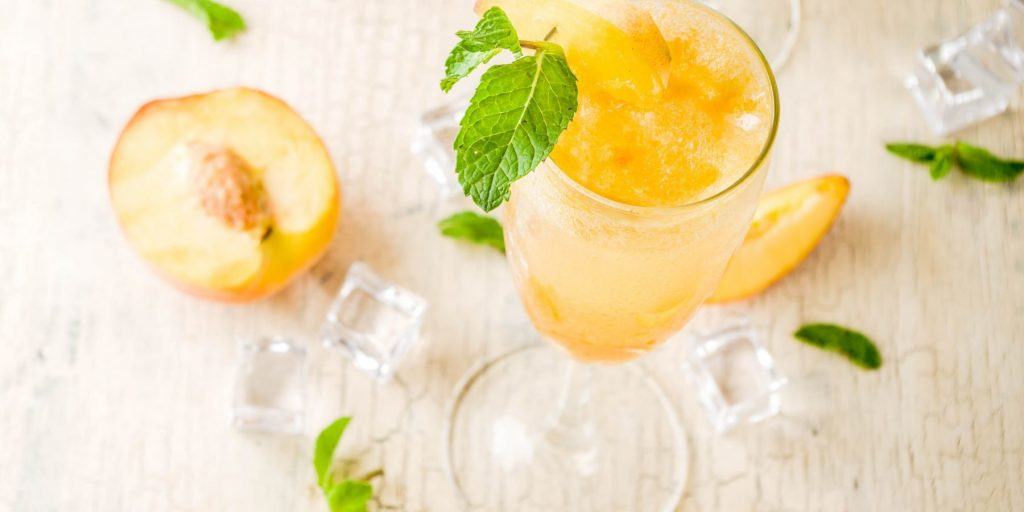 As far as Champagne drink recipes go, the Bellini is definitely one of the most famous. This simple summer-loving cocktail is quick to make, perfect when hosting friends and family for brunch or lazy afternoons by the pool. The fruity fizz of the Bellini recipe is a delicious alternative to a Mimosa, and an absolute must to enjoy when peaches are in season.
6. Champagne Punch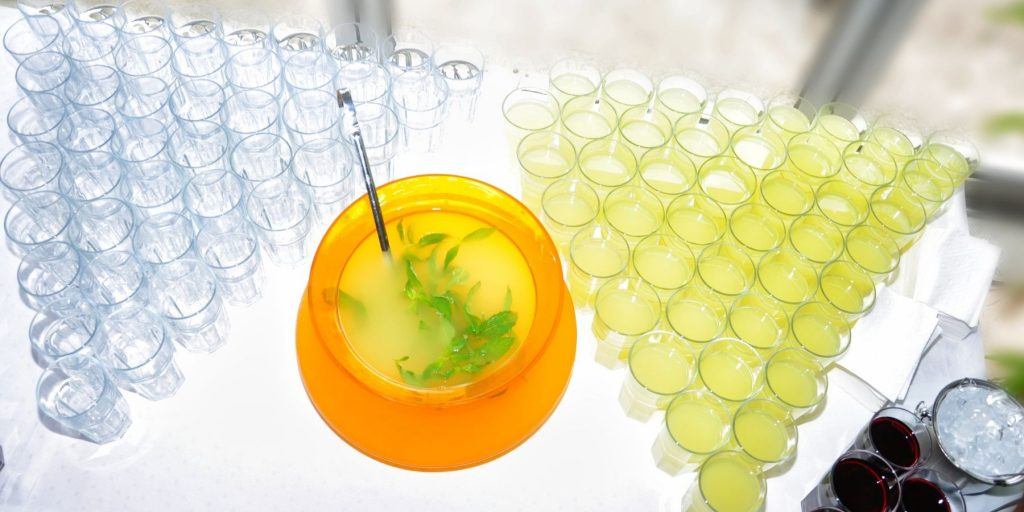 If you are looking for easy-yet-amazing Champagne drink recipes to serve a crowd, Champagne Punch is going to tick all of your must-have boxes. It's a guaranteed crowd-pleaser and looks wonderful on a festive table.
There are various recipes to try, but we prefer the classic, which calls for two bottles of Champagne, two cups of ginger ale, half a cup of orange liqueur, two cups of pineapple juice, one orange and lemon sliced, and raspberries or cranberries as a garnish.
7. Aperol Spritz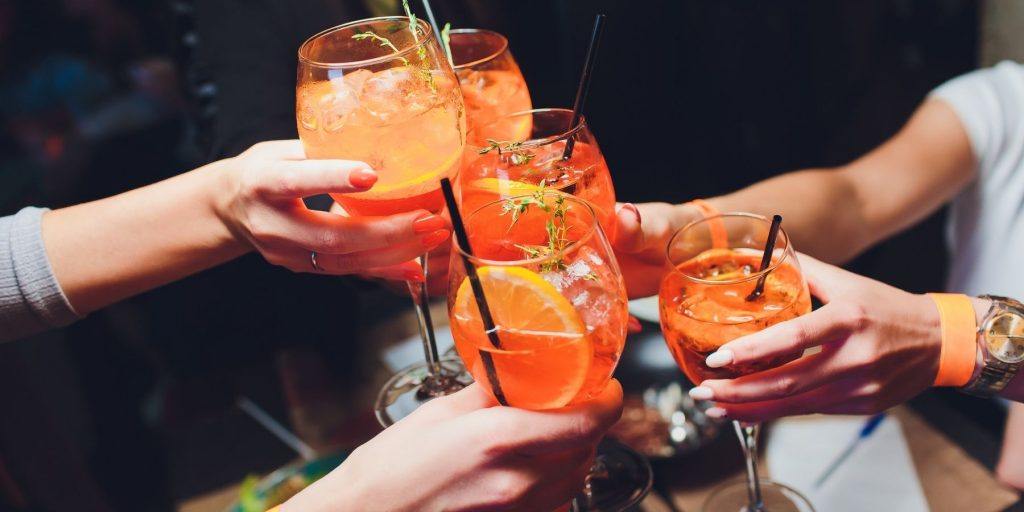 Summer Champagne cocktails do not come any more iconic than the Aperol Spritz. Combining Aperol, Champagne, and club soda, this drink is summer in a glass if there ever was one. It's deliciously refreshing and almost universally beloved, so if you're hosting a summery gathering and want to play it safe with your drink choices, we highly recommend going this route.
8. Hugo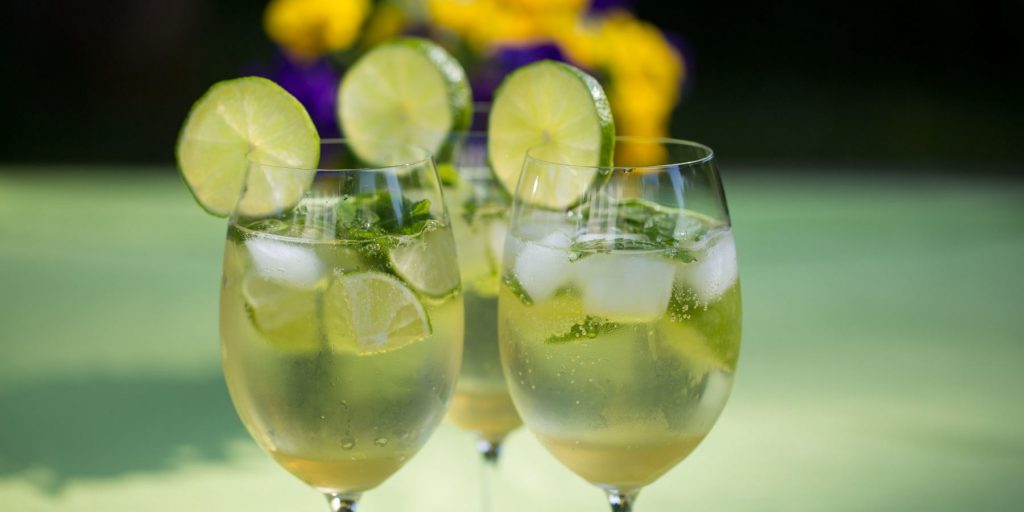 Another amazing cocktail made with Champagne is the ever-popular Hugo Cocktail recipe. It's a delightful floral spin-off on the Aperol Spritz and is features a delightful combination of elderflower liqueur, prosecco, and club soda.
Made with only these three ingredients, it's simple to make as a batch for easy hosting; you want to give it an extra kick, you can add a bit of gin, but this cooling cocktail is equally delicious without.
9. Champagne Martini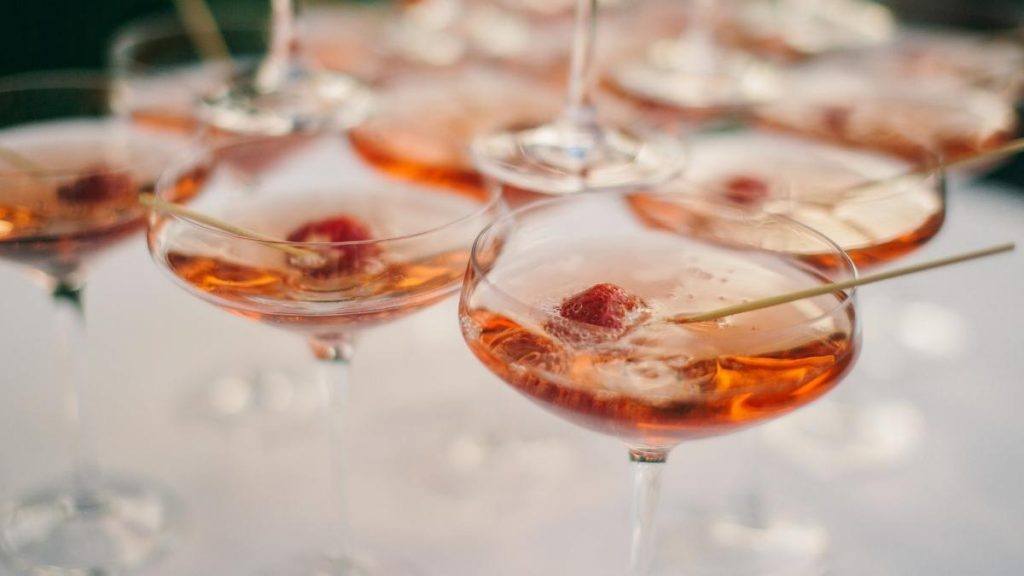 The delightful and delicious Champagne Martini is a perfect case of true romance between two opposites – SKYY vodka and Champagne, along with some freshly squeezed lemon juice, a sugar rim, and a Maraschino cherry to garnish.
We love the Champagne Martini recipe for its sophistication and luster. Also, it helps that it is quick and easy to make at home but still looks extra impressive.
10. Poinsettia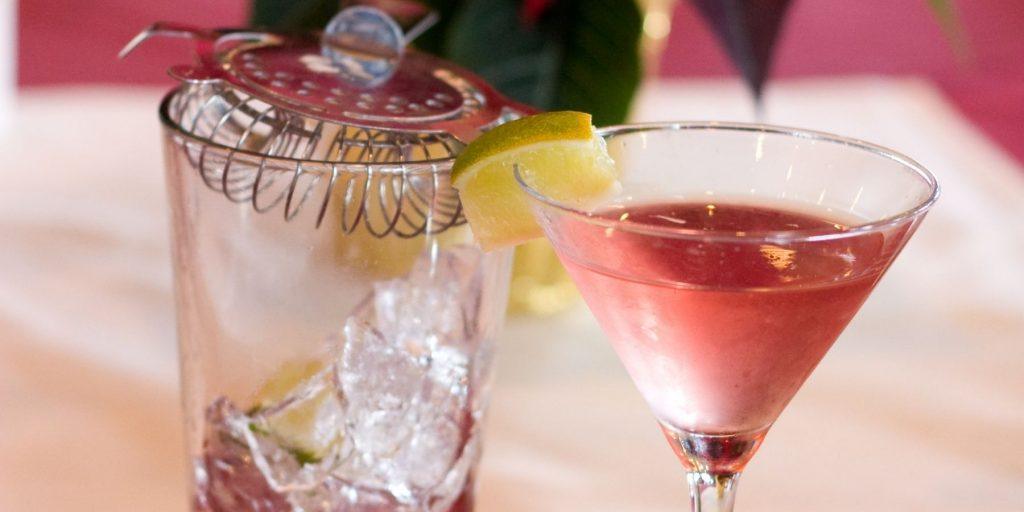 Drink recipes with Champagne do not have to be complicated to be 100% delicious. The Poinsettia Cocktail, for instance, is a cinch to whip up. Simply combine ½ oz orange liqueur, 2 oz cranberry juice and top it off with Champagne – that's it! If you're feeling fancy, add a sprig or rosemary to pull all these lovely flavors into sharp focus.
There you have it – ten amazing Champagne cocktails to try at home. With these drink recipes in your DIY arsenal, any event you host will have its fair share of shimmer and shine. No go forth and make pretty!
FREQUENTLY ASKED QUESTIONS
A Champagne cocktail is a composite drink that combines Champagne with other delightful ingredients. Popular examples include the Bellini, French 75, and Champagne Martini cocktails.
Champagne is a very versatile ingredient that combines well with everything from fruit juices like orange- and pineapple juice; to liqueurs like Aperol and blackcurrant liqueur; as well as spirits like SKYY Vodka and Bulldog Gin.
Preferably from a Champagne flute, and with plenty of time to savor its effervescence and beautiful taste.
If you do not like the taste of Champagne, you can make it more palatable by turning it into a cocktail. Popular Champagne-based cocktails include the Classic Mimosa, which combines bubbly with orange juice, and a Kir Royale, which adds a dash of blackcurrant liqueur.