Make These 8 On The Rocks Cocktails Like a Pro
May 29, 2022 by Helena Lombard
Ice is, without a doubt, one of the most essential ingredients used in cocktail making, so when you're making on the rocks cocktails, you're not just pouring alcohol on ice. What you're actually doing is a bit of science, and here's why: the addition of ice to any alcoholic drink influences the temperature and consistency of the drink, which influences the taste of what you're sipping on.
Here are a few tricks to keep up your sleeve when trying to impress your friends with your on the rocks cocktails:
Once poured, don't leave the drink to mingle with the ice for too long – the longer it sits, the more diluted it will become—and there's nothing crowd-pleasing about that!

Secondly, choose your ice carefully. Using the right kind of ice for the right cocktail can make or break an on the rocks drink. Use small ice cubes (1 – 1.25 inches) for recipes that call for a cocktail to be served on the rocks—like a Tom Collins or Paloma. Large cubes and spheres are great for whiskey drinks—the kind that is well chilled but not watered down. Crushed ice belongs in Zombies, Daiquiris, and Mai Tais. Easily make your own by wrapping ice in a clean damp kitchen towel and hammering the life out of it with a wooden mallet. Use your standard freezer ice for mixing drinks like

Cosmopolitans

and

classic Martinis

in your cocktail shaker.

Finally, use the proper glass with the right ice for the right on the rocks cocktail.
Now you know the tips and tricks, check out our list of on the rocks premium cocktails that you can make at home:
1. Lime Margarita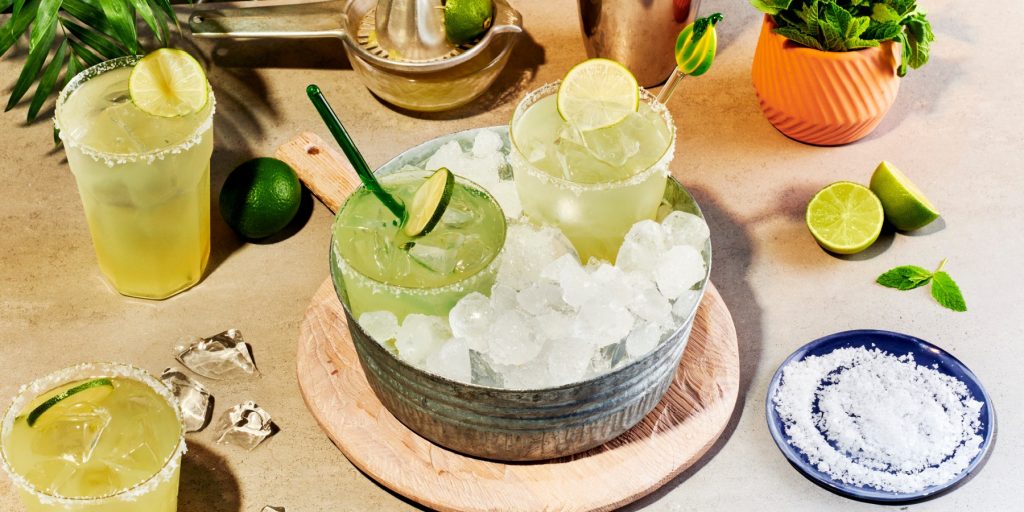 Who doesn't love a good margarita? It's the quintessential drink to have with spicy food, the go-to cocktail to get the party started, and an epic on the rocks drink to enjoy with good friends at sunset. The Lime Margarita has a special place in our cocktail drinking hearts. To make one, you only need a few ingredients: fresh lime juice, Grand Marnier orange liqueur, and decent tequila. And ice, of course. It's one of the most popular summer cocktails there is — and once you've made them, you'll understand why these classic on the rocks cocktails are so good.
2. Moscow Mule
The delicious and refreshing Moscow Mule cocktail was born in the Big Apple in the 1940s. Made with just three ingredients (vodka, lime juice, and ginger beer), you can't take any shortcuts when it comes to quality. Trust us on this. Use fresh lime juice, good quality ginger beer, and premium vodka, like SKYY. It makes all the difference. While this popular vodka cocktail is traditionally served in a copper mug for that extra frost factor. If you don't have one, use a highball glass instead. To make one of these classic on the rocks mixed drinks, pour the vodka, lime juice, and ginger beer over ice in a copper mug, add ice and stir until combined. Finish it off with fresh mint leaves and a wedge of lime to garnish.
3. Old Fashioned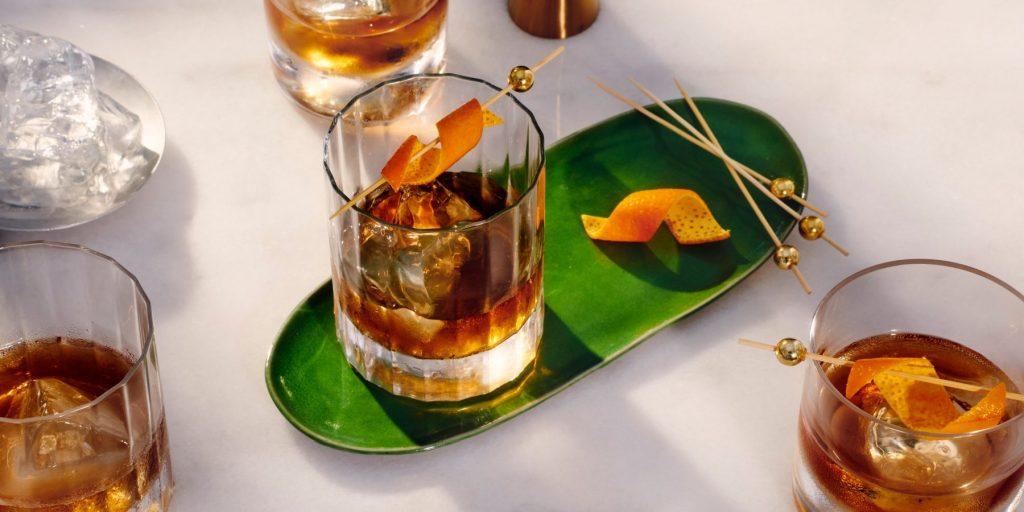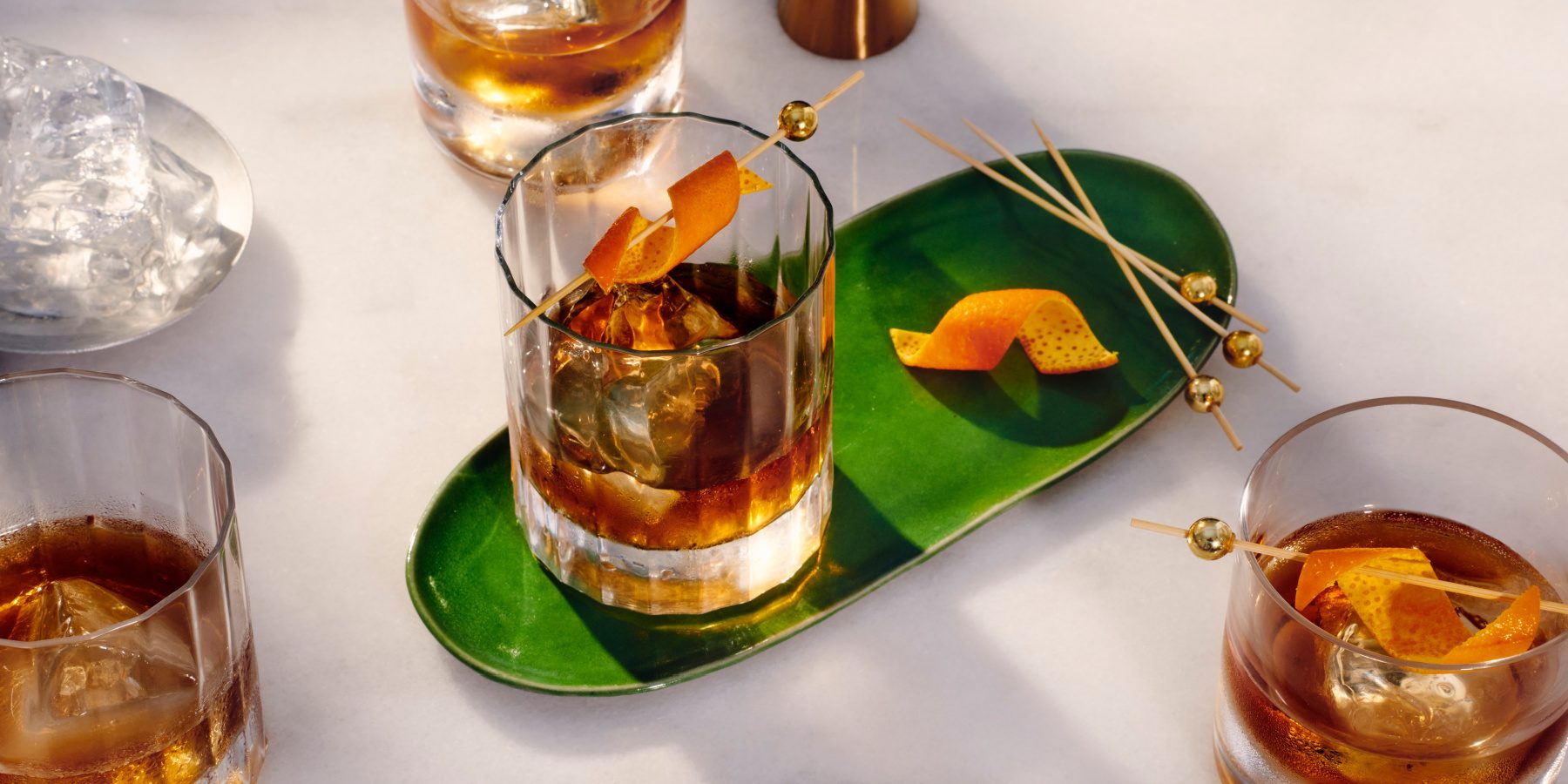 This one is for the whiskey lovers, the drink of choice for Don Draper in Mad Men, the Old Fashioned is an iconic favourite. This on the rocks cocktail is so popular that it has two weeks dedicated to it in June every year, known as the Old Fashioned Fortnight.
You'll only need Wild Turkey 101 Bourbon Whiskey, sugar syrup (or a sugar cube), and aromatic bitters to create this classic. Once you have that, add everything to a large mixing glass filled with ice, and stir until nicely chilled. Next, strain it into a tumbler over ice and garnish with a lemon peel twist or a maraschino cherry. Oh, and remember to serve it immediately! This Instagram-worthy, amber coloured, old-school drink is the perfect ending to your evening. It's one of the best summer whiskey cocktails you'll ever make.
4. Mint Julep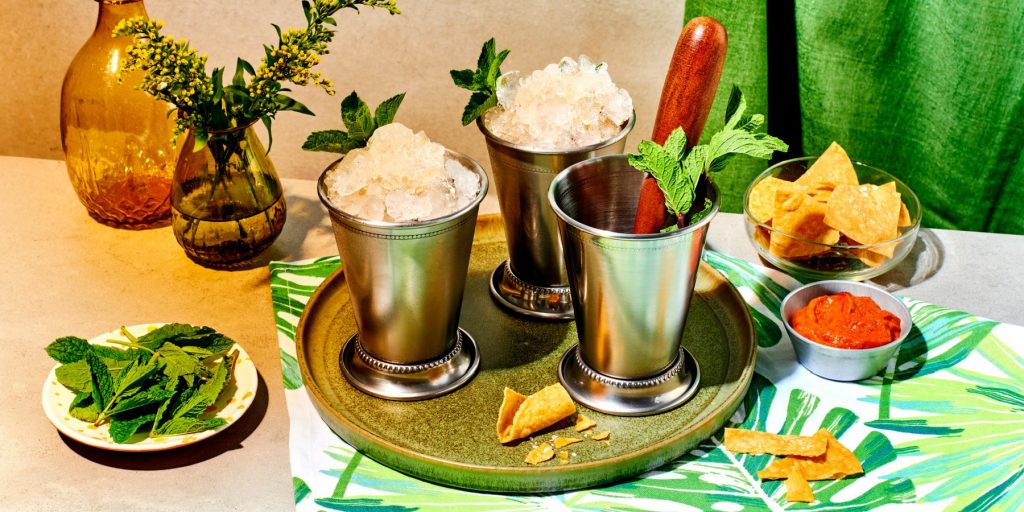 While we're visiting the area, let's introduce you to the Mint Julep. This cooling on the rocks cocktail is a bourbon-based delight and is a legit reason for you and your friends to have a cocktail in the morning. It used to be the high society tradition back in the 1800s—and who are we to frown upon that? However, if you're more of a wake-up-and-smell-the-coffee kind of person, make this cocktail a refreshing pick-me-up from the heat during a summer's lunch or dinner.
The Mint Julep is served in a silver or pewter Julep cup but opt for a rocks glass instead if you don't have these in your glass collection. Making this summer whiskey cocktail is super simple, so it's great for a novice. All you will need is bourbon, sugar syrup, crushed ice, and 10 – 12 mint leaves. Add the mint leaves and sugar syrup to a Julep cup and lightly muddle until the scent of mint fills the air. Add the bourbon and add loads of crushed ice, then stir until the cup is frosted on the outside. Finally, top with more crushed ice and garnish with a mint sprig. This Gatsby-era slow sipper is a strong drink that will make your friends feel very happy on a hot day.
5. Rickey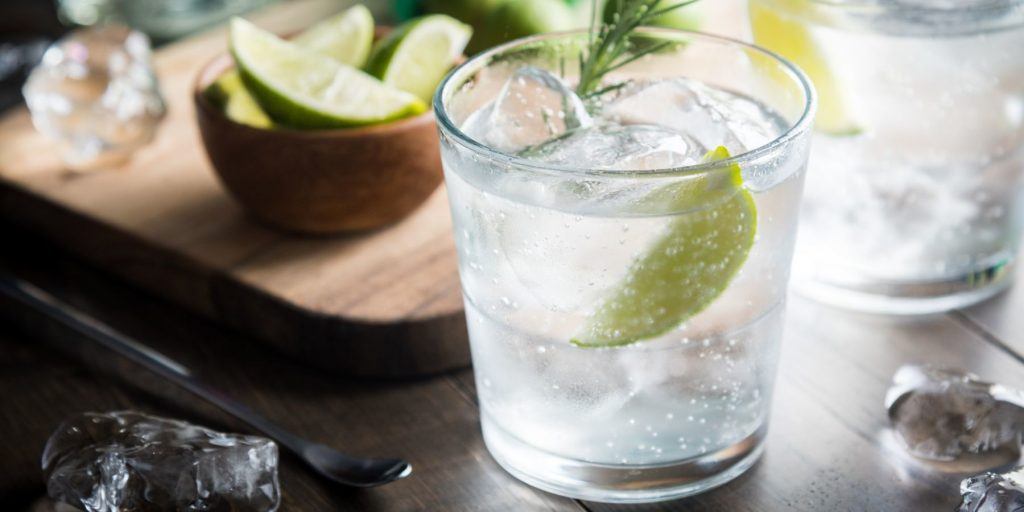 The Rickey isn't a cocktail you often see on the drinks menu, but that doesn't mean that these gin or bourbon based on the rocks mixed drinks shouldn't crack an invite to your next dinner party. And the best part? It's a low-calorie cocktail, so you can enjoy more than one (or two, or even three). A Rickey cocktail is refreshing, fragrant, and packed with lime and floral notes that will remind you of a perfect summer's day.
There are two variations of the Rickey cocktail, with gin and bourbon often competing for the top spot. Our favourite is the gin version. The botanical notes of the gin blend beautifully with the fresh lime juice and give you those fabulous poolside summer vibes. To get a taste of summer, simply fill a highball glass with small ice cubes, then pour in the gin and lime juice. Top with club soda and garnish with a lime wedge. Simple and really refreshing, it makes it on our list of one of the best on the rocks cocktails you'll ever make.
6. Gin Bramble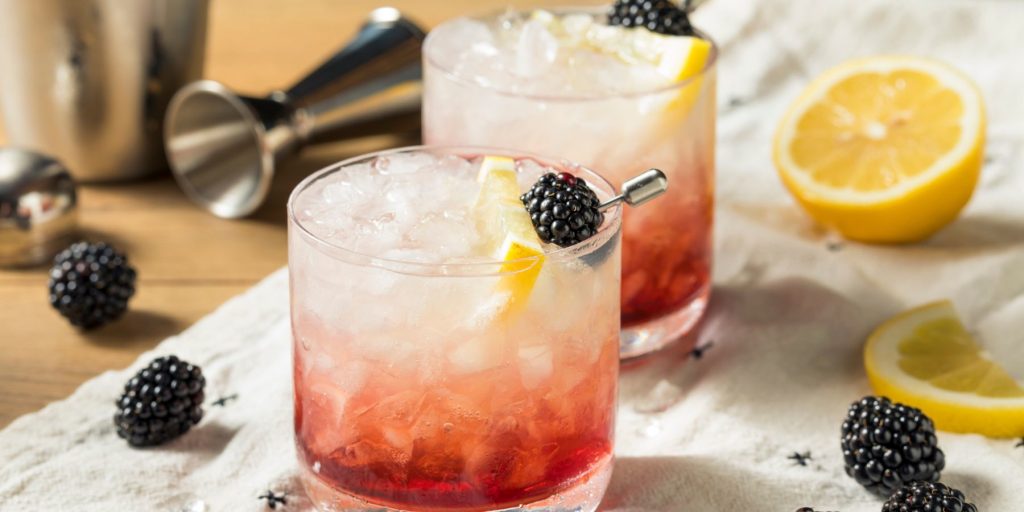 Add a little fruit flavour to your summer with the Gin Bramble. This on the rocks cocktail comes from the creator of the Espresso Martini, so you know it's got to be good. Named after a blackberry bush, the Bramble is a modern classic that won't disappoint. It shot to fame in Soho back in 1984 and was inspired by Dick Bradsell's nostalgia for picking fresh berries during his childhood. Made with gin, blackberry liqueur, and lemon juice and served on the rocks, the Bramble is an invigorating summer cocktail that'll hit the spot every time. It's safe to say, it's the berries!
7. Hugo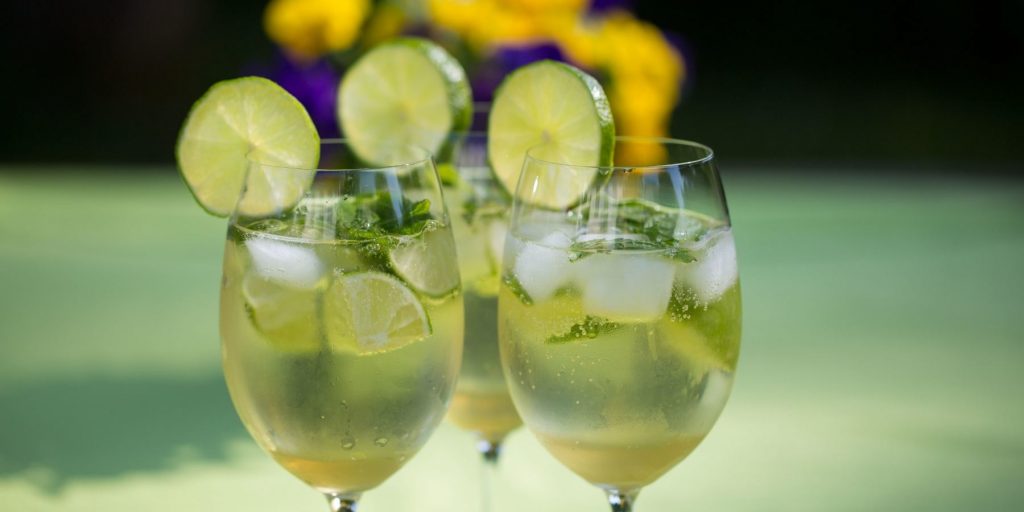 Created in 2005, the Hugo is fairly new on the cocktail scene. This spritz-style elderflower and Prosecco cocktail is an Italian favourite. It's light, floral, and refreshing, making it perfect for a summertime get-together with friends. To make one, you'll need dry Prosecco (Italian sparkling wine), elderflower syrup, and soda water. For a slightly stronger version, you can add a dash of gin. Pour the elderflower into an ice-filled lowball glass and stir to chill the syrup. Top it off with prosecco and soda water, then garnish with a slice of lime and fresh mint leaves. You've basically created summer in a glass. Epic!
8. Tequila Sunrise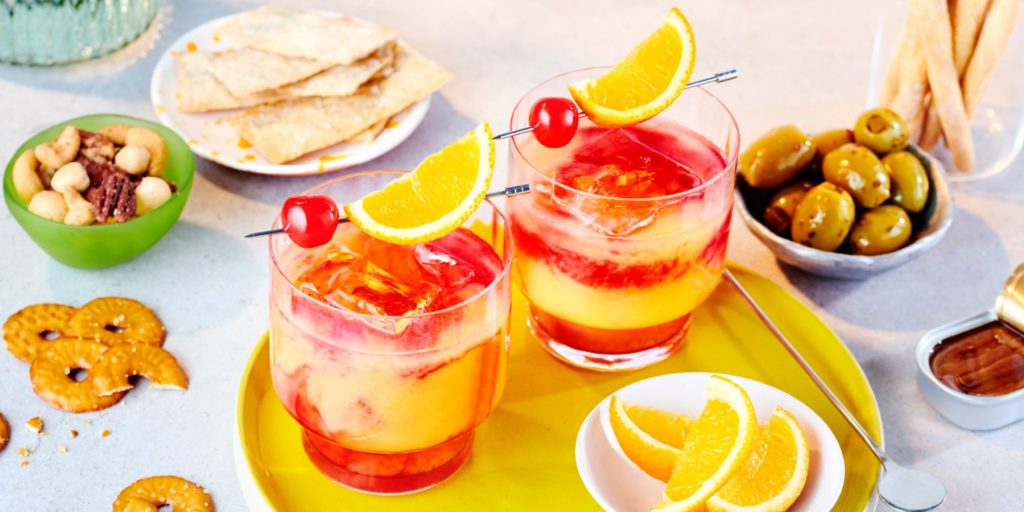 Fruity and fun, the Tequila Sunrise was very popular back in the 80s and has been one of the most popular on the rocks cocktails ever since. Named after the sunrise, this is an on the rocks drink layered in a way that really lives up to its name. Create a spectacular sunrise with layers of tequila, orange juice and the star of the show — grenadine. Because the grenadine is heavier than the other liquids, it sinks to the bottom creating a sunrise surprise that will delight your guests. To add that final flair, garnish it with an orange slice and add an extra pop of colour with a Maraschino cherry. And that's how simple it is to make a Tequila Sunrise. Pretty and very (very) drinkable.
How to stir a cocktail the right way
FREQUENTLY ASKED QUESTIONS
There are loads of cocktails served on the rocks, with some of the most popular including the Old Fashioned, Tom Collins, Moscow Mule and Gin Bramble. 
The most popular drinks to serve neat on the rocks is whiskey and bourbon, but you can also serve good quality vodkas and tequilas on the rocks and served with a twist of lime.  
The rule of thumb when it comes to refrigerating cocktail ingredients - whether used on the rocks or mixed in a cocktail shaker - is that if the liquor is under 15% alcohol, keep it in the fridge.