Jump on the Latest Boba Cocktail Trend with These 3 Cocktails
December 03, 2022 by Anna-Bet Stemmet
If you spend a fair amount of time on TikTok or Instagram as a foodie, odds are you've come across a few gorgeous-looking boba cocktails by now. So fun, right? Also known as bubble tea, or pearl milk tea, these cute, photogenic drinks have actually been a thing in most Asian countries since the 1980s.
What is boba?
Boba is tapioca pearls, also known as tapioca balls — edible, translucent spheres produced from tapioca, a starch that is made from the cassava root and originated as a more cost-effective alternative to sago in Southeast Asian cuisine. When used as an ingredient in bubble tea, these happy additions are most commonly referred to as pearls or 'boba'.
What are boba cocktails?
Although bubble tea was originally alcohol-free and super popular among teens and tweens, somewhere along the line a few enterprising folks decided to add a little something stronger to appeal to an older demographic.
Flavors hailing from Thailand, Indonesia, and China have been shaking up the global cocktail scene for a while now, with talented bartenders at Asian-owned establishments infusing drinks with inspiring flavors like pandan leaves, Thai chili, bitter melon, and Chinese five spice.
It was only a matter of time before the crossover happened, and now that it finally has adventurous foodies cannot seem to get enough of it!
How to ride the boba cocktails trend wave
To help you ride this trend wave, we've gathered a few bubble tea cocktail recipes to try at home. Fair warning – boba cocktails require quite a bit of prep work to assemble, so be ready to prepare your own tapioca pearls, and make syrup from scratch. It's a little labor-intensive, but 100% worth it in the end.
1. Rum & Boba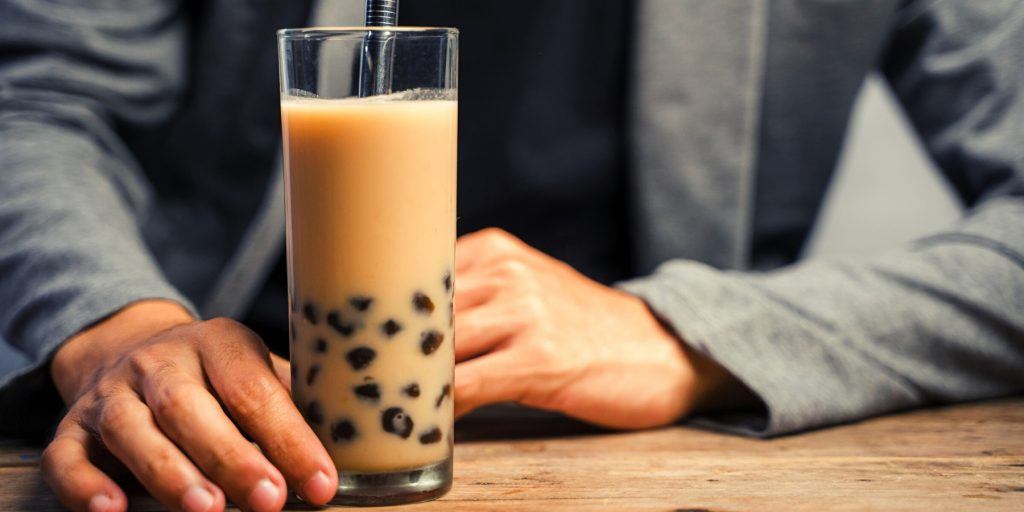 To make a Rum & Boba cocktail, you will need 2 oz Wray & Nephew rum, 2 oz orange juice, 1.5 oz wafer-infused milk, 1 oz black tea, and 0.75 oz winter melon sugar, two tablespoons of tapioca pearls and a dash of sugar.
Prepare the wafer-infused milk by soaking one wafer-style cookie (Nilla is a popular brand) in 2 oz of whole milk for two hours, then strain it through cheesecloth. Make the boba by boiling the tapioca pearls in water with a dash of sugar (instructions will be on the package). Prepare the winter melon sugar by measuring the required weight, and boiling it with the same amount of water to make a sugar syrup.
Now mix all of the ingredients (apart from the tapioca), in a shaker with ice, shake until cool, and double-strain into a glass with the tapioca pearls at the bottom. Give it a light stir, add ice and enjoy with a boba straw.
TOP TIP: Boba straws are available from most Asian and Taiwanese specialty stores, and can also be purchased online. It's thicker than a conventional straw, which allows one to slurp up the boba easily from the bottom of the drink.
More rum inspo: The Ultimate List of 2-Ingredient Rum Cocktails
2. Strawberry & Lime Sparkling Boba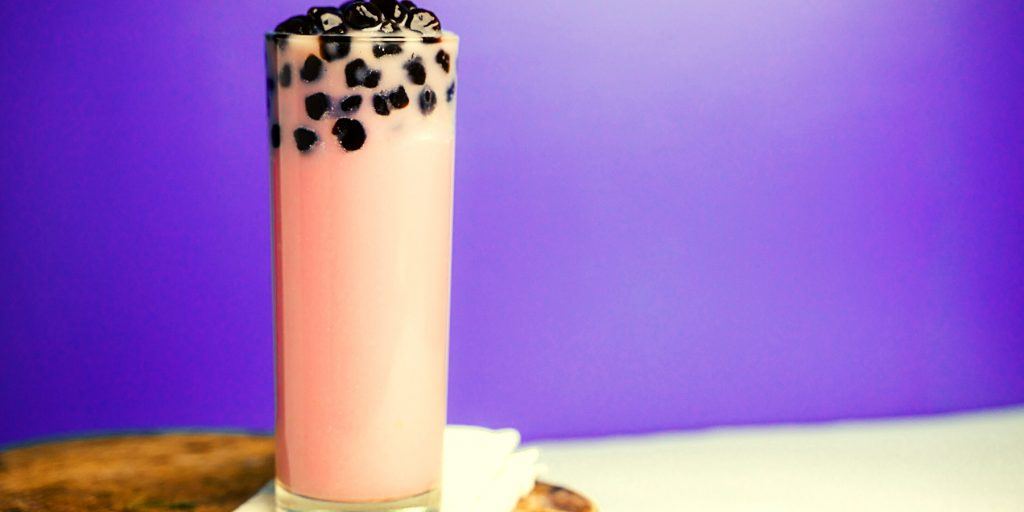 If you have a soft spot for strawberry cocktails, you've got to make the Strawberry & Lime Sparkling Boba cocktail. This bubble tea cocktail is a nice one to try if you're in the mood for something a little lighter and more summery. To make it, you will need 1 oz SKYY Vodka, 2.5 oz strawberry and lime syrup, 0.5 oz fresh lime juice, two tablespoons of tapioca pearls, and 3 oz of sparkling water or club soda.
To make a batch of strawberry and lime syrup, you'll need 1 cup of diced strawberries, 0.25 cup white sugar, and half a lime. Add the strawberries and sugar to a small saucepan, squeeze the juice from the lime into the saucepan and drop the skins in too. Heat the mixture over medium-low heat for 15 minutes, stirring continuously until a syrup forms. Discard the lime skins and set them aside to cool before using.
To make the drink, combine the tapioca pearls and syrup in the bottom of your serving glass, then top with the vodka, and fresh lime juice, and charge with sparkling water.
3. Mr Black Sugar Boba
This creamy, whiskey-forward drink dances with bittersweet notes of black sugar and boba. To make it, you will need 0.75 oz coffee liqueur, 1.5 oz whiskey, 3 oz whole milk, 1 oz black sugar simple syrup, 1 dash vanilla extract, and 2 tablespoons of tapioca pearls.
Prepare your tapioca pearls according to the instructions on the package, and let them cool. In the meantime, make your black sugar syrup by combining one cup of black sugar and one cup of water. If you cannot find black sugar, dark brown sugar will do. Boil the mixture on medium-high heat for up to 10 minutes until the sugar has dissolved, stirring continuously. Set it aside to cool.
Once cooled, combine the tapioca pearls and sugar syrup. Add two tablespoons of the syrupy boba pearls to a glass (there will be syrup left over). Combine the coffee liqueur, whiskey, whole milk, and vanilla extract in a cocktail shaker with ice, and shake until cold. Strain into the glass with the boba pearls, give it a gentle stir and serve it with a boba straw.
More whiskey cocktails to try: Kanpai! 10 Japanese Whiskey Cocktails to Master
FREQUENTLY ASKED QUESTIONS
Almost any bubble tea drink can be turned into a cocktail with the addition of a spirit like SKYY vodka, Wray & Nephew Rum or even Bulldog gin. The trick lies in choosing a spirit that complements the flavor profile of the bubble tea drink.