Pineapple Martini
PREP TIME 5 min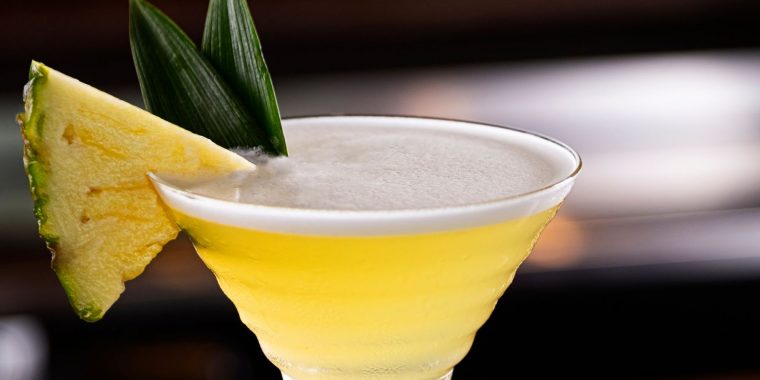 Brighten up everything with this incredibly easy-to-drink vodka and fresh pineapple cocktail. It's refreshing, fruity, and ridiculously simple to make. 
01
For a more textured drink, muddle a handful of fresh pineapple with lime juice.
02
Like a zesty martini? Add 1 ounce of Grand Marnier for a punchier drink.
03
For the best results use fresh pineapple juice. 
01
Put all the ingredients into a shaker with a handful of ice 
02
Shake vigorously for 30 seconds until icy cold
03
Strain into a chilled glass and serve
History of the Pineapple Martini
Ben Reed is the charismatic, passionate cocktail expert (and author) who's responsible for the deliciousness of the Pineapple Martini. He brought this modern classic to the party in 1997 at the opening of the legendary Met Bar in London. This Park Lane members club was the celeb hangout of the late 90's and noughties, and we can picture The Spice Girls, Patsy Kensit, Liam Gallagher and Kate Moss sipping one of his Pineapple Martinis.
When to serve
Although the Met bar no longer exists, you can bring its glitz and glamor back to life at home with this classic Pineapple Martini. Serve this sip of sophistication at your next cocktail party. Pineapple is a fabulous digestif, making this martini a delightful after-dinner treat. Its fresh, bright flavors suit outdoor garden parties and pair well with barbecue and spicy foods. It's a real crowd-pleaser.
Read next: Easy Syrup Variations for Cocktail Making
Tasty variations you must try
You'll love our Pineapple Martini recipe so much; you'll want to try a few variations:
For a crushed Pineapple Martini, muddle a handful of fresh pineapple with lime juice for a more textured drink.
If you are already a fan of our Pornstar Martini, try making the Pornstar Martini with pineapple juice, it's delicious!
For a tropical vibe, make a Pineapple Coconut Martini. Ditch the vodka and pour this recipe with coconut rum.
Like a citrusy martini? Add 1 ounce of Grand Marnier for a punchier drink
Not sweet-toothed? Skip the simple syrup, and dip the rim of the glass into a saucer of granulated sugar for a shimmery sugar rim.
Learn more: Everything You Need to Know About Vermouth
How does it differ from the classic Martini?
Although a Vodka Martini is a popular variation, the Gin Martini has classic building blocks that differ from our Pineapple Martini recipe. A modern martini is poured with 3 ounces of good gin and stirred with half an ounce of crisp vermouth, and a twist of lemon or a green olive to garnish. Aromatic bitters are often included in martini recipes. Traditionally, a martini can be named a martini when a drink is served in a V-shaped martini glass. This design aims to keep the contents chilled for longer.
A Martini's magic lies in its ratios. Historically, the Martini started off with a 2:1 gin-to-vermouth ratio. Nowadays, ratios suit individual tastes. A wet martini is a 50:50 gin-to-vermouth. A Dry Martini contains little or no vermouth.  A perfect martini has an equal mix of crisp and sweet vermouth. Then there is the savory Dirty Martini with a cheeky splash of olive brine and the Reverse Martini with a double vermouth-to-gin ratio. Judging by this list, there should be a Martini out there to suit everyone!
Fancy twists ahead! Amp Up the Acidity by Adding Citric Acids to Your Cocktails
More Martini love
A few glamorous sips to try:
FREQUENTLY ASKED QUESTIONS
Our Pineapple Martini is made with SKYY Vodka, but it would be just as delicious poured with a citrusy O'ndina Gin. If you want to add a zesty grapefruit flavor layer, try it with a Bickens Premium Pink gin. If you're in the mood for a sweeter sip, pineapple juice is a delicious partner to white rum, so try pouring a Jungle Bird.
A Marilyn Martini is a tasty blend of three ingredients; an equal mix of vodka, cherry brandy and white cacao liqueur. Definitely a cocktail for your bucket list.