How to Throw the Perfect Oktoberfest Party at Home or in the Office
September 02, 2023 by Anna-Bet Stemmet
If you're looking for Oktoberfest party ideas, stop scrolling, Liebling! We've got everything you need to get Gaudi this September. That's right, Oktoberfest, quite counterintuitively, actually starts in September. Go figure.
Why does Oktoberfest start in September?
Back in October of 1810, the people of Munich had so much fun celebrating their crown prince's wedding that they decided to hold a big party to commemorate the occasion every year. This shindig ultimately became known as the Oktoberfest.
Though the name Oktoberfest stuck, they eventually shifted the beginning of the weeks-long celebration into mid-September so it could be enjoyed during the warmer weather of the final days of summer. So, these days, Oktoberfest rolls out over the course of 16 to 18 days each year, starting the month before.
The great news is that even if you can't make your way to Germany to join in the fun, you can throw an amazing Oktoberfest party at home, or at the office. Here's our go-to guide!
Oktoberfest party theme ideas
Here are some Oktoberfest party theme ideas that you can consider both at home and at the office.
At-home theme ideas
Traditional Bavarian feast. Recreate the authentic Oktoberfest experience with traditional Bavarian foods like pretzels, sausages, schnitzels, sauerkraut, and a variety of German beers. Decorate with blue and white colors, and encourage guests to dress in lederhosen and dirndls.
Beer tasting. Set up a mini beer-tasting event with a selection of German and international beers. Provide tasting cards so guests can rate and describe each beer. Pair the beers with German snacks and appetizers. You can also make some beer cocktails.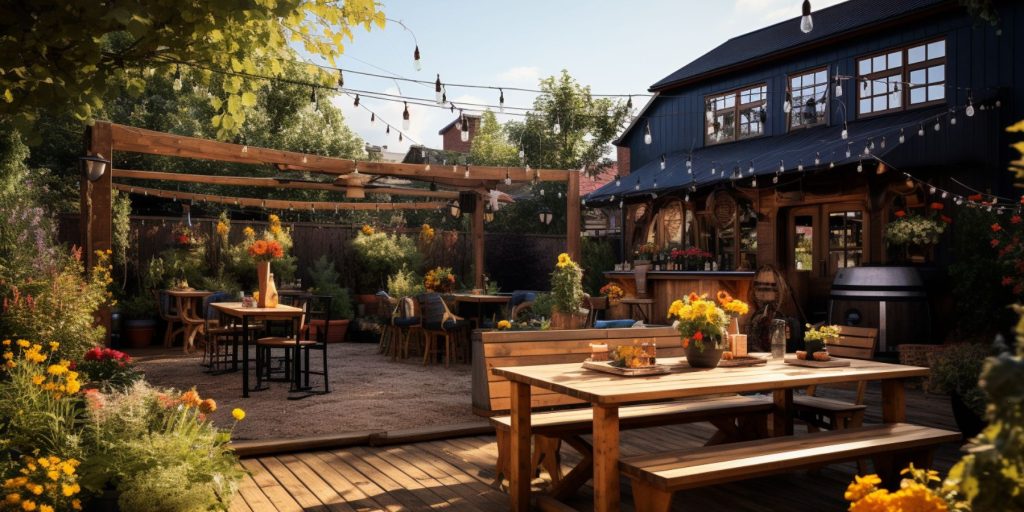 Backyard beer garden. If you have outdoor space, transform it into a cozy beer garden with long wooden tables and benches. Hang string lights, play German folk music, and serve beer and hearty dishes.
DIY photo booth. Create a DIY photo booth with Oktoberfest-themed props like oversized pretzels, beer steins, and traditional German hats. Guests can have fun taking pictures and sharing them on social media.
Oktoberfest Olympics. Organize a series of fun Oktoberfest-themed games like a pretzel-eating contest, stein-holding competition, and barrel rolling. Award small prizes to the winners.
Office theme ideas
Cubicle decorating contest. Encourage employees to decorate their workspaces with an Oktoberfest theme. Provide guidelines and award prizes for the most creative, traditional, or humorous decorations.
Lunchtime celebration. Host a lunchtime Oktoberfest celebration in a common area. Serve German-inspired dishes like bratwurst, sauerkraut, and potato salad. You could also have non-alcoholic beer options available.
Trivia and games. Organize an Oktoberfest-themed trivia game or quiz during a break or lunchtime. You can also have quick games like "beer pong" with non-alcoholic beverages.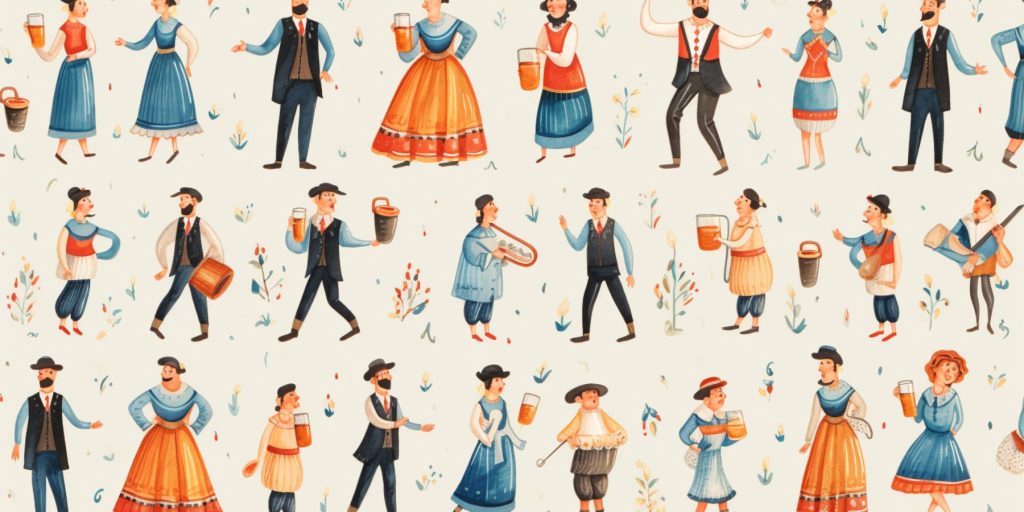 Themed dress day. Have a designated day where employees can come to work dressed in Oktoberfest attire. Provide small prizes for the best-dressed individuals.
Cooking or baking contest. Encourage employees to bring in homemade German treats like pretzels, strudels, or other traditional desserts. Set up a tasting station for everyone to enjoy and vote on their favorites.
TOP TIP: Remember to be sensitive to cultural differences and dietary preferences when planning these events. Additionally, if you're planning to serve alcohol, make sure to do so responsibly and provide non-alcoholic options for those who don't drink.
Oktoberfest food ideas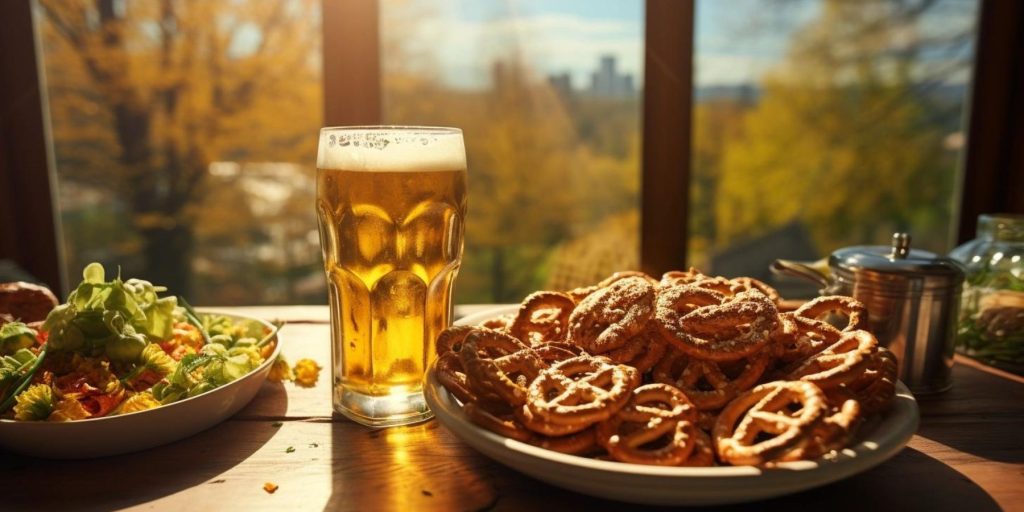 When it comes to Oktoberfest menu ideas, you can either go traditional or venture off the beaten path to include some lesser-known Oktoberfest party food ideas. We're giving you options for both.
Traditional Oktoberfest party food
Bratwurst. These classic German sausages boast a perfect blend of flavors and textures, with a juicy interior and a crisp, slightly charred exterior. Often served on a fresh roll and topped with sauerkraut and tangy mustard, bratwursts are a must-try for sausage lovers seeking an authentic taste of Oktoberfest.
Soft pretzels. Symbolic of the festival, soft pretzels are meticulously twisted into their distinctive shape before being baked to golden perfection. Crispy on the outside and soft on the inside, they're served warm and salted, offering a satisfying contrast of flavors. These pretzels are delightful on their own but become even better when dipped into tangy mustard or creamy cheese dip.
Sauerkraut. A cornerstone of German cuisine, sauerkraut adds a burst of tanginess and crunch to the Oktoberfest spread. This fermented cabbage dish is both flavorful and nutritious, making it an essential accompaniment to heartier dishes like sausages and schnitzel.
Knödel. These hearty dumplings, made with potatoes or bread, are the perfect vehicle for soaking up rich gravies and sauces. With a tender interior and a satisfyingly dense texture, knödel provides a comforting addition to traditional Oktoberfest fare.
Schnitzel. A time-honored culinary masterpiece, schnitzel features thin cuts of meat, often pork or veal, coated in a crispy breadcrumb crust and fried to a golden hue. The result is a delightful contrast between the succulent, flavorful meat and the satisfying crunch of the coating, making schnitzel a beloved dish worldwide.
Kaiserschmarrn. These shredded and caramelized pancakes are a sweet revelation. Served with a fruity compote, kaiserschmarrn strikes the perfect balance between a comforting breakfast dish and a delectable dessert.
Bavarian cream. A delicate dessert that's both rich and light, Bavarian cream is a velvety custard infused with vanilla or chocolate and folded into whipped cream. Topped with a berry compote or a dusting of cocoa powder, it's a refined way to end an Oktoberfest feast.
Unique Oktoberfest party food options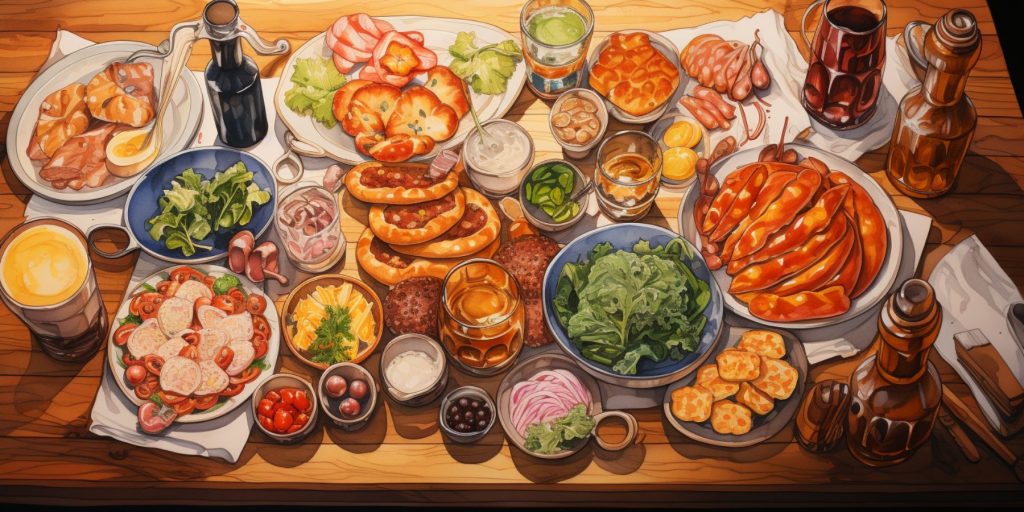 Beer cheese soup. This creamy and indulgent soup combines the malty richness of beer with the silky smoothness of melted cheese. It's a comforting and satisfying starter that captures the essence of Oktoberfest.
Pretzel bites. These bite-sized versions of the classic soft pretzel offer all the irresistible flavors and textures in a convenient package. Perfect for sharing, pretzel bites are often served with an assortment of dips for a fun and flavorful snacking experience.
Currywurst. A harmonious fusion of flavors, currywurst combines the smokiness of grilled bratwurst with a zesty and slightly spicy curry ketchup sauce. Served with a side of fries or bread, it's a street food favorite that's sure to delight adventurous palates.
Brezel burger. A creative spin on the classic burger, the brezel burger swaps a traditional burger bun for a soft pretzel bun. This German/American hybrid harmonizes the juiciness of the burger patty with the chewy and slightly salty pretzel exterior.
Apfelküchle. These delectable German apple fritters feature slices of apple enveloped in a light, crispy batter. Deep-fried to a golden brown and dusted with powdered sugar, apfelküchle is a delightful dessert option that is also easy to eat by hand.
Kasespatzle. A comfort food delight, kasespatzle consists of tender egg noodles tossed with a generous amount of melted cheese and crispy fried onions. This rich and hearty dish is a testament to the cozy flavors of German cuisine.
Radler sorbet. A refreshing twist on dessert, Radler sorbet combines the fruity zing of beer mixed with lemon or citrus juices to create a palate-cleansing and delightful frozen treat. This unique offering captures the essence of Oktoberfest's convivial spirit in a cool and innovative way.
Tell your guests what to wear
By giving your guests options and guidance on what to wear, you'll help create a visually engaging and culturally immersive atmosphere at your Oktoberfest party. When it comes to dressing up for a party like this, there are a few ways to go. You can either lean into the very traditional look or go for something a little more relaxed.
Traditional Oktoberfest dress code
For an authentic Oktoberfest experience, encourage guests to dress in traditional Bavarian attire. Men typically wear lederhosen, which are short leather pants with suspenders, often paired with a checked shirt and rustic shoes or boots.
Women wear dirndls, which consist of a fitted bodice, a blouse, an apron, and a full skirt, along with ballet flats or low-heeled shoes. These outfits bring a festive and cultural touch to the event.
Less traditional dress options
Casual Oktoberfest. If some guests are hesitant about full costumes, suggest casual Oktoberfest-inspired attire, such as wearing plaid shirts, and denim shorts, and accessorizing with hats or Alpine-style accessories.
German colors. Encourage guests to wear clothing in the colors of the German flag: black, red, and gold. This is a more subtle way to show Oktoberfest spirit.
Creative accessories. If a full outfit seems daunting, suggest wearing accessories like suspenders, hats, Alpine hats, feathered headbands, and pretzel necklaces.
Customized shirts. Guests can wear customized t-shirts featuring Oktoberfest designs, funny German phrases, or the event's logo.
DIY lederhosen and dirndl. Provide instructions for creating DIY paper or fabric lederhosen and dirndls that guests can wear.
Modern takes on traditional German dress. Allow guests to put a modern twist on traditional attire by mixing lederhosen or dirndls with contemporary elements.
Oktoberfest drink ideas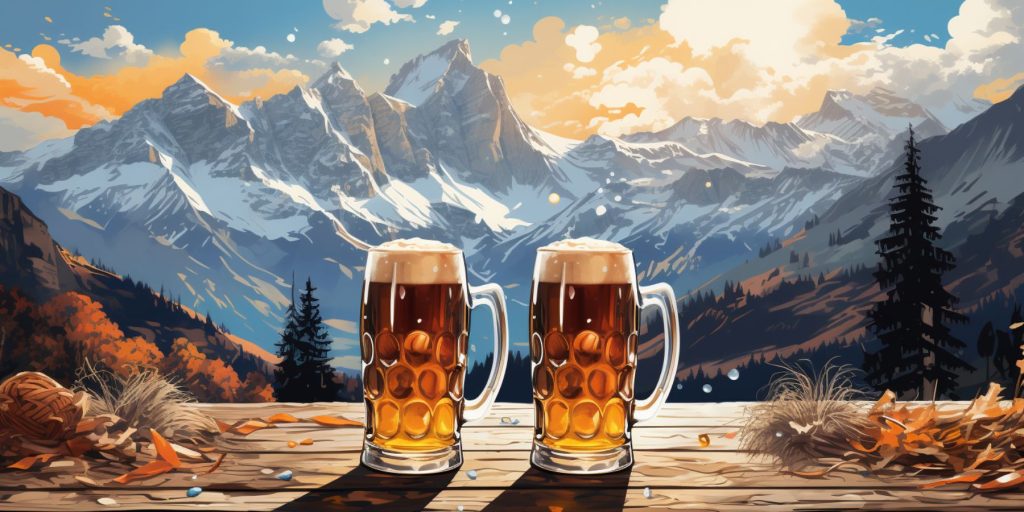 As for the drinks, of course we have you covered with a full array of options as well. We are The Mixer, after all… Let's start with the basics, and then move on to a few less obvious choices that also have a full-on vibe.
Traditional drinks
German beers. Naturally, you need to serve a variety of traditional German beers. We always like to include lagers, bocks, weizen beers, and Radlers.
Non-alcoholic beer alternatives. Provide non-alcoholic versions of classic German beers, allowing all guests to partake in the festivities.
Maß (Maßkrug). The iconic one-liter beer stein used for serving beer at Oktoberfest provides an authentic touch to the experience.
Glühwein. A warm mulled wine often enjoyed during colder months, offering a cozy and aromatic alternative.
Schnapps. A strong and clear spirit often infused with fruit flavors, providing a bold after-dinner option.
Less obvious choices
German cocktails. Germany is world-renowned for a few very interesting cocktails. This includes the Kirsch Royale, Eierlikör, Sloe Gin Holler, and more.
Cider and perry. For those seeking a different kind of brew, offer German-style ciders (apfelwein) or pear ciders (perry) for a fruity and light option.
Hopped lemonades. Infuse lemonades with hops for a refreshing, slightly bitter twist that complements the beer offerings.
Aperitif spritzers. Prepare German-inspired aperitif spritzers using sparkling wine or water, flavored liqueurs, and citrus garnishes.
Coffee blends. Offer coffee blends inspired by German traditions, such as Einspänner (coffee with whipped cream) or Pharisäer (coffee with rum and whipped cream).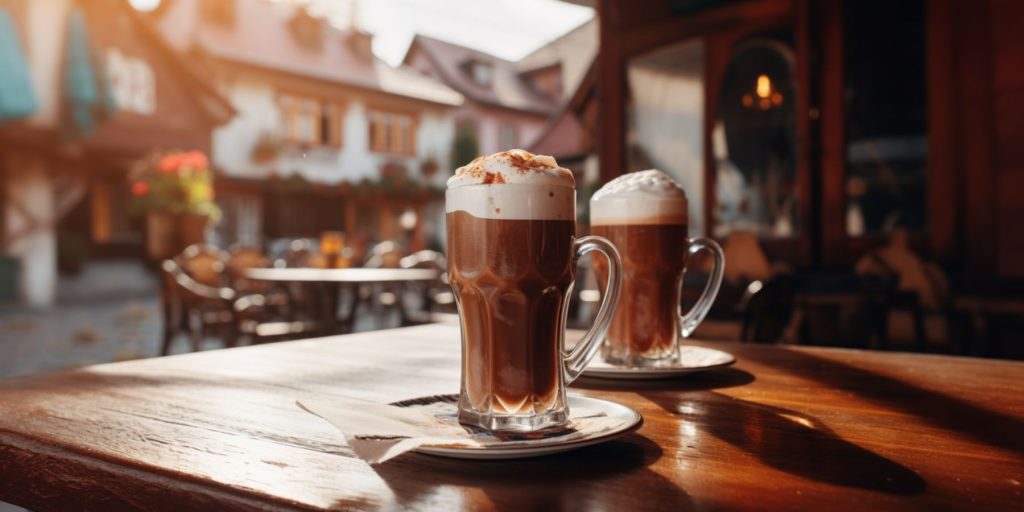 Remember to provide options that cater to a variety of preferences, from beer enthusiasts to those seeking non-alcoholic alternatives, to ensure a well-rounded and enjoyable drinking experience at your Oktoberfest celebration.
Oktoberfest party decorations and décor
Here are a few fun ideas to help you set the scene for a festive occasion at home or at the office.
Go Bavarian with the color scheme. Capture the essence of Oktoberfest with its classic color palette inspired by Bavarian traditions. Use blues and whites throughout your décor, reflecting the Bavarian flag. Incorporate this scheme into tablecloths, bunting, and streamers. Elevate your space with blue and white checkerboard patterns on balloons, reusable tableware, signage, and more.
Set up some tents or drapes indoors. Channel some Biergarten ambiance by bringing the outdoor tent experience indoors or to your backyard. Rent a spacious white tent for an open-air celebration or create an indoor faux tent using draped fabrics. Transform your tented space into a cozy hub for beer, snacks, and mingling among guests.
Be bold with banners. Make a striking statement with an Oktoberfest banner that greets your guests with flair. Opt for a banner showcasing the Bavarian or German flag to honor the event's heritage. Place the banner at the entrance to set the festive tone or utilize it as a picturesque backdrop for a DIY photo booth.
Add some art. Add some alpine charm to your décor by adorning walls with Bavarian and German postcards and themed art. Incorporate vintage postcards from online auctions, print your own, or embrace modern versions for a contemporary twist. Alternatively, explore German wall art celebrating beer and Oktoberfest, creating a visually captivating backdrop that can easily transition into home decor after the event.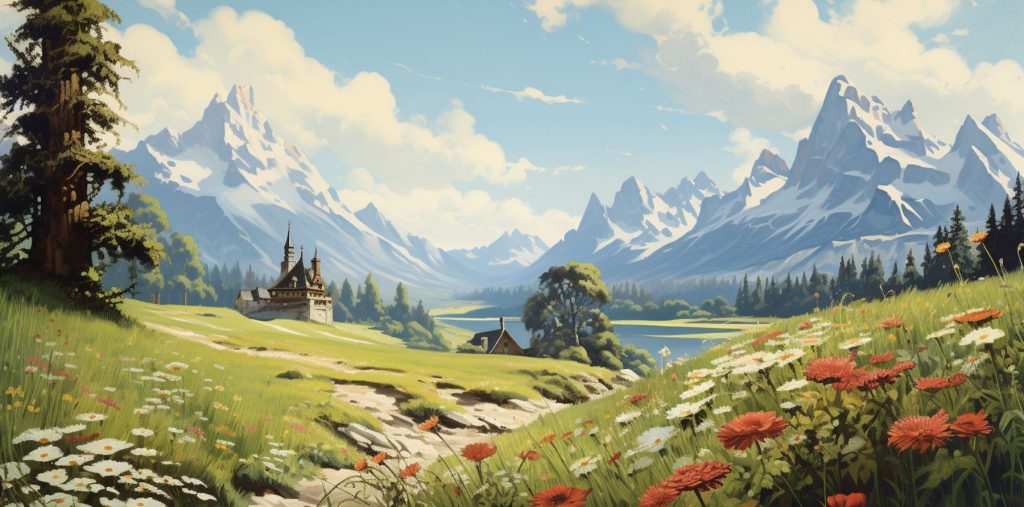 Celebrate beer in all its forms. Capture the heart of Oktoberfest by integrating beer steins as both functional and decorative elements. Select ornate beer steins to grace tables as centerpieces or accentuate your beer-tasting area. Consider filling them with vibrant flowers to add color to your setup.
Embrace these creative ideas to transform your space into an inviting Oktoberfest haven, whether you're celebrating at home or in your office environment.
Oktoberfest playlist ideas
To build a great playlist for an Oktoberfest party, you first need to familiarize yourself with the traditional music genres associated with the festival, such as German folk music, polkas, waltzes, and Oompah bands. These genres form the foundation of your playlist.
Here is a list of songs that you are almost guaranteed to hear at any Oktoberfest celebration:
Die Hände zum Himmel

Ein Prosit der Gemütlichkeit

Tage Wie Diesen

Cowboy und Indianer

Bayern Des San Ma Mia

Fliegerlied

Viva Colonia

.

Anton aus Tirol

99 Luftballons

Rock Mi

In München steht ein Hofbräuhaus

Fürstenfeld

Skandal im Sperrbezirk

Atemlos durch die Nacht

Sierra Madre

Das Esellied (Iha Iha Iha oh)

Marmor Stein und Eisen Bricht
Once you have these tried-and-true classics in place, you can build out the playlist to suit your event and appeal to your guests. The following guidelines always help this process.
Aim for flow. Organize the playlist to have a flow that builds energy gradually and maintains the tempo throughout the event. Start with lighter songs and gradually move to more energetic tracks. Blend classic German tunes with modern tracks that have a similar vibe. This combination will cater to different generations of partygoers and keep the energy high.
Don't repeat yourself. Depending on the duration of your event, aim for a playlist that can cover the entire celebration without repeating songs too frequently. Play through the playlist beforehand to ensure it has a cohesive flow and maintains the desired energy levels, then adjust if needed.
Mix languages and styles. Incorporate songs in both English and German to cater to a diverse audience. This mix keeps the playlist engaging and inclusive. Include spirited polkas and waltzes that encourage dancing and celebration. These genres are a staple at Oktoberfest gatherings and get the crowd moving. We also like to infuse the playlist with classic rock tracks and party anthems to keep the party going.
By following these steps and striking a balance between tradition and modernity, you can compile a memorable and engaging Oktoberfest playlist that keeps everyone dancing, singing, and enjoying the festivities.
TOP TIP! Remember that the playlist is there to enhance the atmosphere, so have fun with the process and be ready to adjust the music based on the crowd's reaction and energy.
Oktoberfest games and activities
Keep your guests inspired and entertained by offering a few activity options throughout the course of your Oktoberfest celebrations. Here are a few ideas:
Stein-holding contest. Challenge your guests' strength and endurance with a Stein-holding contest. Participants hold a beer stein at arm's length, aiming to outlast their competitors. The last person standing with their stein aloft wins a coveted prize, adding a spirited competitive edge to the celebration.
Pretzel necklace making. Unleash creativity with pretzel necklace making. Provide guests with materials to craft their own edible pretzel necklaces, which they can wear as a stylish accessory and enjoy as a snack throughout the party, blending fashion and flavor in a delightful way.
Sack races. Have some old-school fun with sack races and let participants hop their way to victory.
Yodeling contest. Showcase vocal talents with a yodeling contest. Encourage guests to embrace their inner yodeller and take turns displaying their unique yodeling skills, resulting in laughter and a light-hearted atmosphere that adds a touch of whimsy to the festivities.
Pretzel toss. Combine skill and aim in a pretzel toss game. Set up targets and challenge guests to toss pretzels into them, reminiscent of the classic bean bag toss game. This activity adds interactive entertainment to the event, engaging both participants and spectators.
Photo booth with props. Capture memories in style with a photo booth adorned with Oktoberfest-themed props. From lederhosen and dirndls to oversized beer mugs and traditional signage, the booth provides a backdrop for unforgettable pictures that encapsulate the joyous spirit of the occasion.
Beer Pong (non-alcoholic). Adapt the classic beer pong game for non-alcoholic beverages, maintaining the entertainment without the alcohol. Participants aim to land ping pong balls in cups filled with non-alcoholic drinks, fostering friendly competition while keeping the party atmosphere enjoyable for all.
Pumpkin decorating. Embrace a seasonal twist with pumpkin decorating, especially if your event is close to Halloween. Provide pumpkin decorating stations where guests can personalize pumpkins with an Oktoberfest theme, infusing a creative and festive element into the celebration.
Barrel-rolling. Pay homage to tradition with a barrel-rolling race. Participants roll barrels across a designated course in a backyard, echoing the historical practice of transporting beer barrels. This activity adds a cultural touch and a dash of excitement, connecting guests to the rich heritage of Oktoberfest.
Das ist gut, ja? For more party inspiration from around the world, sign up for our newsletter. This is one you'll actually love, we promise.
FREQUENTLY ASKED QUESTIONS
Oktoberfest is a renowned German festival celebrating Bavarian culture, held annually in Munich. It's famous for its lively atmosphere, traditional music, authentic cuisine, and, of course, delicious beers. This event gathers people worldwide to enjoy merrymaking, cultural immersion, and camaraderie. From lederhosen and dirndls to lively dances, Oktoberfest captures the heart of German traditions.
Turn your office into a mini-Oktoberfest extravaganza! Set up an outdoor beer garden with German beer tasting, soft pretzels, and sausages. Organize fun activities like stein-holding and pretzel necklace-making. Don't forget the upbeat Oktoberfest playlist and encourage employees to dress in traditional attire or creative variations. This celebration fosters team spirit and cultural appreciation, adding a unique twist to the workplace while boosting morale. Prost to a memorable office Oktoberfest experience!