Tips for Planning a Murder Mystery Party at Home
January 29, 2023 by Karl Tessendorf
If you want to add a little whodunnit spice to your next event, throw a murder mystery party. It's a great way to engage all your guests, and we've got a 'how to plan a murder mystery party guide' to help you to do exactly that. It takes a little work to set up, but once all the players are in place, you're in for a great night. Each guest plays a character, and everyone is on the hunt to find out who committed the crime of the evening. Will it be the wealthy playboy with the lead pipe in the garage? Or the suspicious damsel in distress, who is secretly a jealous lover? You decide as you learn how to plan a murder mystery party.
1. Pick your theme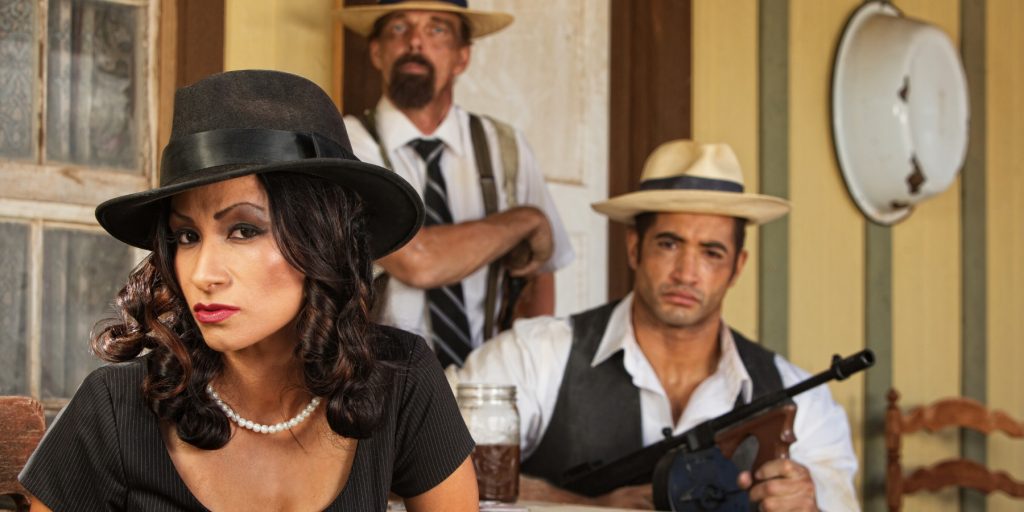 The first step of planning a murder mystery party is picking a theme. It sets the tone of the whole event, so take your time and put a few options down on your party list. Then work through each option and write down a short list of pros and cons. If you plan on wrangling a few friends to form a party committee, do it now so you all have a say in the theme.
Once you've decided on a theme, you'll have a road map of how the rest of your party will look and feel. You can go classic with a straightforward murder mystery dinner party set in a specific decade. Or you could mash up a few genres like an 80s synth-wave dystopian future where everyone wears clown shoes. Go crazy and be creative! If you need some inspiration, check out our ultimate party themes for any occasion.
2. Create a storyline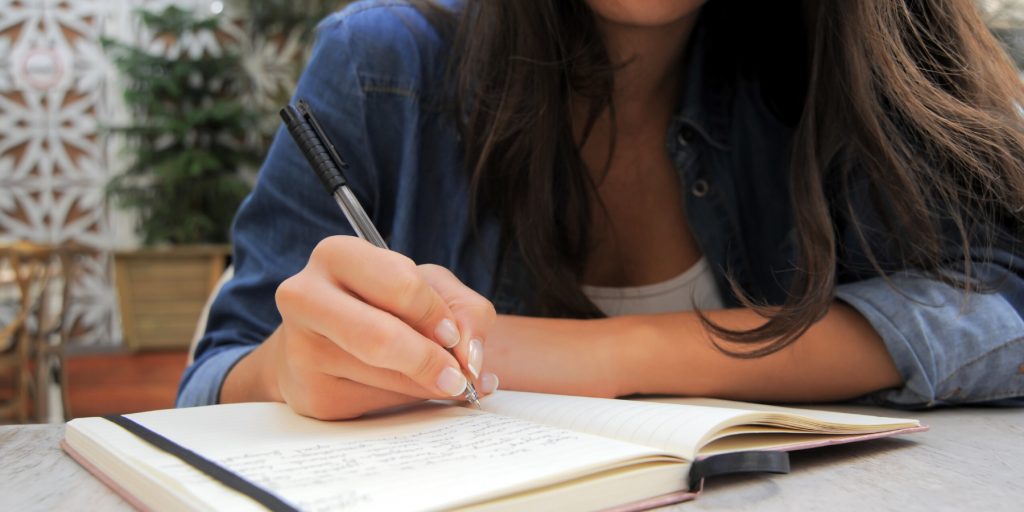 The storyline is where you'll need to focus most of your attention before the party. It must be engaging enough to keep your guests enthralled as the night progresses. Once your theme is sorted, break the story into a few parts: the scenario, the character backstories, the crime and the evidence.
The scenario & the crime:

The scenario will come from your theme, so make sure the two align. Pick an interesting location for the crime to happen in. Give a compelling motive for each character attending the party, and a reason why each character could be the killer. What do they stand to lose or gain from the crime if they get away with it? Is there a love triangle or a forbidden union? How is the crime committed? Is it an accident? Or more straightforward, like a murder in the library with an ornate lion bookend? Did the killer leave any clues at the scene, or must they be found elsewhere? Create a trail of clues that has a few twists, turns, and dead ends to keep your guests on their toes.

The backstory: Writing your story from scratch is always fun, but can be a fair amount of work. But the cool part is that you can tailor the backstory to your venue and guests' personalities. If you're looking for an easier solution, there are tons of free murder mystery storylines available online. Some websites will even create a custom murder mystery game for a fee. This is your adventure, so you decide how much work you want to put into it.

The evidence: Once the story is locked down, you'll need clues to help move the night along. Clues should be revealed at intervals in the evening to build suspicion. The more crumbs you drop, the closer your guests will be to solving the murder. It's a good idea to have a set list of questions and answers for each character. Rounds of questioning can be staggered throughout the night. Be sure to tell your guests that they must not make an accusation until the end of the party. We strongly recommend mapping the evening out with a schedule and timing. This will keep things on track no matter what happens.
3. Invite your suspects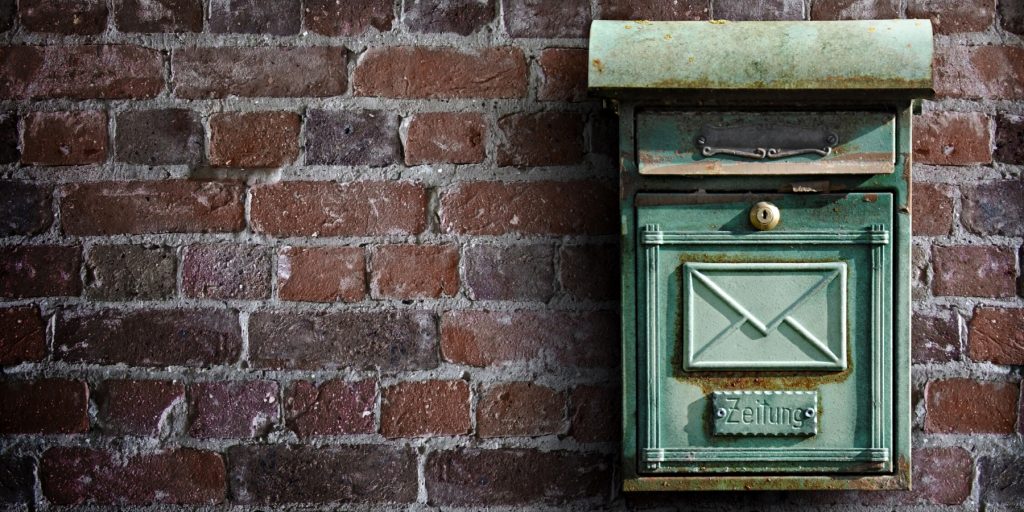 The next part of your how to plan a murder mystery journey is inviting your suspects. Use an online design tool or invitation generator to tailor your invitation to the party's theme. Or, if you want to go old-school, you can print the invitations out and have them delivered in the mail for added mystery and magic. The further in advance (at least 2-3 weeks) you can get the invitations out, the better. It could impact the event if a friend pulls out at the last minute.
Include all the relevant information on the invite and provide a point of contact for any queries. Assign characters to your guests and include the scenario and a short backstory about each character on the invitation. This will help get everyone into the minds of their character and the world they are about to walk into.
4. Organise costumes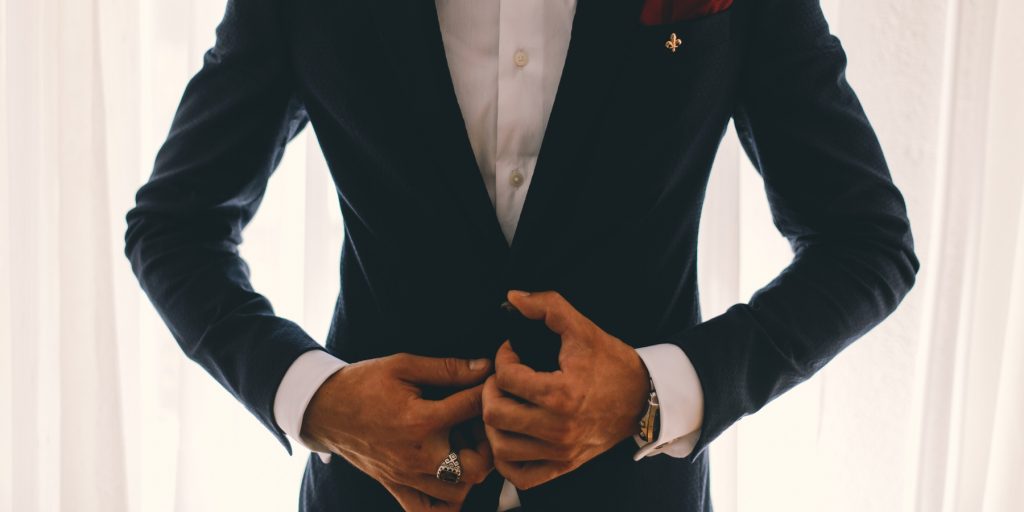 Each character should have a costume. This can be decided beforehand, or you can leave it up to each guest to bring the character to life. Ask your guests to be as detailed as possible, as this will also help them get into character. If you have a script for each character, make sure you send them to the correct guests with the invitation. If you don't, then ask your guests to get creative with the character using the supplied backstory. Your guests should be encouraged to stay in character throughout the night. This includes making small talk in character with the rest of the murder mystery suspects.
5. Décor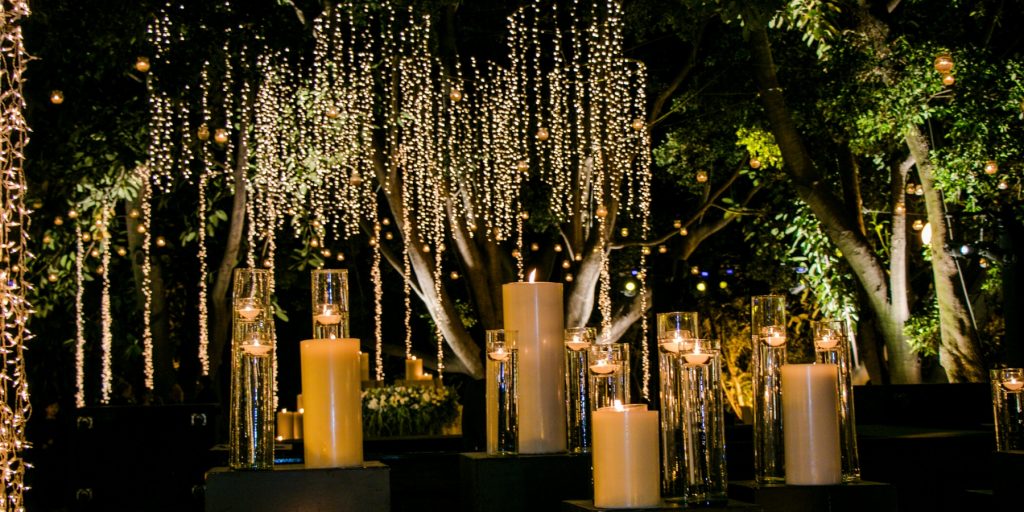 We're well into your murder mystery dinner party planning guide, and it's time to tackle the décor. Much like good characters, décor is key to your evening's success. Splash your theme throughout the venue, and go the extra mile with the table décor. If clues are hidden at the venue, make sure they are hidden well. You don't want guests stumbling onto them before the time is right.
Music is another great way to enhance your theme and create drama. Create a playlist to play during the evening. And—if you're ever in décor doubt, just remember, your theme is your compass. Let it guide you.
6. Plan the food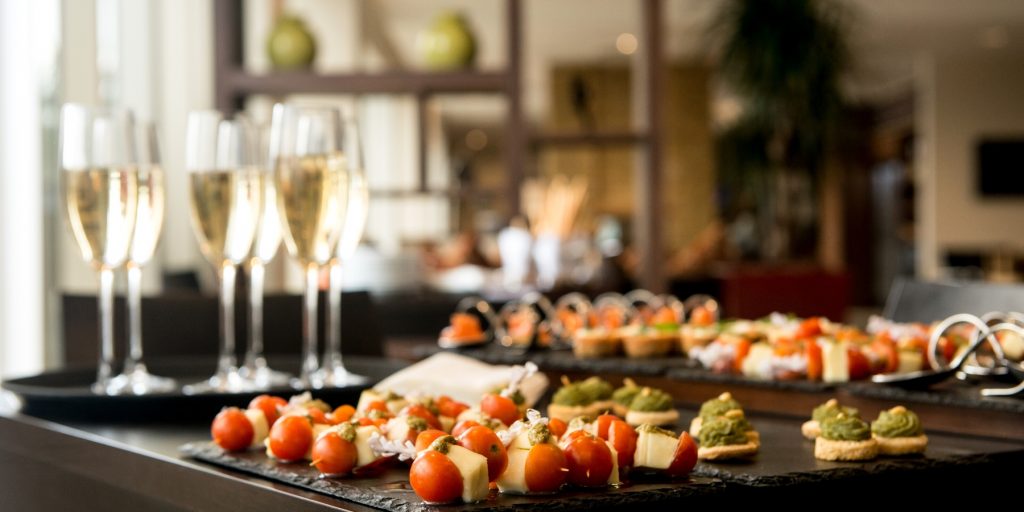 When it comes to food at your murder mystery party, there are two routes you can go. The first is to go all out and throw a sit-down dinner party. Let your theme dictate the food and get as much of the work done ahead of time as possible. You'll need help with this, so make sure you're not alone in the kitchen. Three courses provide structure and intervals where clues can be revealed. This gives you more control over the evening's flow.
The second option is to go buffet style or bring in finger food at intervals. This route is more casual and gives your guests the freedom to roam and chat. Whichever route you choose, just remember that you cannot do it all alone!
7. Decide on drinks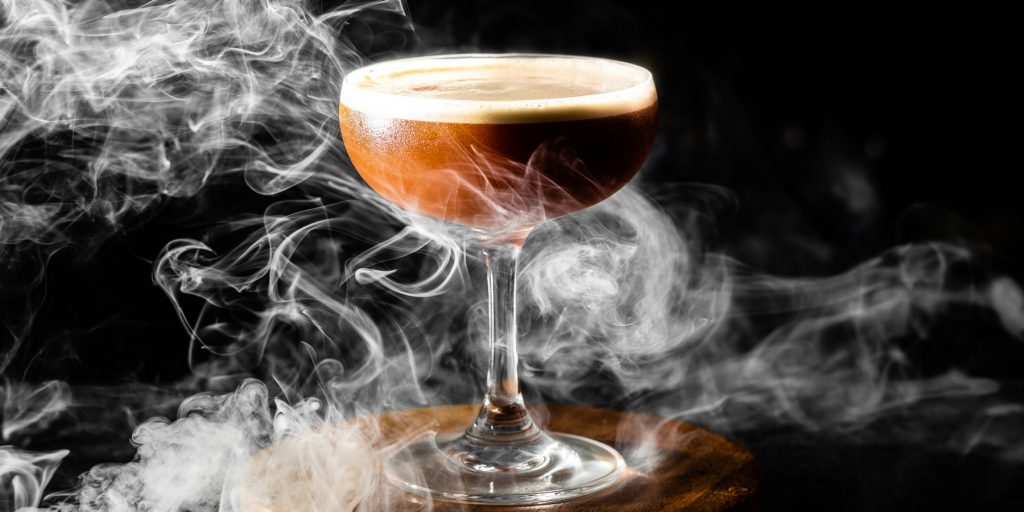 This wouldn't be a very good how to plan a murder mystery party guide, if we didn't include some top-notch cocktails. We're sure you're tired of hearing this by now, but let your theme dictate your cocktails. If it's a classy 1920s dinner, then go for a Manhattan or Old Fashioned. Taking a trip to our 80s synth-wave dystopian future? Serve an electric pink Vodka Cranberry or a Pornstar Martini. A good guide is to serve cocktails that were relevant in the timeline that your party is set.
A signature drink of the night is always a fun idea. This drink could even have been the favourite cocktail of the murder victim. Imagine the dramatic effect of everyone sipping on the cocktail as the killer is revealed. How creative you want to be with the cocktails is up to you. If you want to add a little smoke and mirrors, check out our guide to using dry ice in cocktails.
8. Evening flow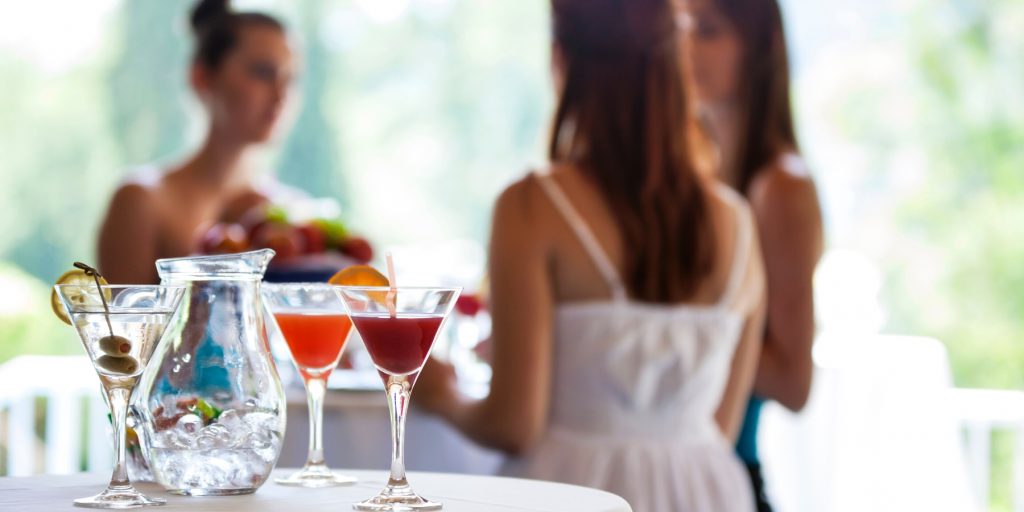 This is it! The big night is here, and all the planning is in place. Give your guests a 30-minute window to arrive, andthen it's show time. A welcome drink is always a good idea to calm nerves and get the guests comfortable. As the host, you'll oversee the proceedings. Welcome your guests and brief them on any rules before kicking the evening off. Try and keep to your schedule as best as possible and remember to have fun!
FREQUENTLY ASKED QUESTIONS
A well-planned murder mystery party takes about 3-4 hours, so plan accordingly.
In order to build a good story, compelling characters, and a satisfying conclusion you need at least 6-8 people.