The Best 14 Aperitif Cocktails for Any Occasion
May 29, 2022 by The Mixer Team
Are you ready for aperitif hour? This pre-dinner ritual is now popular worldwide, featuring aperitif drinks which are usually low in alcohol and dry, to stimulate the appetite and stoke your taste buds.   
So, to inspire the pre- dinner line-up at your next get-together check out our best aperitif cocktails to savor in every season. 
1. Martini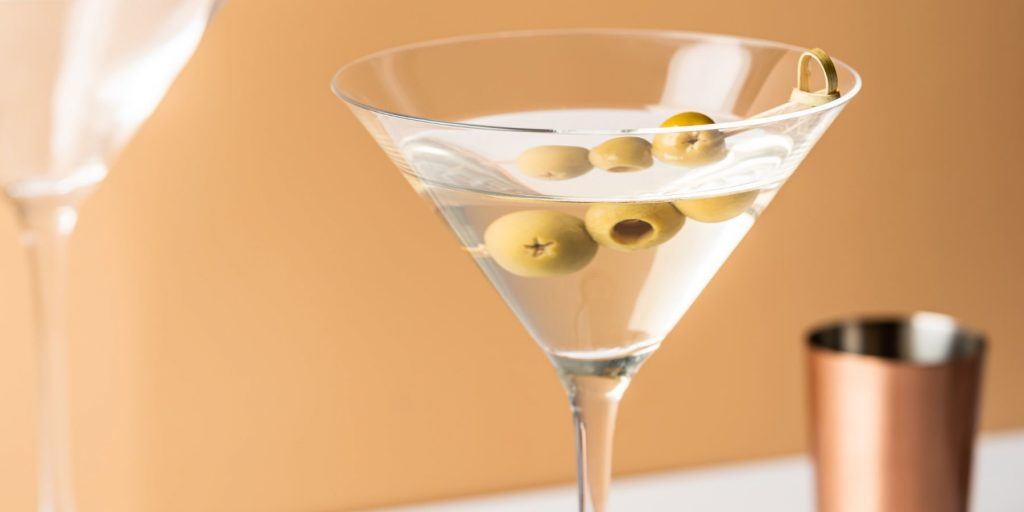 Simple yet sophisticated, the classic Martini gin cocktail par excellence combines gin and dry vermouth, for a bold aperitif choice. You can also easily adapt it to your guests' taste, whether they prefer a Vodka Martini or the conversation-starting Pornstar Martini.  
2. Dirty Martini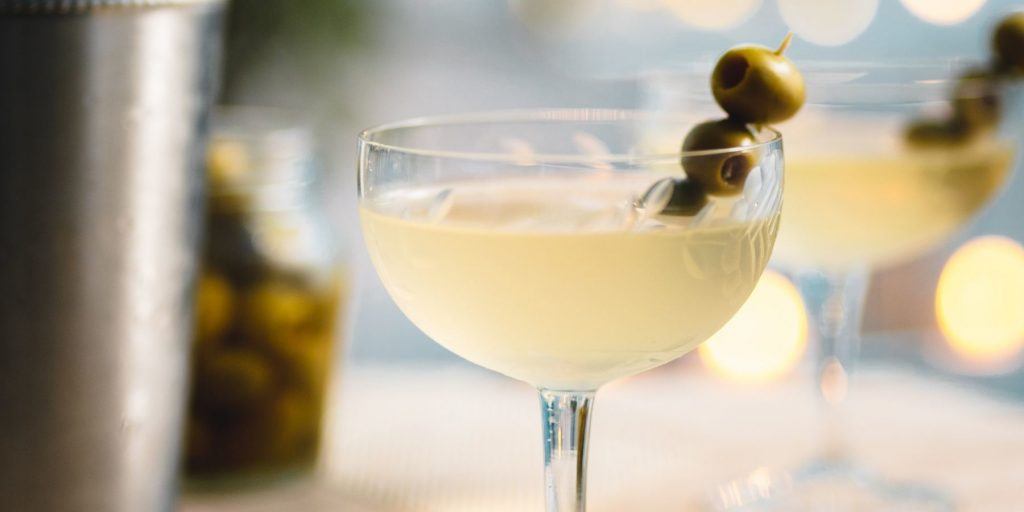 The Dirty Martini takes a classic martini recipe and adds a splash of olive brine for an unexpected savoury taste. Dating back to the early 1900s, dirty martinis are now popular across the world and are an easy win for an eccentric aperitif.   
3. Champagne Martini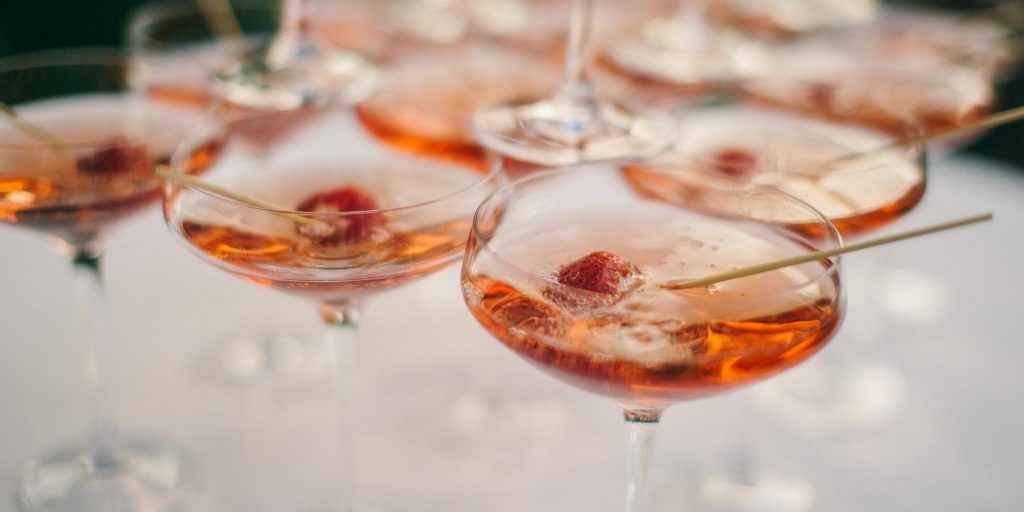 Take two of the most beloved spirits, Champagne and vodka, and combine them together for a bubbly pre-dinner drink. A perfect toast to any occasion, the super easy recipe will never leave you unprepared at aperitif hour. Discover the recipe. 
4. Cosmopolitan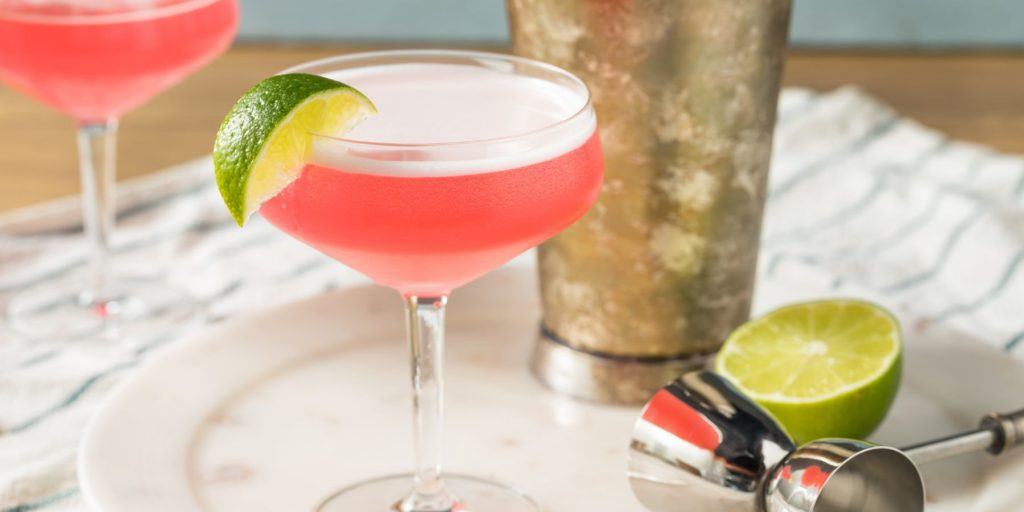 SATC fans, raise a toast to Carrie Bradshaw's favourite cocktail. While the Cosmo made the mainstream in the noughties thanks to Sex and the City, it's actually a 1970s era aperitif made from a mix of cranberry, citrus and vodka. 
5. Caipirinha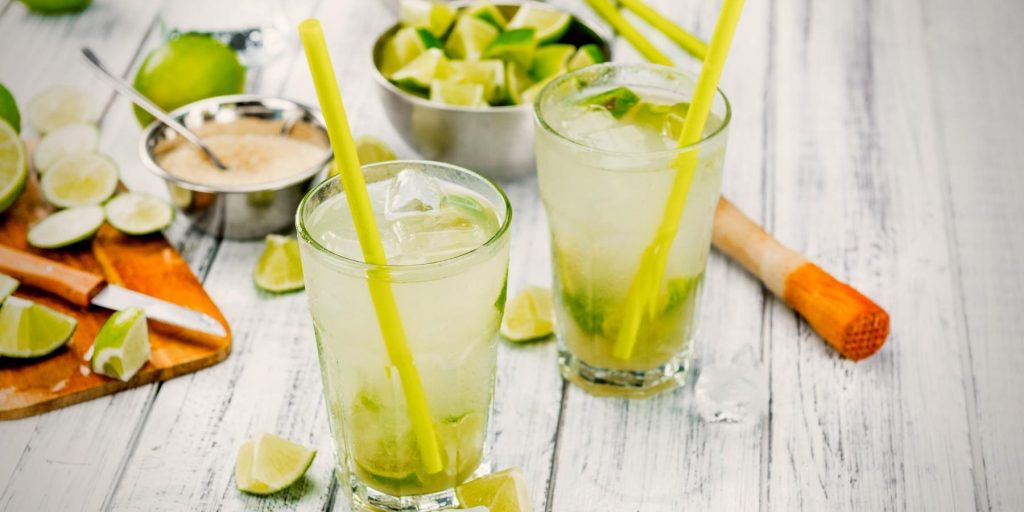 With just one sip of a Caipirinha, you'll find yourself transported to the tropics. Brazil's national drink is a simple aperitif with a sour note. Starring cachaça and limes, and deliciously balanced by granulated sugar, a Caipirinha is perfect as a fresh aperitif in summer when a vacation is on your mind.  
Tip: Swap the cachaça for rum to make a Caipirissima or vodka for a Caipiroska.  
6. Tequila Sunrise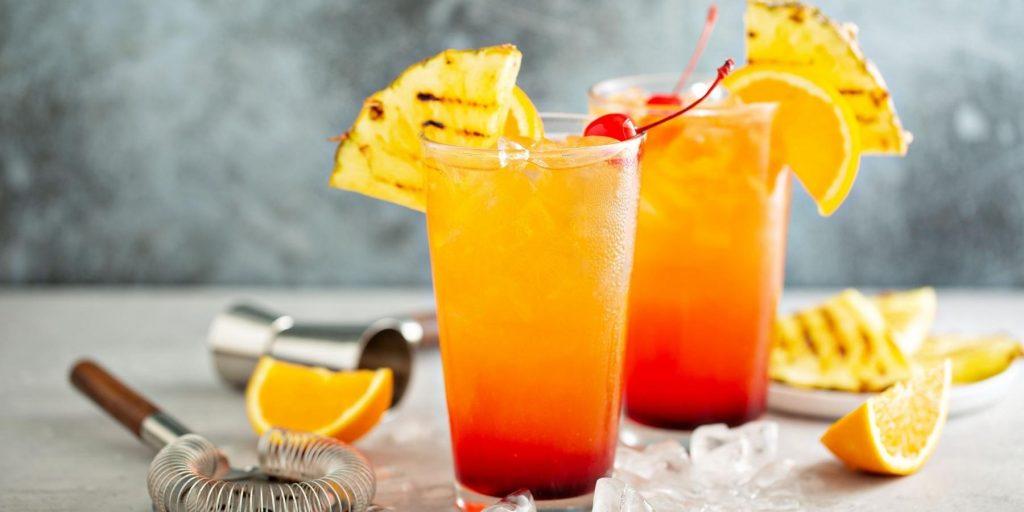 Made popular by the Rolling Stones who made it their flagship cocktail for their 1972 US Tour, Tequila Sunrise is a sweet, tropical aperitif. Combining tequila, orange juice and grenadine (in this order), a Tequila Sunrise is the ideal aperitif drink for summer. Its name comes from the aesthetic effect of the ingredients layered up together, recalling a red, warm sunrise. Make it in a pitcher for a quick win with your friends.
7. Lime Margarita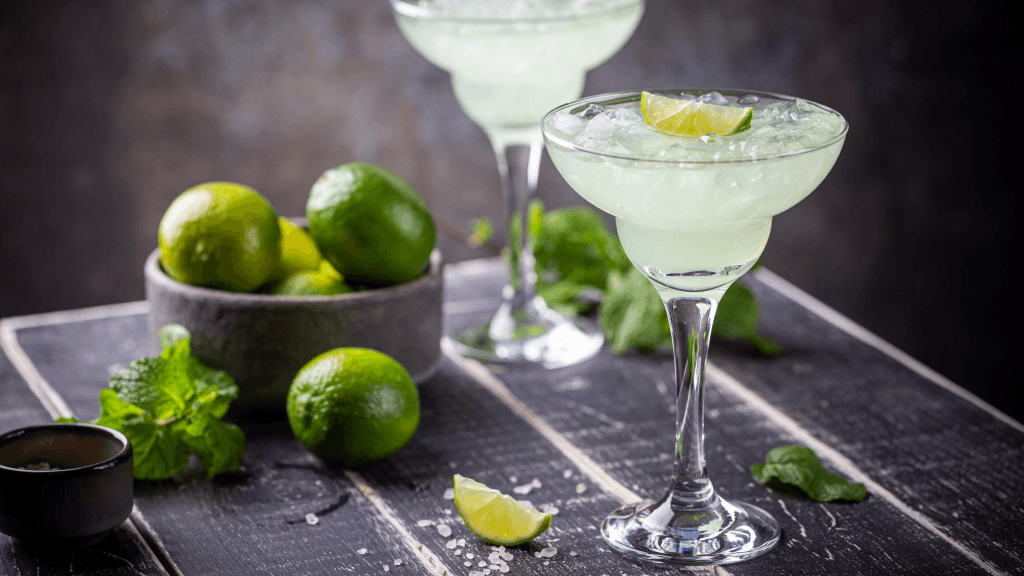 Some say it was invented by a socialite in Dallas in 1948, others say the Margarita is a spin on the Daisy, a cocktail involving gin, citrus, orange liqueur and soda. Regardless, the Margarita has earned its place in cocktail lovers' hearts. With its sweet-and-sour kick, this aperitif cocktail is perfect for summer and one of the easiest to make at home. Discover the classic Margarita recipe.   
8. Blood and Sand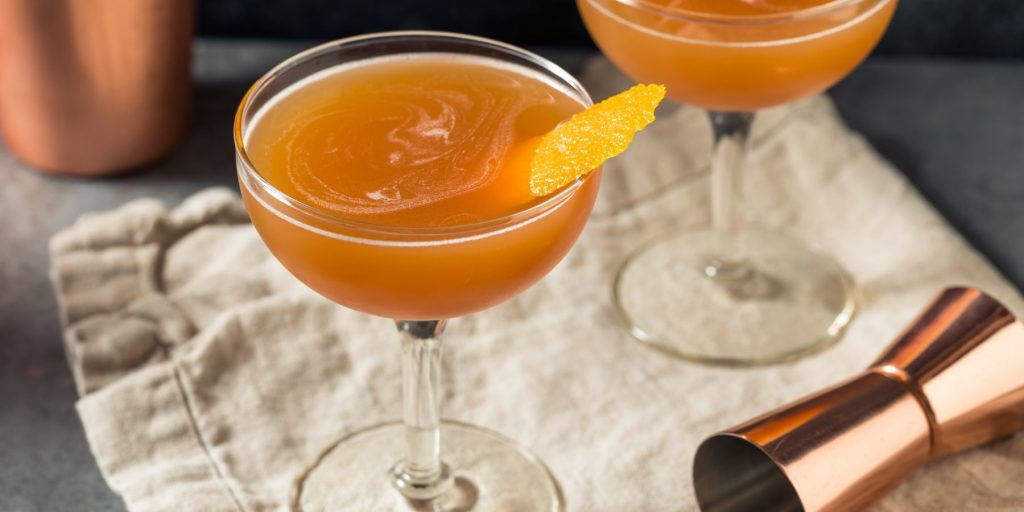 Known as the whiskey cocktail that whiskey haters will love, the Blood and Sand is one of the few Scotch-based classics. Little is known about its origin, only that it owes its name to the 1922 bullfighter film starring Rudolph Valentino. Featuring scotch, cherry brandy, sweet vermouth and orange juice, the Blood and Sand is a sweet and citrusy kick for a stylish aperitif.
9. French 75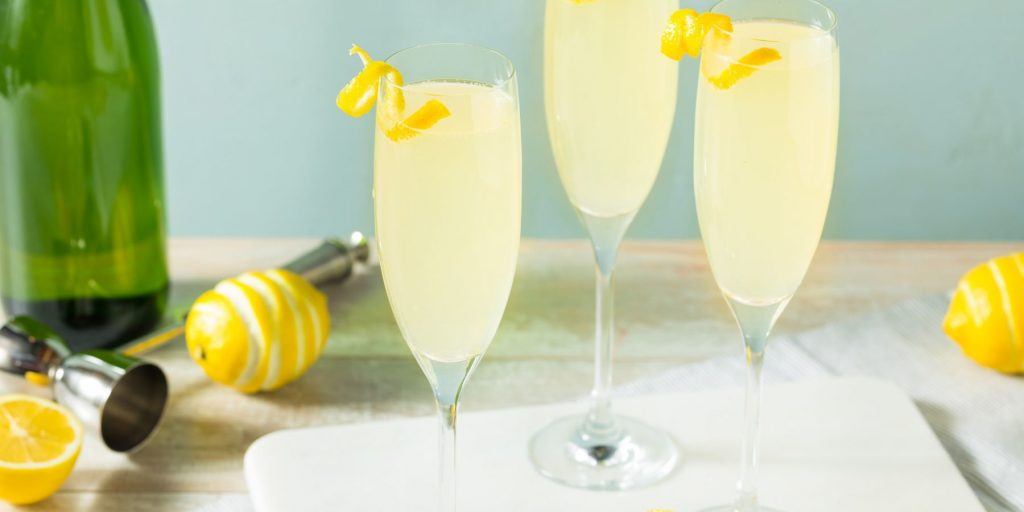 Named after the fast-firing 75mm field gun that the French used during World War I, the French 75 cocktail is thankfully much friendlier. Featuring the golden duo of gin and Champagne, this aperitif gin cocktail is a true classic. Cognac is also a great alternative to gin.
10. Aviation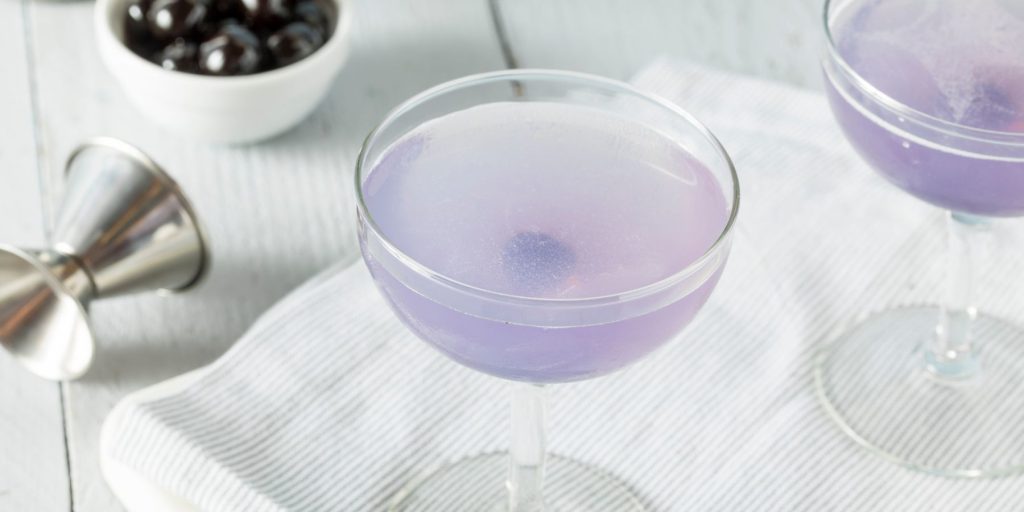 Aesthetic and taste equally contribute to making the Aviation one of the most popular gin cocktails. This aperitif drink owes its lilac shade to the crème de Violette liqueur and also features gin, maraschino liqueur and lemon juice for the ultimate floral explosion. Come to us from the Prohibition era, serve it for an eye- and taste-pleasing experience.
11. Gin and Tonic
Classic and easy, the gin and tonic is a fresh cocktail drink that lends itself to many occasions, from pre-dinner drinks with friends to at-home parties. Requiring only two ingredients, it's simple to prepare and is the perfect flavour combination.  
Classic Aperitifs
If you want to enjoy aperitif like a real Italian, we've listed below the classic aperitif cocktails that are unanimously loved and cherished. Featuring typical Italian spirits like Campari, prosecco and vermouth, get ready to taste la dolce vita.  
12. Negroni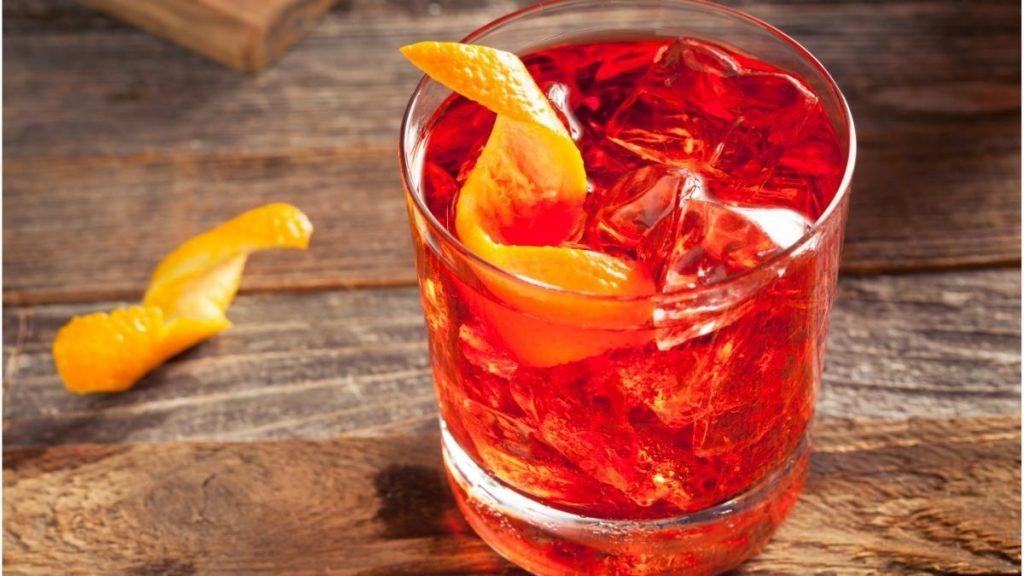 Stroll through the streets of Milan at aperitif hour and you will notice many red-hued glasses shining against the falling sun. Negroni is one of the classic aperitif cocktails, dating back to the early 20th century and still loved all over the world. It manages to be simple yet sophisticated, with its combination of gin, vermouth and Campari. To make the perfect Negroni, pour all ingredients in equal parts into a glass filled with ice and stir. 
13. Aperol Spritz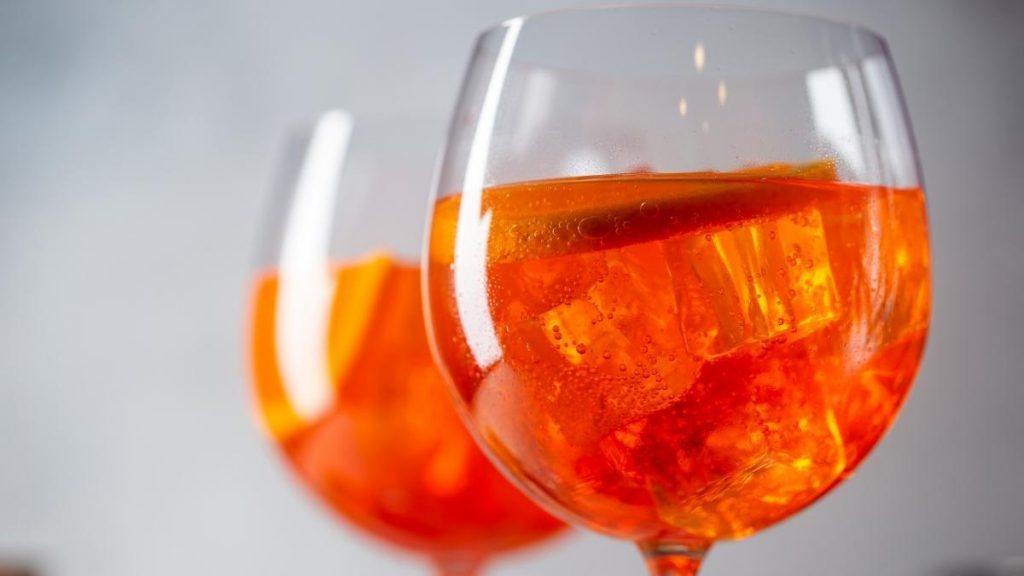 A sip of this aperitif drink and you will find yourself in Piazza San Marco, Venice. The Italian aperitif Aperol Spritz cocktail pairs Aperol, bubbly wine (usually prosecco) and sparkling water creating a refreshing mix. It's low enough in alcohol to start drinking early and still make it to dinner. What's more, it's easy to make as it is to drink: simply combine all liquids in a glass wine filled with ice and serve.  
14. Campari and Soda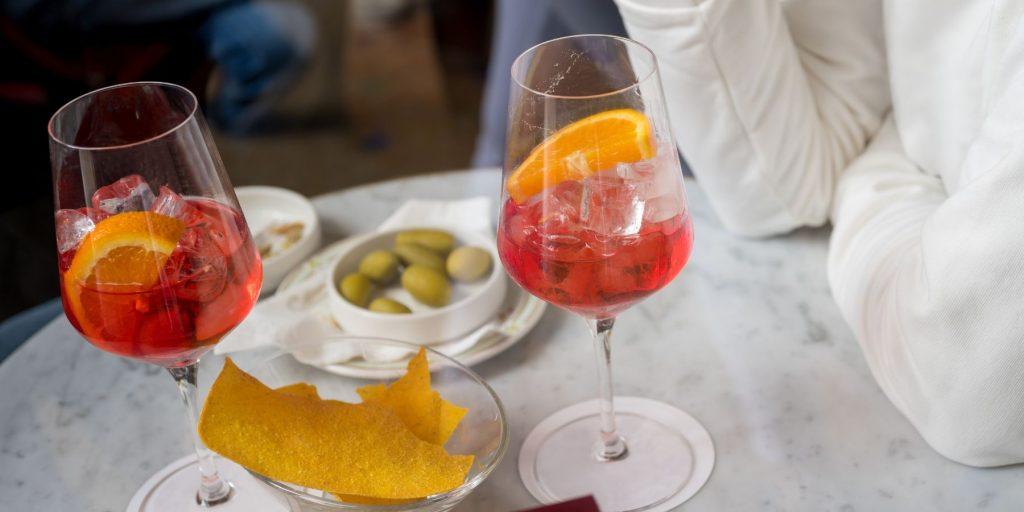 Simplicity is key in this classic aperitif that enhances the bitter and herbal flavour of Campari. With just two ingredients, the Campari and soda is also called the daytime gin and tonic and has a refreshing flavour profile. Make the best Campari and Soda by combining the ingredients in a Collins glass with ice and garnish with an orange wheel. Result guaranteed. 
Now that you know the best aperitif cocktails, have fun finding your new go-to!
FREQUENTLY ASKED QUESTIONS
An aperitif is usually a dry, lightly alcoholic drink to be enjoyed before meals. Some cocktails can be enjoyed as aperitifs. On the other hand, many cocktails have a higher alcohol volume and sugar content, which both compete to suppress appetite and don't make them for good aperitifs. 
Cocktails containing gin, vermouth and dry wines are perfect for aperitif hour. Campari and Aperol are also aperitif stars and have been used as appetite stimulants for centuries.
Aperitif is a French word from the Italian aperitivo, which means "to open". Pre-dinner drinks are called this way because they open the doors to appetite before the main meal. 
Serve the aperitif as soon as your guests arrive with some bites like olives, cheese and crackers. Your drinks should be chilled or over ice according to the recipe.