The Best Cocktail Kit for Your Home Bar
June 30, 2022 by Sonja Edridge
Who doesn't love happy hour? Be the envy of all your friends and get yourself set up with a stylish cocktail kit for your home bar, ready to mix up a masterpiece at your next dinner party. It's so easy to make your own cocktail kit as you don't need much to get you started. Whether you're a cocktail pro or novice, our handy guide will help you enjoy your favorite cocktail (or mocktail) from the comfort of your own home in no time!
What is a cocktail making kit and why do you need one?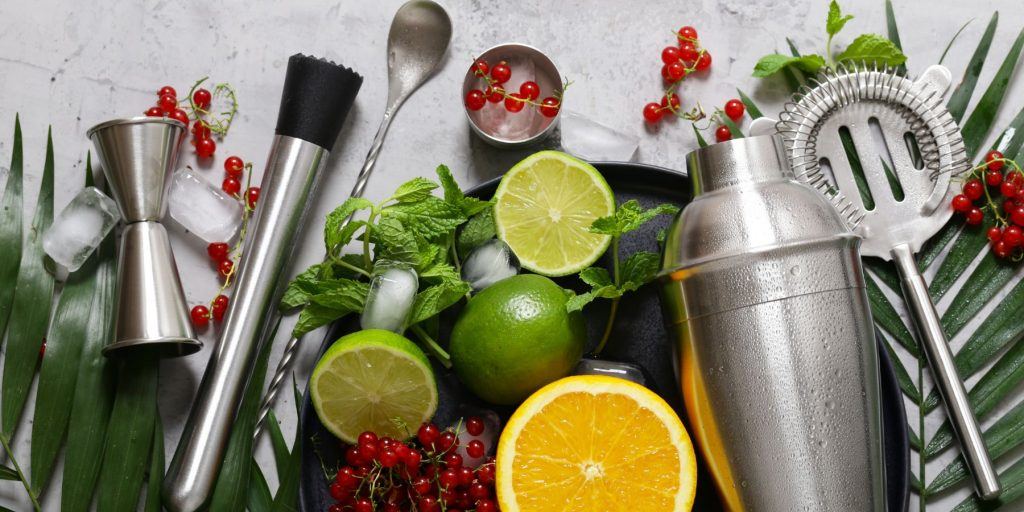 In a few easy searches online, you'll find every kind of cocktail kit to suit any budget, delivering everything you'll need to make bar-quality cocktails at home, whatever your skill level. The most basic cocktail making set usually includes the essentials, such as a metal cocktail shaker, a spirit measure called a jigger, a long mixing spoon or bar spoon, a cocktail strainer, a muddling tool and sometimes tongs.
Why do you need a cocktail kit, you ask? Well, quite simply, a cocktail kit will enable you to create all of your favorite cocktails at home. Most cocktails will require an element of shaking, stirring or straining, so a cocktail kit will equip you with everything you need to make a range of bar-worthy drinks to impress your guests.
What are the basic tools in cocktail making?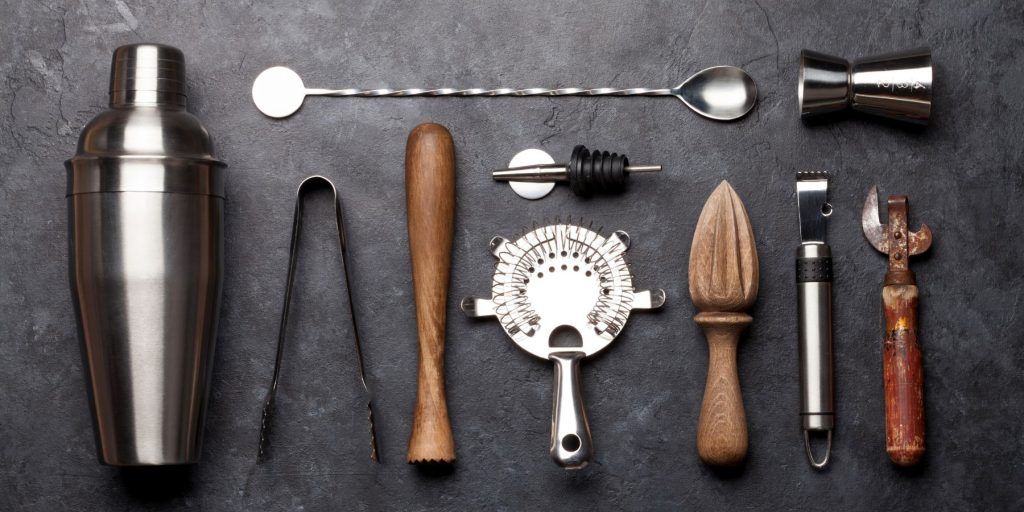 Your basic cocktail-making kit should include the following must-have tools but, if you're lacking anything, we've got some easy improvisations you can use instead from your other kitchen tools:
Cocktail shaker. Regular shakers hold an 18-ounce volume and the larger ones 28 ounces. For most recipes, you'll need to shake your cocktail so a cocktail shaker is obviously the perfect guy for the job. You find cocktail shakers in a range of styles and colors, from floral patterns to luxe rose gold, so you can choose one that suits your desired home bar décor. We particularly like a cobbler shaker as it's an all-in-one solution: it features a metal tin for mixing, a cap that cleverly measures an ounce, and a built-in strainer, making this choice super affordable and handy! If you don't have a cocktail shaker but still want to mix up great drinks, you can use a mason jar or two glasses of different diameters that fit within each other when coupled together to do the job.
Jigger. A jigger is a fun-looking measuring cup with a single shot on one end and a double on the other. Measuring the amount of spirit to pour into a cocktail is key to achieving that cocktail bar-worthy tasting drink. Measuring your ingredients accurately not only means the flavor rocks, but it's also a safe way to keep track of how much alcohol you've consumed. As British chef Jamie Oliver says, "[A jigger] is a strange word but a really good bit of kit to make sure your lucky guests manage to get home safely".
Bar spoon. A long spoon is needed to stir cocktails that are served in tall glasses to ensure the flavors blend together perfectly.
Strainer. A strainer is used with a cocktail shaker to keep all the ice and debris out of your cocktail when you pour, so you can serve up the smoothest drink. There are three kinds:
Hawthorne strainer: A Hawthorne strainer has a flat disc with a coiled spring attached, which helps secure the strainer firmly in the vessel when pouring, trapping all the fine muddled bits
Julep strainer: A Julep strainer looks like a large, perforated spoon
Regular mesh sieve: Some kits include a miniature version of your classic sieve so you can strain your drink easily into your glass
Muddler. A muddler is a great tool for crushing fruit and herbs so they release their gorgeous flavors for cocktails such as the Mojito. If your cocktail kit doesn't include a muddler, don't panic! Use the flat end of a rolling pin or a pestle instead.
Tongs. Some cocktail kits will include tongs so you can look like the ultimate pro when adding garnishes and ice to cocktails.
For an efficient cocktail-making station, there are a few bits and pieces we recommend having close by:
Chopping board. Dedicate a small chopping board for cocktails so you can prepare your garnishes easily. A useful tip is to wet a thin dish cloth or piece of kitchen paper and place it underneath your chopping board to stop it from slipping around
Sharp knife. A small, serrated knife is perfect for cutting fruits for your cocktails without blunting
Zester. Have a zester to hand as this fabulous little tool can remove fine shreds of zest from citrus fruit for fantastic garnishes
Citrus juicer. Choose an easy little juicer with a ridged and pointed center either on a handle or on a dish to prepare your fresh citrus juices
Bottle opener. It goes without saying that a simple yet sturdy corkscrew should always be to hand when making drinks
Blender. If you are partial to a Frozen Strawberry Daiquiri or a Watermelon Tequila Cocktail then a good kitchen blender makes things really quick and easy. A blender is also great for making crushed ice.
Is a bartending kit different from a cocktail-making kit?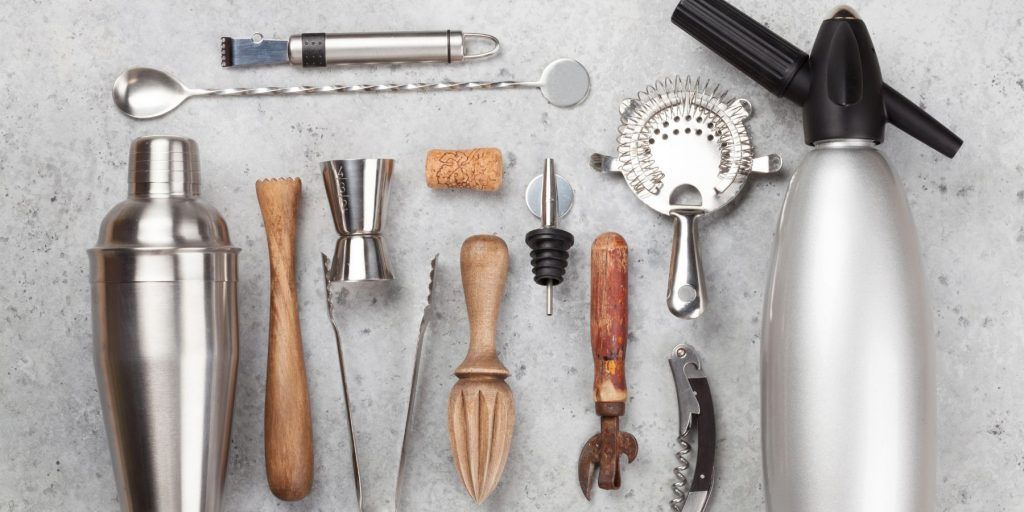 For the aficionados and wannabe mixologists, a bartending kit extends to a few more tools and is often parceled up in a transportable roll-up bag so the pros can them on the job. A bartending kit typically includes a small and a large shaker, multiple strainers like a Hawthorne, Julep, and mesh strainer, various options of bottle openers, as well as bottle pourers to plug into popular spirits for easy pouring. A channel knife is sometimes included in the kit too, which is a blade used to cut a twist of the peel so you can express the citrus oils into the drink. You'll always find straws in a pro's kit — they use it to taste before serving to double-check the flavor is right. Popping a clean straw in a drink and putting your finger over the top will trap the liquid in the straw, allowing just enough for a taster.
For everyday cocktail making, however, you won't need a bartending kit. A basic cocktail kit will do the job just fine and you can always improvise with other kitchen tools to get more experimental with your drinks.
What are the must-have alcohols for cocktail making?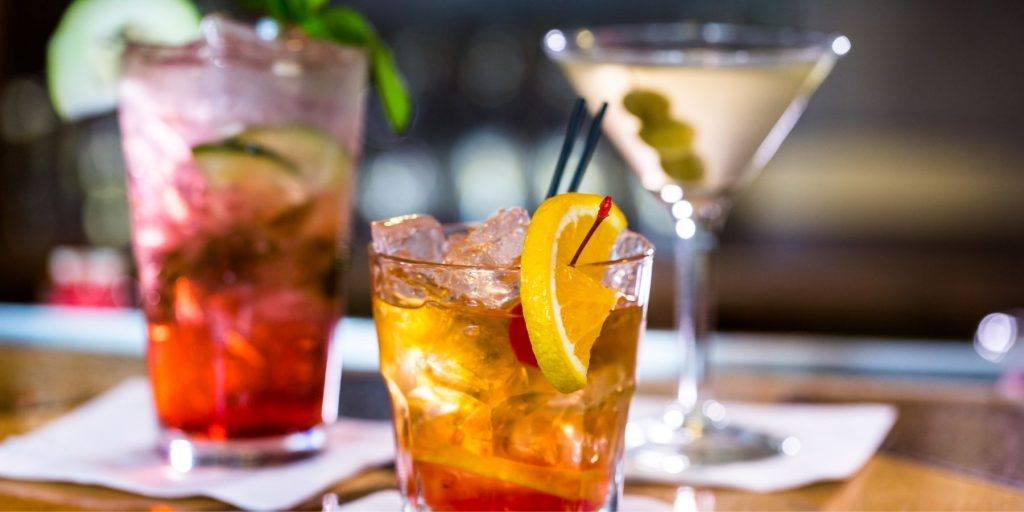 While planning your cocktail-making kit, don't forget to stock up on the essential liquors that are the arsenal for basic cocktail making. The essential building blocks of a cocktail are liquor, a non-alcoholic mixer, and a fresh herb or fruit flavor. For cocktail beginners, we'd recommend starting with high-quality vodka and a gin as this will allow you to make a range to classic drinks. As you experiment more, add a whiskey or a rum. We think having the choice of three spirits in your kit is the magic number.
For mixers, we'd suggest having a few fizzy options like club soda, sparkling water, and ginger beer in stock, as well as fruit juices like cranberry and orange. Then, a simple syrup, fresh lemons and limes, and ice are essential too.
What to look for in a cocktail-making kit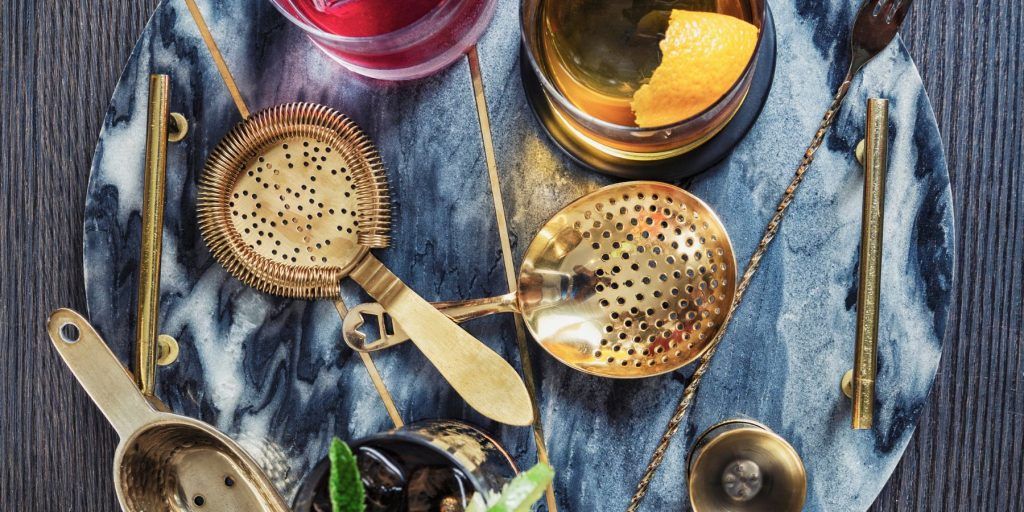 If you don't want to make your own cocktail kit and prefer to splash out to elevate your cocktail making and invest in the best, make sure to shop around to find the best quality one. The items in the kit shouldn't feel flimsy; they should have a good weight. Most cocktail kits shouldn't cost you an arm and a leg, unless you're eyeing one of the designer options made in various styles, like rose gold or matt black metal. If you're thinking of keeping it on display, there are many that come with iconic stands for a statement piece.
FREQUENTLY ASKED QUESTIONS
The best cocktail kit should include all of the basic equipment, such as a solid metal cocktail shaker, a single and double jigger, a long mixing spoon or bar spoon, a Hawthorne cocktail strainer, a muddling tool and tongs. These tools should have a good weight and shouldn't feel flimsy. If you are planning on taking it over to friends, then look out for one in an easily transportable bag or box.