9 Easy Mocktails for Simple and Clean Sipping
September 19, 2022 by Sonja Edridge
Easy mocktails are at the top of everyone's must-Google list right now, and with good reason – it's the trend that keeps on trending! From sober-curious Gen Z trendsetters to folks who simply like to keep it clean so they can live their best lives, there are many reasons why non-alcoholic cocktails enjoy an extended stay in the limelight.
The other great thing about these drinks is that they are suitable for just about every occasion. Having your kid's friends' parents over for a barbeque? Mocktails are a safe choice. Pregnant friend coming over for dinner? Mocktails it is! Hosting a get-together with co-workers the day before a big presentation? Grab yourself a mocktail, bestie.
In short, it's the drink choice that works in every social setting, guaranteed. Now, let's get you sorted with a few DIY recipes for easy mocktails that you can whip up at home, shall we? Here you go…
1. Sunset Margarita Mocktail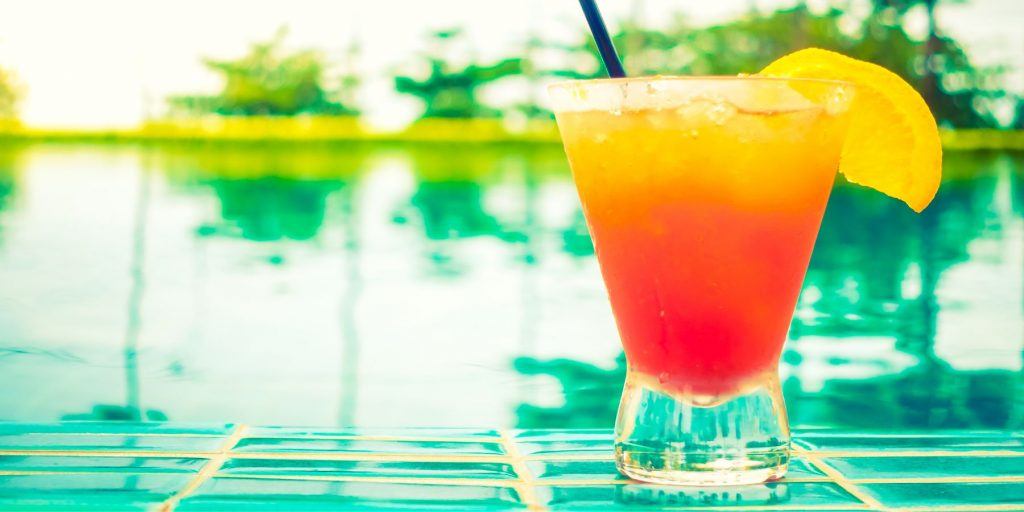 This version of the much-loved Margarita Mocktail is a delicious step up from the original for when you feel like pushing out the boat and straddling the divide between the classic Margarita and Tequila Sunrise but with less chance of a headache the next morning.
Combining a splash of Grenadine with equal parts cranberry-, orange-, and pineapple juice, it's just as lovely to look at as it is to sip at sunset (or sunrise, for that matter).
2. Virgin Mojito Mocktail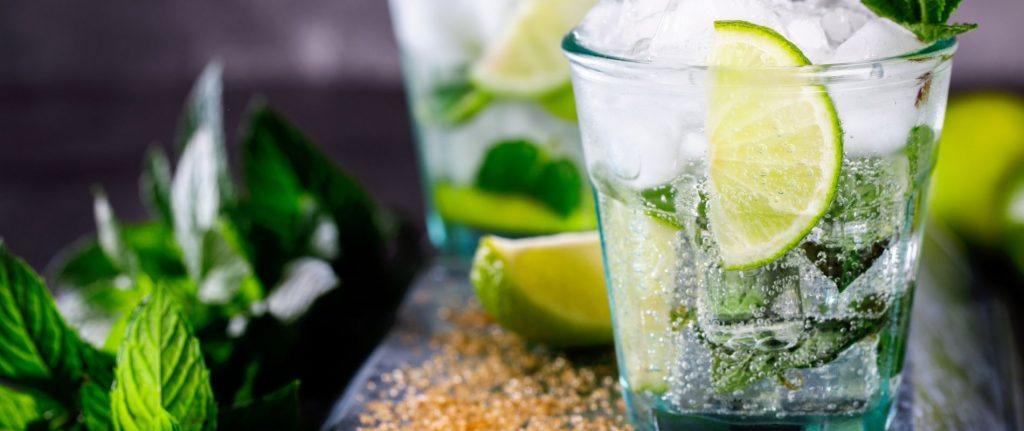 The wonderful thing about a Virgin Mojito is that it can be compiled in various ways. You can either combine ginger ale, simple syrup, lime juice, and mint leaves; or stick with muddled mint and sugar charged with club soda. Then there is also the option to go with fresh lime juice, mint, honey, and sparkling mineral water. Whichever way you choose to pour it, the good news is that this non-alcoholic cocktail will always be 100% refreshing.
3. Virgin Pina Colada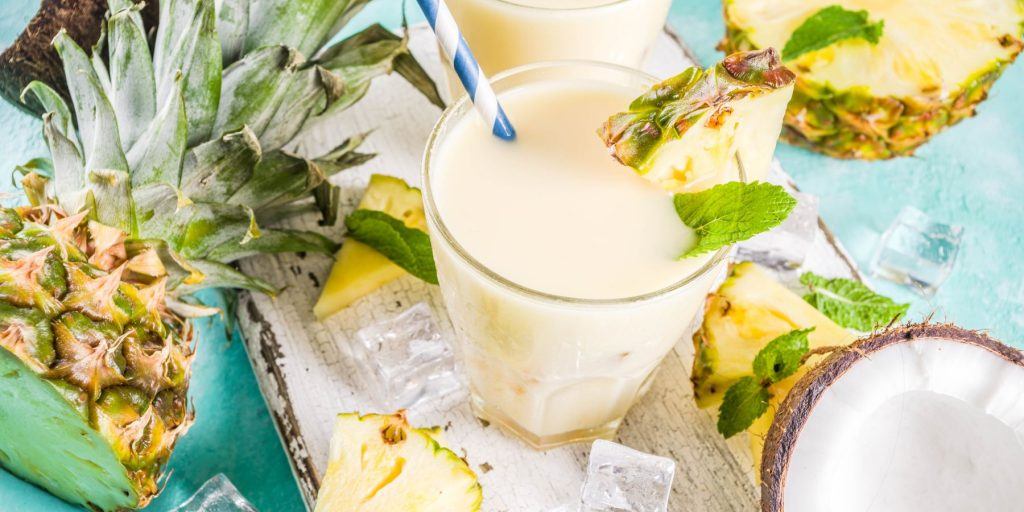 When someone is learning how to make mocktails, we always recommend having the Virgin Piña Colada as an ace up the sleeve. This pretty drink is like a little tropical holiday in a glass. Essentially a pineapple and coconut smoothie, this morish mocktail can be made using coconut milk, pineapple juice, and ice, or you can dare to dream and use ice cream for an extra creamy serve. Simply divine!
4. Virgin Strawberry Daiquiri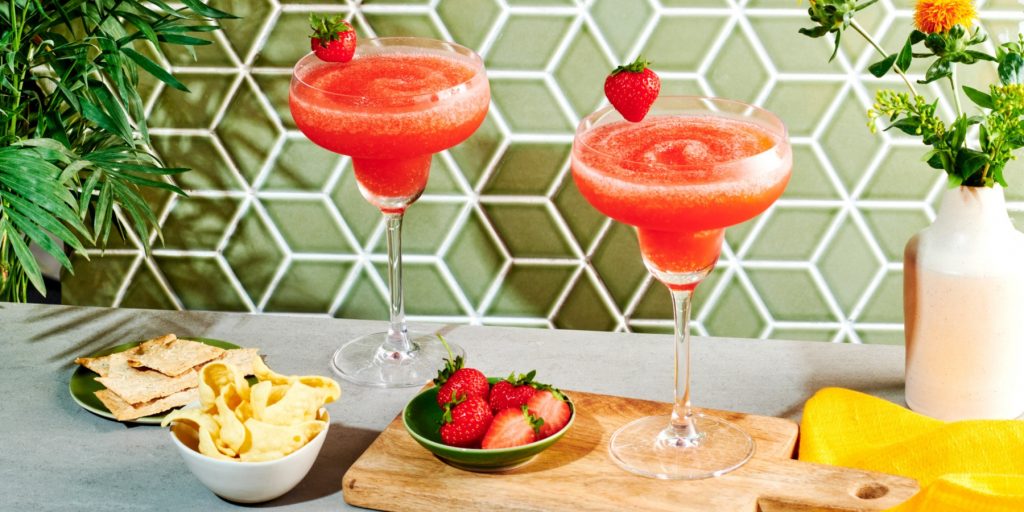 As far as refreshing non-alcoholic drinks go, the Virgin Strawberry Daiquiri is perhaps one of the most popular mocktails around. Sweet, tart, cool, and delicious, this photogenic mixed drink is a great option for everything from beach parties to baby showers and summery lunches with family and friends.
5. Virgin Mary Mocktail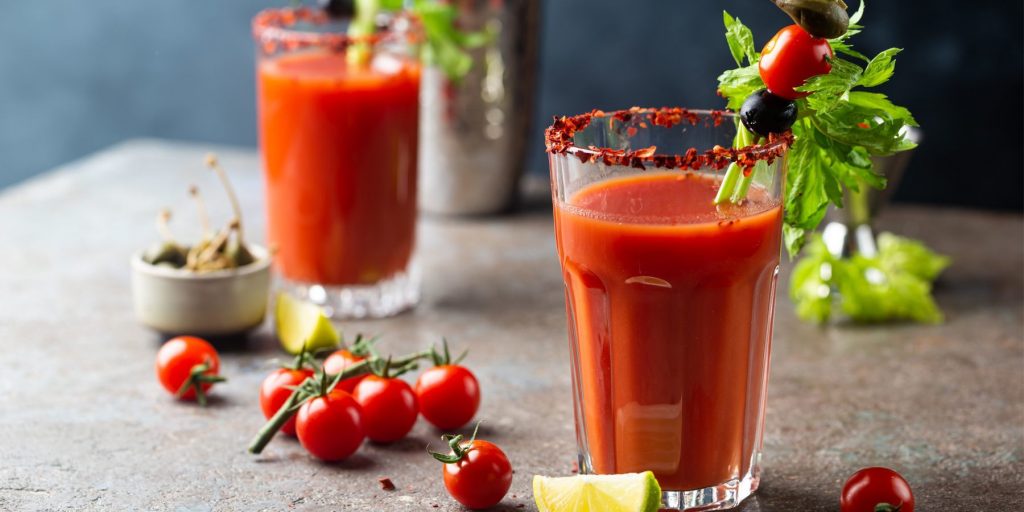 Did you know the 'virgin' bit that stands in front of many mocktail names comes from the Virgin Mary mocktail? This lovely savoury drink is the more virtuous counterpart of the original Bloody Mary, combining tomato juice, Worcestershire sauce, and lemon juice with a few optional shakes of hot sauce and a dash of dill pickle juice if you're feeling fancy.
Fun fact – tomato juice is filled to the brim with all sorts of lovely stuff like vitamin C, B and potassium, so the Virgin Mary is actually a superb choice when you're trying to sneak in a few health-boosting nutrients.
6. Shirley Temple Mocktail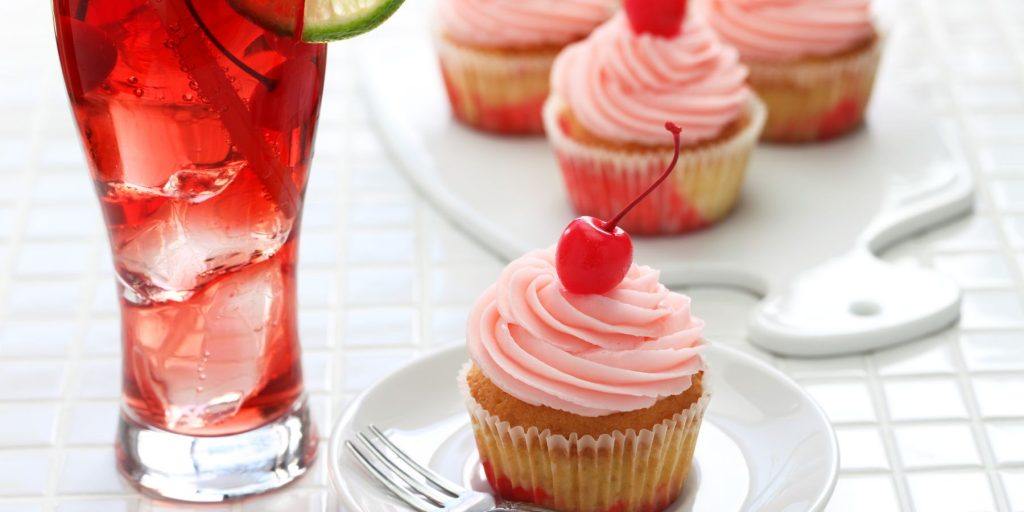 What is a mocktail list without the classic Shirley Temple in the mix? This iconic non-alcoholic drink was originally dreamed into being for little Shirley Temple herself. She was a well-known child actress in the 1930s and often accompanied her parents and fellow actors to cocktail hour.
The barmen decided to include her in a cute way and created a signature kid-friendly drink in her honour. Featuring ginger ale, lemon or lime juice, and a splash of grenadine as ingredients, this sweet, girlish drink is garnished with a maraschino cherry.
7. Non-Alcoholic Sangria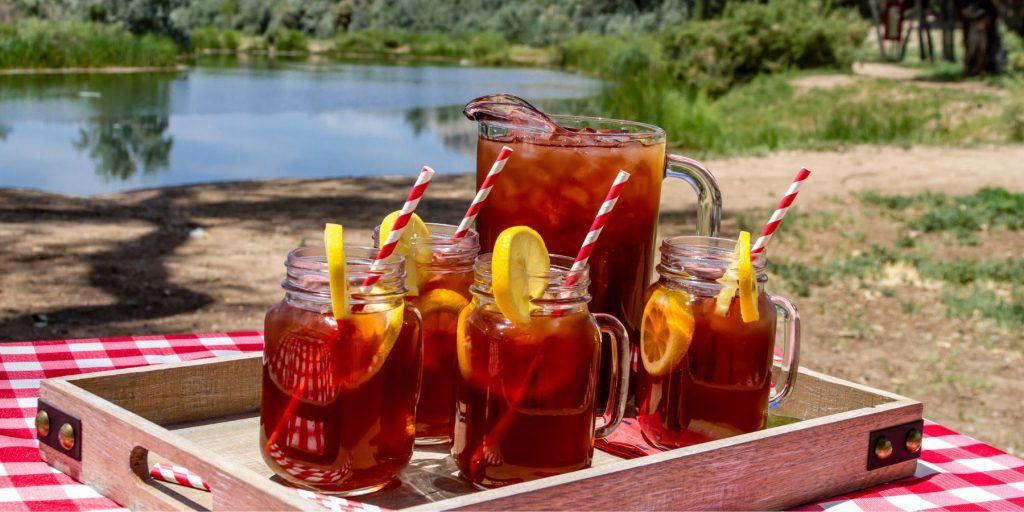 On the lookout for virgin cocktail drinks that are easy to make batch-style to serve a crowd? Step right up, friend; the Non-Alcoholic Sangria mocktail recipe will change your life.
You can either go super simple and combine equal parts grape juice and club soda and add all sorts of sliced fruit for colour. Or you could dress up the flavour profile a little by combining equal parts grape-, apple-, and orange juice and top it off with a splash or two of fresh lime- and lemon juice.
Of course, there is also the option of using a non-alcoholic red wine and combining it with orange juice and fruit slices for a more traditional taste and feel. However, not everyone who wants a mocktail likes the taste (even simulated) of alcohol, so this option is best for the sober-curious rather than the sober.
8. Mimosa Mocktail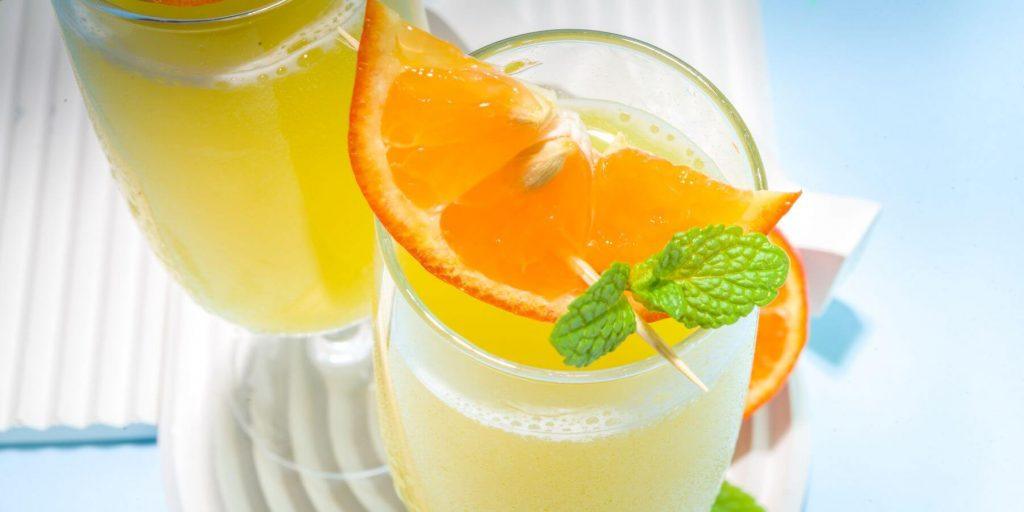 The Mimosa is one of those classic brunchtime drinks that always makes a splash. If you want to enjoy the fizzy deliciousness of this bright and cheery cocktail without any alcohol in the mix, there are a few ways to go. You can add lemonade or lemon-lime soda to your orange juice or go with ginger ale if you want some kick. Alternatively, you could also top it off with alcohol-free sparkling wine or grape juice.
9. Moscow Mule Mocktail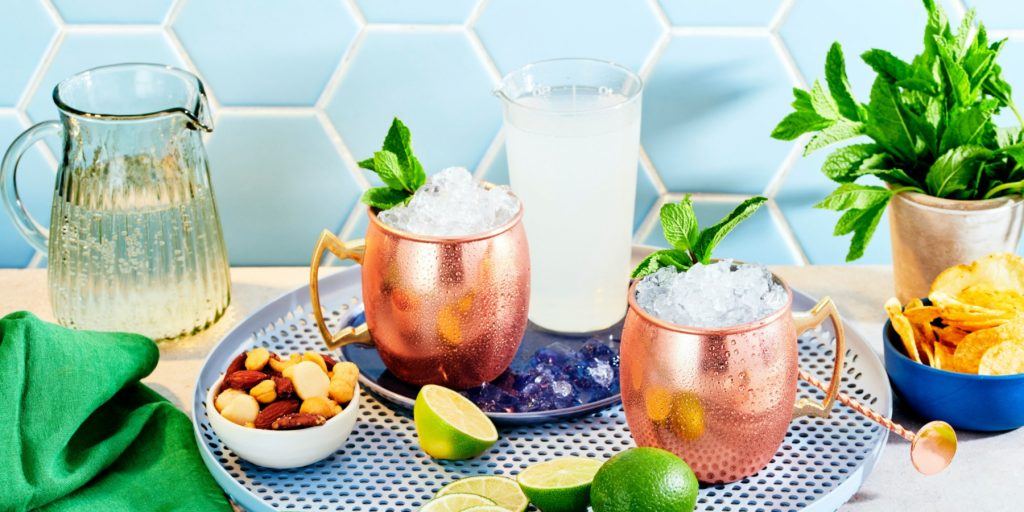 On a sunny summer's day, there is nothing like a tall, cool drink to set the scene for relaxation. This is when we love to pour Moscow Mule mocktail at the end of the day (or even around lunchtime, come to think of it). You simply build ginger beer, club soda, fresh lime juice, and mint over crushed ice, or opt for some diet ginger beer if you're keeping a close eye on those calories. Either way, it's a sparkly and refreshing drink with a delightful hint of zing.
There you have it – 9 super easy mocktails you can totally shake up and sip at home, even if this is your first time doing so. Start with the one that looks the easiest (and tastiest!) and work your way from there.
FREQUENTLY ASKED QUESTIONS
The most popular mocktails are the ones that have a well-balanced flavour profile that makes for a satisfying sip. Try our Foxy Margarita or Virgin Strawberry Mojito.
Here at the Mixer, we believe it's important to live a balanced lifestyle. Everything in moderation, we say. When drinking mocktails, be conscious of the sugar levels as some may contain a bit more than a boozy version. As mocktails are non-alcoholic, the threat of a hangover is no longer. You can also use drinks like these to up your hydration levels and even boost your health if you choose drinks that contain ingredients like kombucha, unsweetened herbal teas, berries and ginger.
Who are we to say which mocktail is best. Although we love a Virgin Strawberry Daiquirii and a Foxy Margarita Mocktail, it really boils down to your personal taste. Find out what flavour profile suits you best and sip away.